AR VR Interior Design App Development: Harnessing the Power of Augmented and Virtual Reality
Jignen Pandya
August 22, 2023
11 min read
Augmented Reality and Virtual Reality are the core pillars of modern mobile app development. Top brands like Ikea have adopted AR to enhance the virtual shopping experience. Similarly, real estate and hospitality industries have embraced VR to let customers view properties at home.
The global VR market is estimated to reach $26.9 billion by 2027 (Zippia). Currently, there are nearly 57.4 million VR users and 90.9 AR users in the US. Businesses aim to offer immersive and exclusive experiences to create a competitive edge with these technologies.
The interior design market is keen on embracing these technologies. It can help the designers and customers view the 3D models and understand how things would appear. It would accelerate decision-making. Here, we will take you through the top reasons to invest in AR VR apps for interior designing and the must-have features in your application.
Benefits of AR in Interior Design (both Designers and Users)
Let's begin by looking at the benefits of incorporating AR and VR in your Interior Design App.
Note: We will look at the benefits for designers and users individually.
For the Designers
1. Improves Collaborative Capabilities
As a designer, the app enhances collaborative capabilities when you work with your client and want to incorporate their ideas. You can show the designs to the architect and the end client. It will help all of you realize if the design will work. If the architect believes this might not work, they can offer better suggestions.
2. Better Idea Presentation
When you use VR and AR in your application, you can present your ideas better to the end clients. They would have a better understanding of what you want to show. It won't be all talks in this case. You are building the project model and showing them using their house virtually. This helps ease understanding space utilization, space availability, and other details.
3. Improves Conversion and Retention
A business is alive because of the continuous conversion-retention cycle. You must acquire new customers while retaining the old ones. However, converting is impossible unless you offer the customers value.
You show them how things will work with AR and VR in your application. What kind of interiors will best fit their home space, and how the end product will look?
Users will convert when they feel your work, increasing your sales. The retention rate will also increase as they know you will offer them better solutions than others. It will help generate better revenue for the business.
4. Offers a Competitive Edge
When you work with an AR-VR app, you are more aware of the issues you likely face with the designs in the early stages. You can keep editing the designs and build them to improve the experience.
As a result of the virtual solutions, you will mitigate the risks that may occur during the actual design phase. As a result, you can accelerate timelines and ensure smooth deliveries. It will ensure you get more recommendations from people who have been your clients, thus increasing your popularity.
For the Customers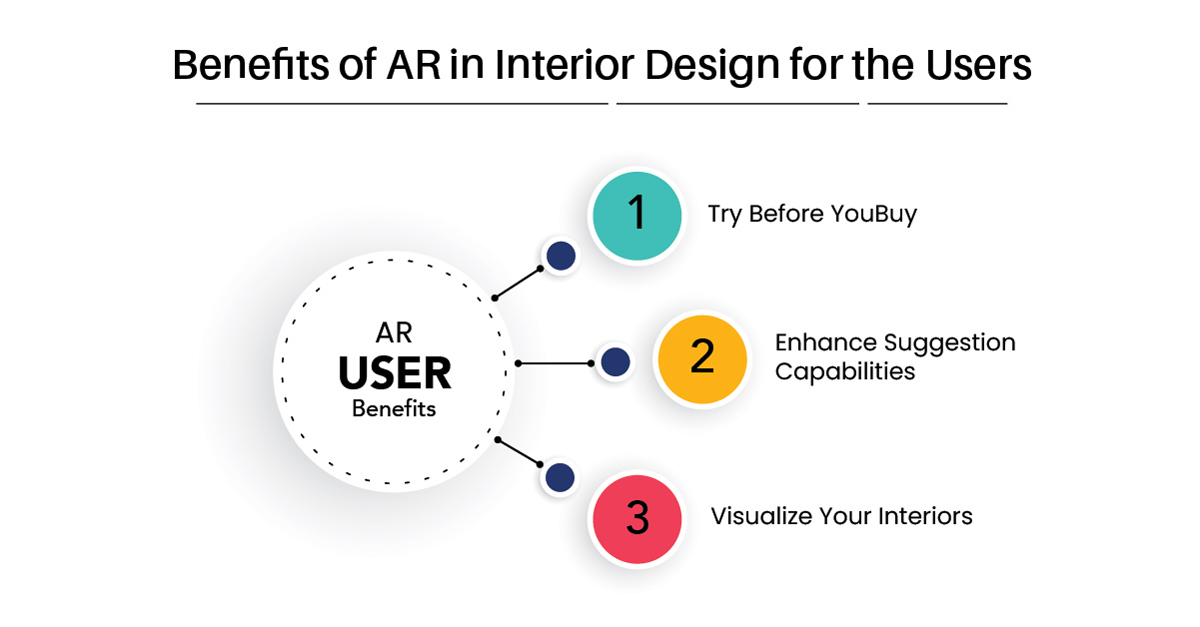 1. Try Before you Buy
When you can check if the particular product would look good in your house before investing in it, it can save a lot of your money. The AR-VR-based interior design app can offer you this advantage. You can add the product's image to your room virtually and check whether it works. This allows you to make a profitable investment.
2. Enhance Suggestion Capabilities
When you use the AR-VR interior design app, you know how the design product will look. It will show you whether the design works for your family or not. If you want to improve certain aspects, you can offer suggestions in the design stage. This will ensure complete satisfaction when you see the result.
3. Visualize your Interiors
Earlier, you could only imagine what the interior designer told you. However, you can see the interior designer's design before it goes on the floor. You can also edit and work on the designs to suit your needs. As a result, you don't need to correct the outcome or be surprised by what you receive. This enhances your experience and makes you trust the designer better.
Types of Interior Design AR-VR App
You will find several applications that can help enhance your skills and abilities as a designer. It can also help your customers get a perfect view of the product.
1. Touring Apps:
This will give the client a good understanding of the interior design you are planning for them. An entire tour with the designs for the customer
2. Floor Plans:
This would help the interior designers understand the house's flooring, how the different things can be placed, and the accessibility
3. Prototype Development:
You can create 3D models of how the actual design would look. You can use overlays to enhance the design capabilities.
4. Find your Designer:
You can check the design portfolio and find the designer or design for your house.
You can even create applications that act as tools to help the interior designer collaborate with the architects and clients.
Must-have Features in AR-VR Interior Design App
Along with requirement analysis, you should also list the must-include features of your AR-VR interior design application.
1. A Rich Product Catalog
When your users come to your application, they want to know if the product will look good in their house. They have already planned the space for the product. However, they aren't too sure about purchasing it. As a result, they either look at the returns policy or abandon the cart.
You can avoid this by adding a product catalog with AR to help the users visualize the particular product in that space. They will know if it will fit, look good, and is worth the money. It will engage them better in the application and improve the conversion.
2. Calculate Available Floor Space
It allows the interior designer to view the entire layout of the house virtually. As a result, they can calculate the available space for design and estimate the design opportunities. It will enhance their interior design capabilities and improve the results. It will help you plan the design accordingly.
3. Customize to Space Needs
When you use VR in the interior designing application, you can view the design space virtually. It gives ample opportunity to try the designs in that particular space before finalizing. You can implement the customizations as needed to enhance the sustainability and accessibility of the home or commercial spaces.
4. Advanced Search Capabilities
When customers visit the interior design store, they want to look for products that suit their needs. This is possible with AR-based advanced search capabilities. The users can look for the products using images, voice, and videos. It will enhance the user's experience and fast-track the searches.
5. Offers Ideas
There should be a feature that can improve the designer's ideation capabilities. Ideabook is an important feature where the designers can go whenever they fall short of ideas. It will give them the necessary boost to identify ways to incorporate the design or the palettes they can use. The app feature will offer inspiration virtually to the designer to improve their design abilities.
6. In-app Payment
If there are purchases that the designer or client makes, they should be performed within the app. the application should offer multiple payment methods, including wallets and UPI. This feature will reduce cart abandonments and increase sales for the business.
7. Profile/Account Creation
This is a basic feature you should introduce for the application. When you have a single app for interior designers and customers, you should allow them to create individual profiles.
8. In-app Chats
When you want the designers and the clients to collaborate on the spaces and designs, you need to facilitate better communication. This is possible when you implement in-app chat facilities for them. It will make them connect in real time and communicate all that is needed.
Challenges of Developing an AR-VR App
Despite how they enhance the experiences and offer various solutions, you might not want to embrace AR-VR in an interior design application.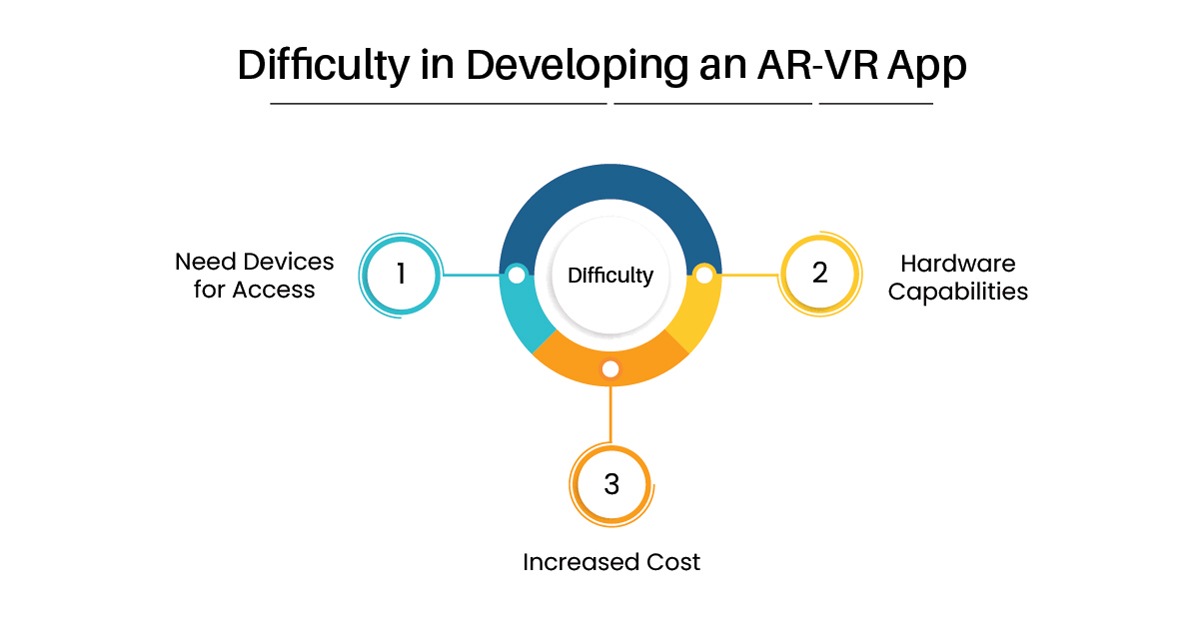 1. Need Devices for Access
When you implement VR in your application, you might notice that they require separate headsets and devices that the customer or designer has to purchase. Not many people may be ready to invest in separate devices for the same. This can act as a disadvantage. Again, when developing, you must ensure it is compatible with all VR headsets and can be used seamlessly.
2. Hardware Capabilities
The AR-VR apps can be used on handheld devices, including smartphones and tablets. The application should be compatible with these devices. At the same time, the interface and experience should be similar irrespective of the hardware capabilities. This can be a challenge for the developer. Some apps can resolve these issues; however, they may not be efficient in all spaces. You need to check if an app can resolve your compatibility issue and accordingly design the application.
3. Increased Cost
The overall development cost of a VR-based interior design app is higher. There are fewer resources and headsets, and as a result, both are expensive. This can add to the overall infrastructure and development cost. Eventually, it will increase the total cost of developing an application.
We have seen the benefits and challenges of developing AR-VR interior design applications. Let's look at the top five apps in this segment that offer users exceptional experiences.
Top Five AR Interior Design Apps
App Name
Description
Key Features
Houzz
It is an ideal book for interior designers that allows them to look for inspiration and helps kickstart their designs.
1. A 3d floor plan for better visualization
2. Edit my room to know how things would look inside the room
3. Guides that help with DIY projects
IKEA Place
It was designed to reduce the gap between imagination and reality. You will know the furniture will look at your place.
1. Superimpose the furniture in the particular space
2. Remove the existing things from the place and add new furniture
3. Catalog to know the different types of products available and how each will look in the house
4. Advanced search functionality to find the designs and products that suit your needs
MagicPlan
Interior designing is incomplete without the right wall paints and décor. Check what type of furniture will look good and the pastels you should add to the walls
1. Sketches 3D and 2D for prototype development
2. Instant collaboration with teams
3. Customize your designs and share them with clients
Home Design 3D Gold
Quick build and edit apps for interior designers to create and share designs in 2D and 3D
1. Design floor plan with drag-n-drop builders
2. Furnish the interiors and exteriors
3. Visualize the creations
DecorMatters
With an AR ruler, you would get the exact dimensions for your furniture and plan the layouts accordingly.
1. Learn designing through games
2. Design real rooms
3. Host a project event live in the application
Cost of Developing Interior Design App
The cost of developing an interior design application with AR and VR starts at $15000. You can build a simple application at this cost.
The application development cost depends on the features, hourly rates, experience, and maintenance.
1. Feature-driven App Cost
Type of Application
Features
Cost
Simple Application
1. Object Tracking and overlay
2. Supports VR and AR devices
3. Ideabook
4. Search functionality
$10000 to $50000
Medium-Complexity Applications
1. Floor plans and visualization
2. Take a tour of the space and learn the availability
3. Superimpose furniture to check if it looks fine
$50000 to $200000
Complex Applications
1. Intuitively learn the colours and furniture that will look good in the space
2. Prototype builders
3. AI-based learning and designing
$250000 and onwards

2. Hourly Developer Rates
When developing an AR-VR application for interior designers, you need to check the rates of the developers. The hourly rates differ for different countries.
India- $15 to $100

USA: $100 to $300

South America: $40 to $150

Europe: $22 to $150
3. Developer Experience
When hiring developers for AR-VR app development experience, expertise plays a pivotal role in determining the cost. The hourly rates of an experienced developer would be high. At the same time, complex app development requires an experienced developer. Similarly, a simple app can be accomplished with a developer having fewer years of experience.
Conclusion
Developing an AR-VR interior design application facilitates better visualization and enables the client and designer to collaborate effectively. You can leverage the technologies with the right features and create impactful solutions.
Expert App Devs is an expert AR-VR mobile app development company. We have devised several solutions for the interior designing segment. Our developers understand the niche that allows us to create capable solutions.
Get in touch with our developers to check the feasibility of your idea by filling out the contact us form.