iPhone App Development Services
Leveraging our proficiency in iOS-first solutions to deliver high-performing, fast-loading and experiential apps for your business. We help startups, SMBs and enterprises overcome complex business problems with simple and minimalist iPhone mobile apps.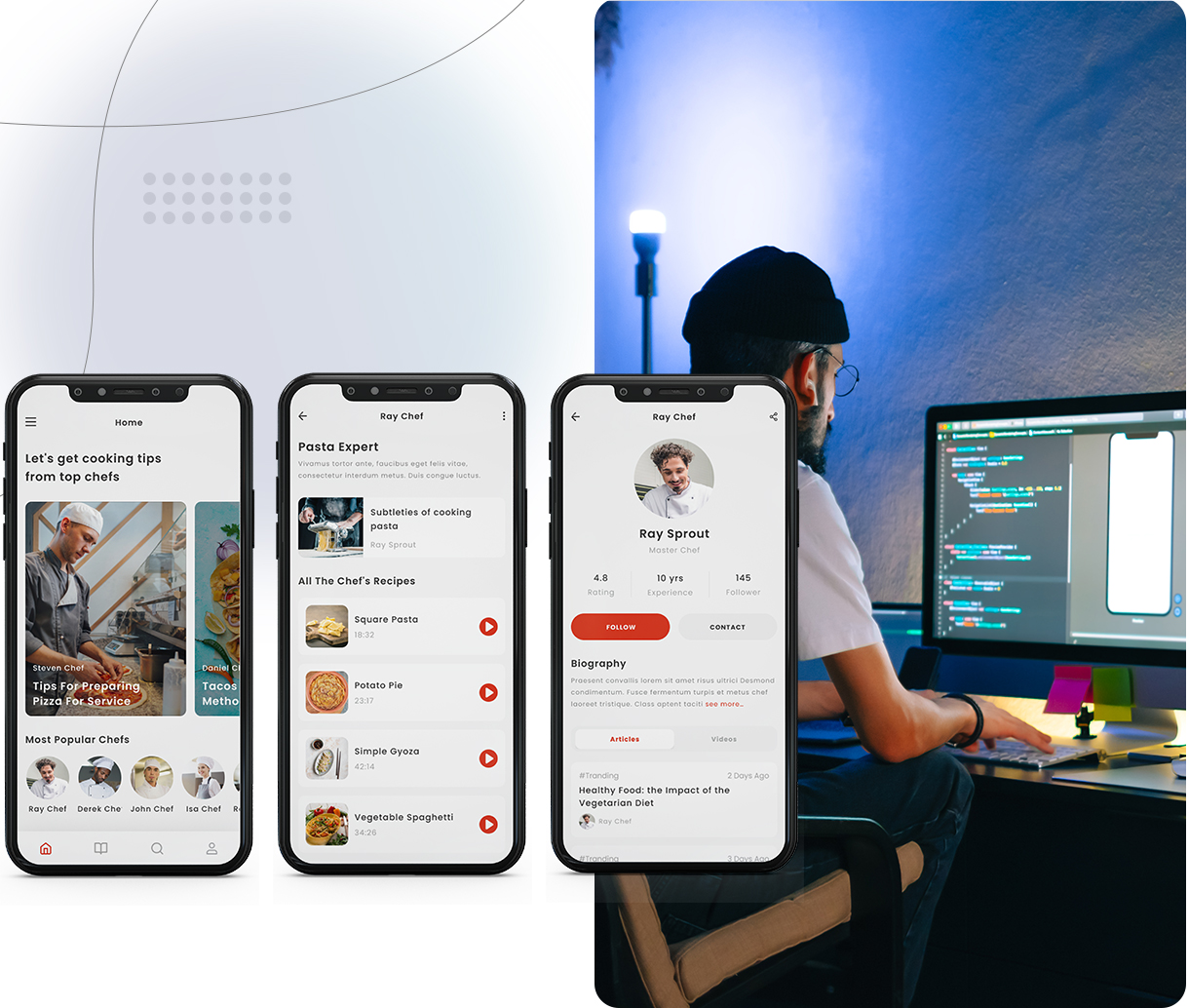 Consistent, high-quality and revenue generating iPhone app development services to further your business.
Getting new customers is difficult; retaining them is harder. Enjoy increased engagement, and maximize downloads and repeat sales with robust and feature-rich iPhone applications. With their far and wide reach, you can penetrate untapped markets and improve brand recognition and visibility. To transform your vision into reality, you need reliable iPhone app development companies.
Expert App Devs is a leading iPhone app development company that provides businesses with secure and scalable solutions. We fuel your apps with the right technology stack, architecture layout, and interface design to improve downloads, maximize retention and enhance customer lifetime value for your business. Our iPhone-first solutions are engineered to make your business future-ready.
The team of android app developers is skilled in android development on the Android platform as well as cross-platform, delivering high-quality apps. Highly recommended android developers because their aim turning in the best possible results.
I am very happy with the final product from the solution as well as support and service from Expert App Devs. They also covered the latest OS updates for Android and iOS apps in the final product! Thank you to the team!
Creating Endless Opportunities for your Business
We inspire creativity and translate your vision into mission-critical solutions with best practices, an experienced team of best mobile app developers and exceptional support.
Solutions we deliver
We offer a broader spectrum of technology solutions to tick all the right boxes for our clients' needs.
Why Partner with Expert App Devs for iPhone Apps?

Security-first Strategy
To accelerate app launch and maintain the security requirements, we test the apps while in the building stage to keep them bug-free using a defined iOS app development process.

Proficient with Frameworks
Our team has attained expertise in delivering capable and intuitive app solutions using the native technologies as well as the various tools.
UX-led Development
As the interface is known for being intuitive and interactive, we embrace these native components to create a user experience that can enhance the engagement and offer results-driven apps.

Build-to-test Apps
To accelerate app launch and maintain the security requirements, we test the apps while in the building stage to keep them bug free.
Successful iOS Apps
Our iOS app developers team has a 100% track record of delivering engaging, interactive and immersive solutions that offer increased conversion rates.
Defined iOS App Development Process
Our iOS development team works with a pre-defined and highly efficient process that allows them to deliver efficient and interactive solutions within the stipulated time.
Efficient Delivery
We are known for on-time or before-time deliveries keeping the quality up and offer high-performing mobile and web app solutions.
Fostering Innovation
Our team researches and discovers before developing complex mobile app solutions. We simplify the development and the designs to increase conversions.
iPhone App Development Services Expertise
Success stories
iPhone app development is full of challenges and innovation that demands high end dedication and passion. Here is how our dynamic and talented developers have transformed the struggle stories into success stories.
Want to give your app idea the wings of reality?
Partner with us for end-to-end mobile app development services.
We cater our services for various industries
Mobile app development FAQs