How to Ensure Successful IT Vendor Management? [Process and Best Practices]
Jignen Pandya
April 20, 2023
11 min read
Automation and Business Intelligence collaborate to offer newer ways to conduct business. The accelerated digital transformation, the need for real-time data movement and immediate gratification has increased the usage of third-party solutions.
It is stepping into the business ecosystem to play several crucial roles so that businesses can focus on their core jobs. This also means that they can enter the network, capture your data and pose a risk to your business.
At least 89 vendors access a business's data weekly (csonline). At least 60% of the companies that are vendor dependent don't possess the resources required to monitor the security or privacy practices of these vendors (BuckleyFirm).
IT Vendor management is critical to reducing vendor risks and enhancing the processes of your business. The global vendor risk management market was valued at $7.2 billion in 2021 and is slated to expand by 15% CAGR by 2030 (GrandViewResearch).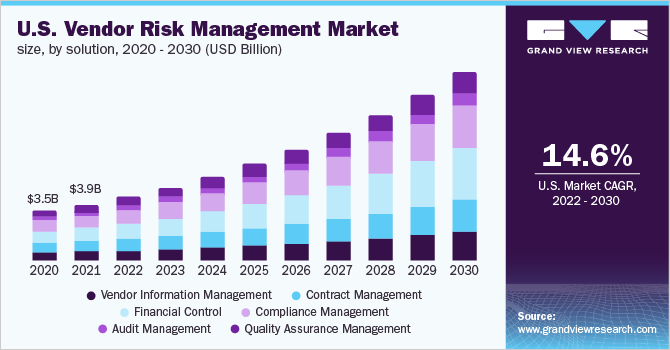 Vendor management will help businesses monitor the vendors and how they manage the data and increase process transparency. This will reduce the risks, improve compliance and ensure everything is documented. Vendor management can also help improve business performance and protect the customers.
Let's understand what good IT vendor management looks like before we move into the best practices for management.
What is an Ideal Vendor Management?
Vendor management is the process of monitoring, coordinating and streamlining the operations concerning the system vendors. You will need to determine the vendor goals, set expectations, define the roles and responsibilities and monitor to check if they align with the objectives.
The idea is to enhance operations, streamline the processes and lower the overall costs with the right vendor management practices.
IT Vendor management features include:
Selecting the right vendor: You must choose from the different vendors the one that best fits your business goals

Manage the Performance: Define the key metrics that will help measure the performance. Monitor the performance and alter strategies according to the outcomes.

Relationship Management Strategies: Ensure you have a long-lasting, thriving relationship with the vendor. Use your face of the company to ensure timely communication, payment releases and other aspects that can impact the relationship.

Contract Definition: It is important to have a well-defined and appropriate contract with your vendor for smooth operations.
Good vendor management is when the whole process can improve your business performance and grant more success. Vendor management should have an intentional two-way process that can help boost collaboration and improve business innovation. With an improved relationship, you can drive competitive advantage and enhance the outcomes.
A good management practice is to treat your vendors like strategic partners. This will help align your vendors to the business goals and establish an operation format that rings in success.
Benefits of Strategic Vendor Management
Along with lowering the risks associated with compliances, there are several benefits of having IT vendor management.
You are prone to compliance and data theft risks without IT vendor management. Vendor management will lower these risks and protect your project data. It will ensure your project is free of vulnerabilities.

It is a cost-effective way of managing an IT project. You can outsource most of your requirements to an expert vendor while attending the core jobs.

You can reduce vendor churn rates with the right communication protocols and relationship management strategies. This will strengthen your IT processes.
The Ideal IT Vendor Management Process
A clear and defined process can help you easily identify relevant vendors, sign the negotiated contract, and manage them. It is the IT vendor management process that will help create the vendor procurement framework and enhance the overall IT journey for your business.
Step#1: Knowing Your IT Needs
Defining your IT requirements before looking for vendors to handle the data and processes is crucial. What is the exact problem area where you need support from the IT vendors?
You might want to describe your current IT infrastructure and identify the issues and problems before finding the elements that need improvement.
You should determine if you need long-term or short-term support. Define the budget, the type of IT support you need and the skillsets you want to employ.
Lastly, don't forget to check if you want to augment your in-house structure or outsource the entire management to an offshore vendor.
Step#2: Define and Document Selection Criteria
Businesses must define the selection criteria. This will help while shortlisting and finalising the candidates for your operations. For example, if you have a long-term vision, you might want to select vendors who can support the same.
A few pointers to enhance the selection criteria include:
Checking on vendors who can offer comprehensive solutions for your defined IT requirements

Their experience and reputation with handling the types of issues you are facing

The past clients words, reviews and ratings

The customer support, accessibility of the vendor and ability to solve issues

Customisation opportunities are equally important when selecting a vendor for your IT needs
When you are defining the selection criteria, make sure to document them for future reference. You should also have a bid document to help you select the vendors.
Step#3: Research and Selection
This is the step where you look for vendors to support your IT vision. You can check references or even seek help from online communities. There are several places, including Clutch, GitHub and others, where you can find the right vendors for your IT requirements.
Once you have shortlisted the potential vendors for your IT systems, you can begin evaluating them using the selection guide you possess. You should also check their past portfolio before finalising the vendor for your requirements.
Step#4: Contract Signing
Onboarding the vendor is one of the important aspects of vendor management. You should ensure a well-negotiated contract and determine a few things before onboarding them.
The most important part is to check the vendor's existing model and whether it can help you.

Set the expectations regarding work scope and timelines at this point.

Ensure you have defined the legal clauses clearly. Your payment milestones should be equally clear.
Step#5: Onboarding Management
The onboarding of the vendor post-contract signing is an important step. To have a good relationship with your vendor, you should ensure you have all the details, assign tasks properly, and have a point of contact within the team.
Introducing the vendor to your team and ensuring everyone is aware of the new management processes is equally important. Make sure the procurement team is helping handle the entire onboarding IT vendor management process.
Step#6: Relationship Management
This is an important step in the process of IT vendor management. You need to constantly work on enhancing the relationship for a thriving business. you should check for loopholes and inconsistencies that can offer you better value.
Businesses need to know their vendors before beginning a relationship. You should know who is the authority, who manages the daily tasks and who is responsible for the work assigned.
Define the communication protocols that can help you with effective conversations. Make sure you prioritise their requirements and respond to them as needed for a healthier relationship.
Step#7: Optimize the Management Solutions
The key to effective vendor management lies in continuous optimisation to meet new goals, deliver requirements and scalability.
Review the vendor management to ensure you meet new IT requirements and vendor needs. Check if it is working for your new team. Communicate and check with the IT team what can be done for better IT management.
Hold performance assessments that can improve your monitoring and reviewing.
IT Vendor Management Best Practices
Here are all the best practices you should consider including for comprehensive vendor management:
1. Define the Vendor Management Policy
A clear vendor management policy will help understand the vendor's role, responsibilities and legal structure. This is one of the most important IT vendor management best practices. It will clarify what they can handle and cannot and how you will handle the risks.
It is only possible for some of the team to work towards vendor management. Your first step is to set up a team that will handle all things related to vendor management, including selecting vendors, defining the selection criteria, and managing the contracts.
You should align the vendor purchase strategy with your business strategy to ensure the right vendor-business fit. Define guidelines to assess performance, select vendors, manage the risks and onboard them.
2. Define the KPIs for Vendor Performance
Monitoring the vendors and assessing their performance is key to vendor management. You should know the parameters for which you can assess the performance.
The capacity, performance and compliance are important areas where the vendor is evaluated. You should continuously check and rate these parameters to know if you can continue the relationship.
You can move to another vendor or redefine the risk strategies if there are security lapses or compliance issues. This is an important IT vendor management step.
3. Clarity of Work Scope
The work scope is an important part of a healthy relationship. The vendors will work in tandem with the scope defined. if you have left out particular things in your scope or added too many things, it can complicate vendor policy management. All your estimates will be based on the scope of work.
Create the scope according to the business requirements. Make sure to set the timelines and phases for the entire project. You should also mention the deliverables for the project to the vendor.
4. Establish the Exact Roles/Responsibilities
One of the main issues businesses face during vendor management is the lack of clarity in the vendor's role or responsibility. They are not clear on what function they need to perform as part of your team. You should add this to your list of IT vendor management best practices.
It is important to define the roles and responsibilities in the scope document. You can discuss these in detail in person, over email or on a video conference. Make sure you and your vendor are aware of the roles.
Ensure you have broken down the tasks to the individual level for better outcomes. Every person in the vendor team should have a task and responsibility. They should be aware of the same.
5. Create a Communication Protocol
Open communication will ensure you never have any trouble understanding the vendor's problems. It also ensures that all the issues or bottlenecks are solved in the early stages.
Having a fully defined vendor management communication strategy is important. Know how often you should have meetings to clarify the projects, resolve the issues and know the progress.
The vendors need to know where and when they can reach you. Have a defined protocol for the same. You should also ensure you are prompt with your responses for faster deliveries.
6. Risk Mitigation Strategies
Risk mitigation is key to vendor management and it should be part of your strategy. You should define the risk mitigation strategies in tandem with your long-term and short-term IT strategies. You should also check into your staffing strategies to create an effective risk mitigation policy.
The Challenges in Vendor Management and How to Overcome
No management is free of challenges and it is no different for vendor management. Let's discuss some of the top challenges that businesses face during vendor management.
Quality Issues
When you are outsourcing your IT requirements, chances are you might choose a vendor that doesn't provide you with quality solutions. It is not possible to work together with quality issues
Identify the source of this issue and find a solution. ensure you have a defined selection policy that checks for the quality of solutions delivered by the vendor to overcome this issue.
Delayed Communication
If you are working with offshore companies, communication could be an issue. either you get delayed messages or you miss out on important communication.
During the onboarding stage, make sure to determine the effective ways to communicate. Check with the team if they are fine with regular meetings. Identify ways to keep the communication async. This would help improve the communication issues.
Cultural Issues
You are likely to face cultural differences if you sign up with a vendor who lives in a far-off country with an organisational culture different from yours. Always check for organization-culture fit before you onboard the vendor for your requirements.
Conclusion
IT vendor management is crucial for businesses connecting with third-party vendors. It can help manage compliances, improve processes and reduce the risks attached to data and project management.
You should have good selection criteria, keep the procurement team at the core of the vendor management and include an effective onboarding process.
Expert App Devs is a leading IT services company with proficiency in software development. We have worked with several businesses using the 7-step process to deliver timely results. If you want to engage with top developers or hire us for your outsourcing requirements, connect with our team via email or phone.
Need a consultation?
Drop us a line! We are here to answer your questions 24/7.