The Metaverse Development: Discovering True Opportunities for Businesses
Jignen Pandya
September 15, 2023
11 min read
Even if you are not a tech-savvy person, you must have heard the word- Metaverse.
From the day Facebook announced its ambitious product, Metaverse has been the talk of the town across the globe for the right reasons.
Well, Metaverse is in the news for two reasons: tech enthusiasts believe that Metaverse has the ability to transform the world as we see it.
They believe that the Metaverse platform will play a huge part in building a more immersive and interactive future.
On the other hand, critics have a different thing to say. They believe that the Metaverse is useless and might cause trouble and dangerous repercussions.
However, we don't know about the future, but as of now, businesses are looking for opportunities to utilize this amazing technology to scale their businesses, make processes more simplified and straightforward, and serve their customers in a better way.
Many businesses are looking for Metaverse development services to check out the scope of this technology for their particular businesses and how can they utilize it to get a competitive edge.
Also, businesses have to evolve with time. If they don't plan for this upcoming technology, they might lose their edge in the market. In this post, we will discuss Metaverse and some business opportunities it has to offer to people.
First of all, we will discuss what Metaverse is and its benefits.
What is Metaverse?

The term was first used by Sci-Fi writer Neal Stephenson in his 1992 novel Snow Crash. It was used by the writer to describe a dystopian world that does not exist in the real world. Well, the fundamental definition of Metaverse is the same.
When someone talks of Metaverse, he is talking about a 3D virtual world where people behave like they are in the real world, doing activities such as shopping, playing, driving, and others. However, the thing is the world is a virtual one and not a real one.
The Metaverse is a shared, immersive, virtual universe powered by the latest technologies such as Augmented Reality and Virtual Reality where people can live, work, transact, and socialize with others.
It apparently blurs the line between the virtual and real worlds. Technologies that Metaverse uses are Blockchain, Augmented Reality, Virtual Reality, Machine Learning, Artificial Intelligence, and the Internet of Things.
AR and VR technologies are crucial for Metaverse. Many Blockchain-based metaverses have AR/VR apps to connect and collaborate with users to create a virtual environment.
A report from Statista reveals that the AR and VR market will reach $250 billion by 2028.
Not just that, a study depicts that the global Metaverse market will grow at a CAGR of 47.6% from $100.27 billion in 2022 to $1,527.55 billion by 2029.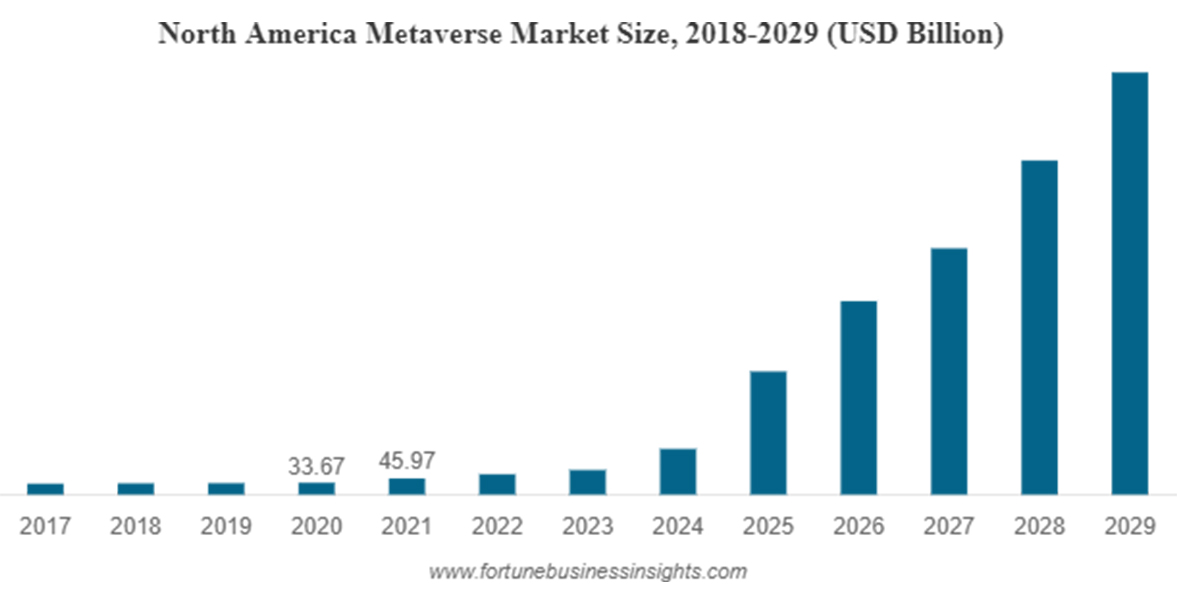 Metaverse is huge and is going to be very huge in the near future.
If you are a smart businessman, you need to start thinking about how this trending technology can help you scale your business.
In this post, we have discussed some of the business opportunities where Metaverse app development can bring a paradigm shift with its ability to offer an immersive experience and virtual environment.
Let's check out how Metaverse can bring revolutionary changes in various industries.
Metaverse and Business Opportunities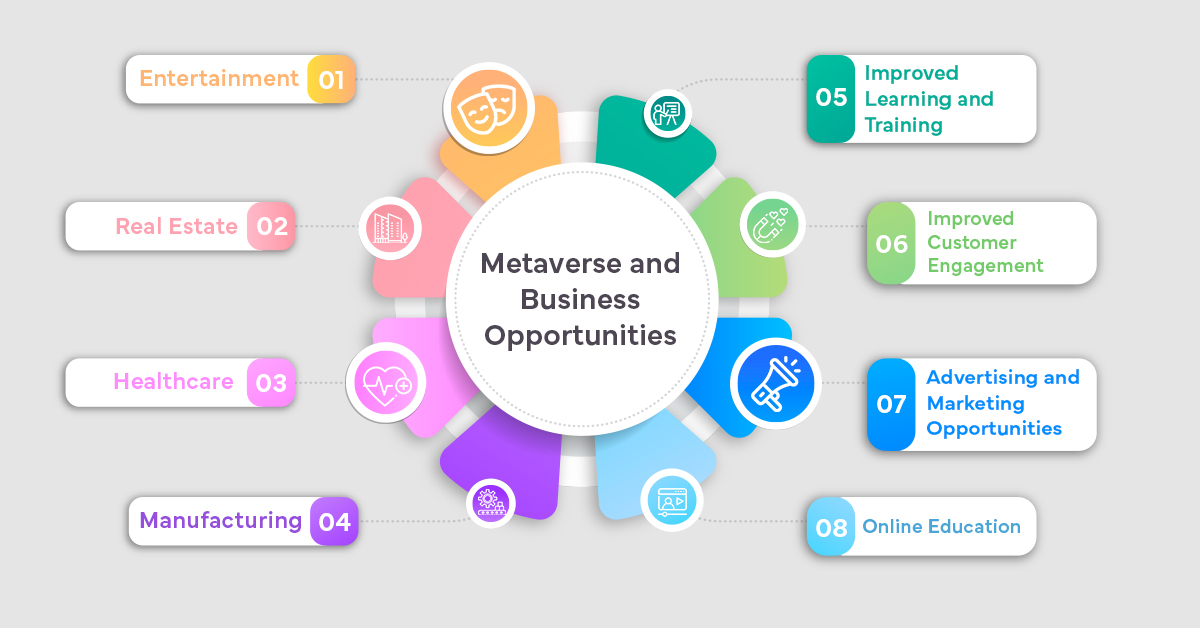 1. Entertainment
The global entertainment industry will benefit a lot from Metaverse. Don't confuse Metaverse in entertainment with just Gaming. It is much more than that. VR gaming is completely different than social VR.
There are endless opportunities and possibilities in the entertainment sector. With Metaverse in the sector, you can offer a highly immersive experience to users with the help of VR and AR technologies.
Furthermore, you can come up with virtual events and pull crowds to a large extent. Take, for example, Marshmello's virtual event in 2018. The event managed to pull crowds of millions.
It was a wake-up call for many such artists and entertainment companies to come up with such virtual events to offer a 3D immersive experience to users.
You can monetize such virtual events and generate new revenue streams in the form of ticketing and marketing campaigns.
2. Real Estate
If you are an iPhone user, you know about the latest feature called the LiDAR sensor in the latest generations of these mobiles.
The sensor has a Swift API called RoomPlan that allows users to use this sensor to capture the rooms in 3D to map floor plans including furniture settings and room dimensions.
Many more such features can be designed to offer a virtual tour to real-estate customers.
They can see the house together in the 3D environment and make decisions about whether to purchase the property or not.
Also, the virtual real estate market will boom in the upcoming years. It is like digital art.
People will pay for a virtual real estate property similar to paying for digital art. However, the topic is controversial as of now due to its lack of utility.
Metaverse experts believe that virtual properties can be created and used for business purposes. However, you need to hire a Metaverse development company for the same.
We can expect that experts might come up with highly immersive VR platforms offering virtual real estate properties to users.
Users can pay for such properties and become property holders similar to real-world real estate property holders.
3. Healthcare
Metaverse can bring massive changes in the healthcare sector and the way it performs today. There are two areas where Metaverse can make revolutionary changes: Telehealth and Education
Telehealth
We have just witnessed the pandemic and how vulnerable we are to such tragedies. For governments, it is becoming very challenging to reach out to remote areas for healthcare means.
Telehealth is one such concept that can help authorities to offer advanced healthcare solutions to remote areas, virtually.
Now, you can understand how technologies such as Augmented Reality and Virtual Reality can make a difference in the global healthcare industry.
As of now, telehealth service providers use audio and video calls to communicate with patients.
However, there are some instances where you can use more immersive technologies such as AR and VR.
For example, we can develop sensors and hardware that can track the eye and body movements of a patient, and such data can be used to diagnose the disease. Eye movements can detect health issues with eyes such as Glaucoma.
There are many such possibilities for using Metaverse in the telehealth sector. Also, you can think of many other alternatives such as virtual pharmacies, online prescriptions, online consultations, etc.
Education
When it comes to training and educating health staff and nurses, VR and AR technologies can do wonders. Not just that, doctors and nurses can simulate medical surgeries as well.
New and even experienced surgeons can first prepare themselves with digital organs for difficult surgeries. They can assess risks before such major surgeries and take precautionary steps.
There are immense possibilities lying with Metaverse when it comes to the healthcare sector.
You can develop AR-powered, dedicated healthcare apps to use for healthcare purposes. All you need to do is to hire Metaverse developer to build a feature-rich, functional, and versatile app.
4. Manufacturing
Even the manufacturing sector will utilize the capabilities of Metaverse in the future. For example, workers can take training sessions in the virtual world first to mitigate risks. They can use virtual or mixed reality to provide training to workers. Not just that, manufacturing units can create a replica of real-world manufacturing plants with the help of digital twins technology. They can know about critical issues such as machine failure, and others.
5. Online Education
We have already witnessed a paradigm shift in the education sector during the pandemic times. Online classes are no longer an alien thing. Across the globe, educational institutes are conducting virtual sessions to teach and train students.
However, AR and VR technologies can take this thing to the next level. They can create virtual 3D environments to train students who want to learn concepts practically.
There are some subjects that are difficult to explain and teach theoretically in classes. If we find a way to teach them in a practical environment, students can grasp concepts easily. For example, architectural structures or chemical compound reactions, and other such things can be best explained practically. AR and VR technologies can make such practical sessions possible.
Also, with Metaverse in education, you can bring down barriers to entry for education globally. Anyone from anywhere in the world can join such virtual environments and empower themselves with real and practical sessions.
Metaverse has the power to transform the existing education system with a more robust, practical, and explorable system. You can also develop a metaverse education app for your institute or company. Hire Metaverse development services and create a feature-rich, AR-powered app for educational purposes.
6. Advertising and Marketing Opportunities
Even in advertising, branding, and marketing, Metaverse can do a lot. Many companies such as Nike, Vans, and Hyundai have already joined the Metaverse club. The main aim is to offer a fulfilling experience to their users and increase engagement. Using Metaverse for customer engagement can bring more immersive and interactive experiences.
For example, Chipotle has an in-game item sales feature that allows users to donate some share for a cause of helping young farmers. In exchange, it offers a promo code for a free entree. This code can be easily redeemed through its app and website.
If you want to come up with creative, funny, and immersive marketing campaigns that can guarantee customer engagement, Metaverse is definitely for you.
7. Improved Customer Engagement
Serving your customers in an interactive manner can earn you their time. It is very crucial to keep your customers engaged in a very interesting way. Metaverse can help you with that. You can abandon traditional ways of customer engagement and develop new, interactive ways. For example, you can use digital twin technology to create virtual spaces for your customers to have an interactive experience.
Even you can allow customers to first check and experience a particular product in a virtual space before making a buying decision. Can you imagine how wonderful and satisfying the whole experience can be for customers?
Forever 21, a retail company has collaborated with Roblox to allow users can customize their fashion stores in Forever 21 Shop City. They can have their own avatar meet friends and discover items easily. Not just that, they also can add new merchandise from the new arrivals in the physical stores and add them to their Metaverse stores.
Millennials are not just looking for good products. The behavioral patterns have changed and now they look for a wholesome shopping experience from brands. You will need new ways to engage your customers and Metaverse can play a pivotal role in that.
8. Improved Learning and Training
Remote working is the new normal. The Covid-19 pandemic has changed the way businesses operate. Organizations, across the globe, have accepted this new working culture. With the help of Metaverse, businesses can make coordination and collaboration more effective, interactive, and efficient.
Augmented Reality and Virtual Reality technologies can help businesses to train their staff in a more meaningful manner. People can learn faster, focus more on tasks, and enjoy the training process.
Not just that, with AR and VR at your disposal, you can also streamline your processes and business operations as you can eliminate obstacles by testing processes in the virtual space. Also, you can train your employees in a safe, risk-free virtual environment and avoid any injuries or casualties.
Many organizations nowadays use VR headsets to train employees in a virtual space. It takes less time to train employees and they can learn practical aspects of the subjects as well.
Conclusion
Metaverse is the future. Though the technology is still in its development phase, global companies have already started using it to offer more personalized and engaging experiences to their customers.
There is a wide range of business possibilities with Metaverse. Find out where this powerful technology can help you scale your business.
Dive into the world of Metaverse – a revolutionary platform that's revolutionizing the way we do business. With an array of custom marketplace development options, Metaverse projects can be tackled with a range of programming languages and Metaverse solutions. Explore the top Metaverse development companies to find the perfect fit for your project, or get creative with Metaverse app development and gaming for something truly unique. Don't forget about smart contracts - this innovative technology is ideal for secure transactions within the Metaverse. Get ready to take your business to the next level!
Hire Metaverse development services from Expert App Devs to build a robust, secure, and feature-rich Metaverse-powered mobile application.
Read More:
1. NFT-Based "Play-To-Earn" Metaverse Game Development