Web 3.0 is a revolutionary technology that integrates AI, ML, cognitive computing, and blockchain to enable human connection in the real world. Instead of depending on a centralized provider like Google or Apple to give users web access, the Web 3.0 stack allows people to independently govern and administer web elements.
In Web 3.0, there is a rising emphasis on DeFi or Decentralized Finance. Real-world economic transactions may be conducted on the blockchain without the intervention of banks or governments. This blog will explain what web 3.0 is, why everyone is talking about it, and where it's heading in the future.
Web 2.0 vs. Web 3.0
Most of us are only familiar with Web 2.0, often known as the interactive and social web. It's no longer necessary to be a coder to contribute to the creation of mobile applications in the Web 2.0 epoch. There are several applications that may be developed by anyone.
Web 3.0, also known as the Semantic Web, is the era that predicts the future of the web and its evolution. AI and ML Development enable computers to study data in the same manner as humans, which facilitates the intelligent generation and dissemination of useful content depending on a user's specific needs.
Both Web 2.0 and Web 3.0 emphasize decentralization, despite a few fundamental distinctions. When developing Web 3.0 apps, developers never create or deploy programs that require a central server or database to execute or store data.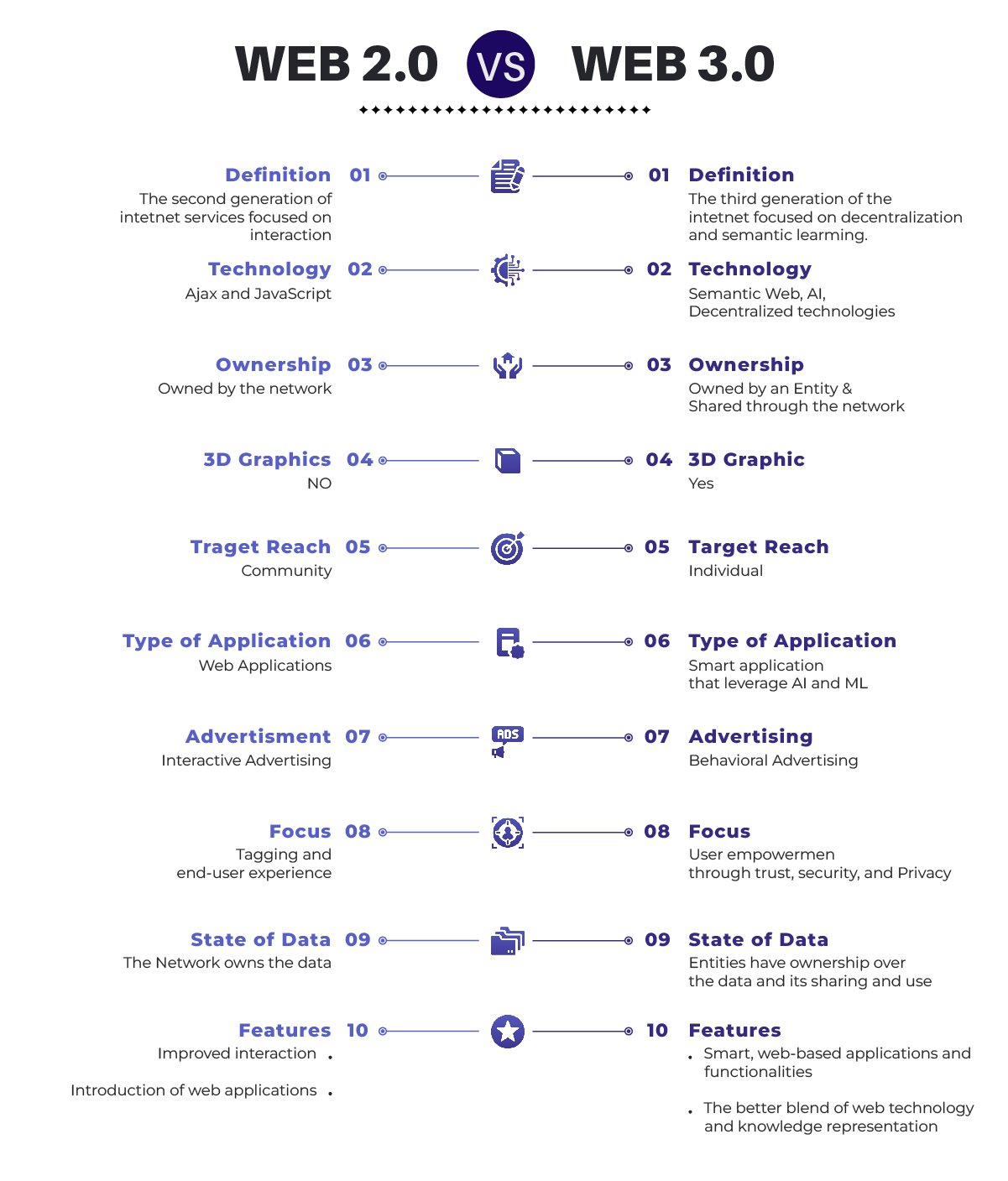 Working of Web 3.0 Explained
Toward the future of the Internet, web 3.0 aims to speed up, simplify, and streamline the process of looking for information. When using a web 2.0 application, a user must interact with the front end, which connects to the back end and interacts with the database.
Centralized servers host all of the code that is sent to users via a web browser. On the other hand, there are no centralized databases or web servers for backend functions in Web 3.0.
Instead, web 3.0 internet of blockchains are used to build apps on a decentralized computer system that is governed by anonymous web nodes. To govern the logic of their programs, developers construct smart contracts, which are then placed on the decentralized state machine.
Web 3.0 Architecture
There are four main components to the web 3.0 architecture, which are: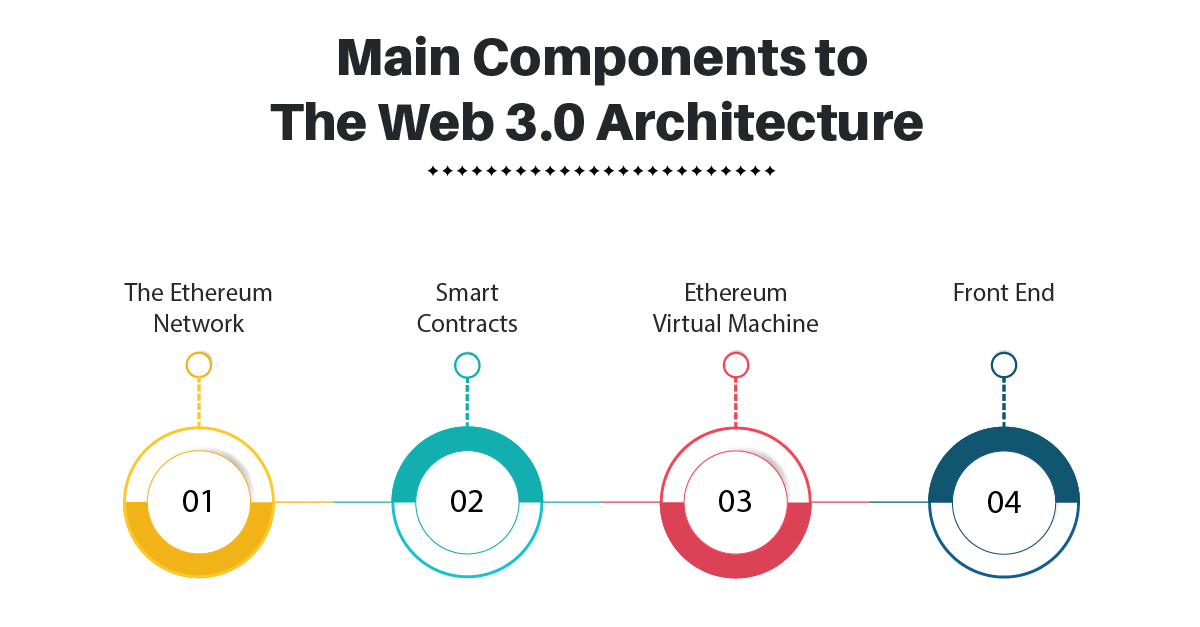 The Ethereum Network
A network of nodes maintains state machines that may be accessed anywhere in the world. Anyone in the world is able to write to the global state machine. Instead of being owned by a single organization, it is owned by the entire network. It's possible to write on the web 3.0 crypto Ethereum Blockchain, but you can't alter anything that's already been recorded.
Smart Contracts
These applications utilize the Ethereum Blockchain to function. App developers use high-level languages such as Solidity or Vyper to write the logic that underlies state changes in their applications.
Ethereum Virtual Machine (EVM)
In order to implement smart contracts, a set of devices like these is required. These agents oversee the state transitions of a state machine.
Front End
Web 3.0 UI is developed on the front-end like any other software application. An API is also available for smart contracts describing specific applications' logic.
Features of Web 3.0
Web 3.0 will increase the efficacy of machine-human interaction by making the web more sophisticated, secure, and transparent. This will increase the efficiency of web browsing. Benefits of Web 3.0 include:
Security and Privacy of Data
As far as end-users are concerned, data encryption is the most significant advantage. Regardless of the conditions, the data cannot be decrypted.
Therefore, Google and Apple can no longer control or exploit people's personal information for their own gain. Thus, customers will be able to have complete control and privacy of their personal information at their disposal.
Simplified Approaches
Due to the decentralized nature of data storage, users will always have access to their information. Many backups ensure that even if a server fails, users will be able to access their data.
No government agency or entity will be able to stop any services or websites. As a result, account suspensions and denials of service will be less common.
Transparency
You can track your data and the code that runs the platform no matter which blockchain platform you pick. Open source blockchain platforms built by non-profits enable the planning and implementation of blockchain projects to take place openly and transparently. Using this method, the user will no longer rely on the platform's creator.
No Restrictions on Data Access
Access to the data may be done from anywhere in the world and on any device. The goal is to increase global data collection and accessibility by allowing smartphones and other smart devices to obtain data from a computer if it is synced.
Web 3.0 will allow for a wide range of interactions, from simple payments to secure data exchanges. Web 3.0 will make this feasible by allowing us to interact directly with any computer without paying a third party for their services.
Processing of More Complex Data
Web 3.0 can help with problem-solving and knowledge creation. Artificial intelligence (AI) is used to sort through a massive quantity of data and extract just the most relevant pieces of information.
The ability to anticipate client needs and deliver personalized service, which are critical for a successful business, would also be advantageous to customers.
Web 3.0 Examples
Some well-known examples of web 3.0 apps indicate the extensive use of this technology:
Apple's Siri
Siri is an excellent illustration of voice recognition technology as an integral component of Web 3.0. Using new technology that allows voice assistants to communicate, exchange information, and provide more helpful search results, Siri and other digital assistants may be able to answer virtually every relevant question you ask.
Alpha Wolfram
Wolfram Alpha, an artificial intelligence platform, presently operates on web 3.0. The platform's capacity to compute complicated answers may assist mathematicians, dietitians, and scientists alike. It quickly links to other apps for the benefit of end-users, allowing them to access data from their databases and simplifying understanding.
Steemit
Steemit is an excellent example of a web 3.0 metaverse social network. The Steem Blockchain social media infrastructure powers this decentralized reward system. Bitcoin is used to reward bloggers and content providers on the web.
IDEX
IDEX is one of the most prominent decentralized exchanges for trading ERC-20 tokens on web 3.0. To trade on IDEX, a user must have an Ethereum wallet on their computer or mobile device. MetaMask - a crypto wallet - is essential for the best IDEX experience.
e-Chat
e-Chat is a web 3.0 software that utilizes a decentralized blockchain. It is also known as the fastest-growing social network because of its encrypted chat capabilities. The ability to share any information without fear of theft benefits users.
Conclusion
We're going toward a web in which users maintain full control over their data and privacy while allowing corporations to use it. All of this will be done via blockchain technology. Web 3.0 will accelerate user data's true and genuine use, from personalized search results to cross-platform development tools and 3D visualizations.