Do you know what a feedback wildfire is? It is when several others share one customer's views. Let's understand this with an example.
Say you are selling a product, and several people shared the same issues while using the product. For example, slow loading in case of a website or rashes when using a cream or customer support issues while dealing with a booking website.
All these can spread like wildfire and ruin your conversion rate. The best way to deal with it is to have a strong product and offer inclusive experiences to the customer. Mobile apps are no different; if you don't provide unique and uniform expertise through the application, you might lose out on a crucial conversion.
Every dollar spent on UX brings 100 dollars in return, accounting for an ROI of 9900% (Forrester).
Good user experience is not a one-off event; it is a complete journey. The fluidity in your experience design defines how the customer will feel when visiting your website.
What is User Experience?
User experience includes all aspects of the user's interaction with the product. It begins with the tangible elements and moves on to more intangible yet essential parts of the product. There are four things that the product owner needs to think about like a user before designing for the experience.
Will the product be helpful to the end-users?

Is the design you are proposing accessible and usable?

Are the features functional? Will the product work using these functions alone?

Lastly, is it offering some value to the end-users?
A product that is easy to use, functional, and offers some value to the customers at every point can provide an excellent experience.
The context of the product and the reason for developing it also helps deliver the experience one seeks. Experience is all about how the user interacts with the product and how they feel at its end.
Importance of Capable User Experience Design
At least 52% of the respondents in a survey conducted by Google said they would not engage with a company that offers a terrible user experience (Think with Google). UX-first design approach has become a necessity, whether you want to acquire or retain your customers. Here is all how designing for experience can help your application.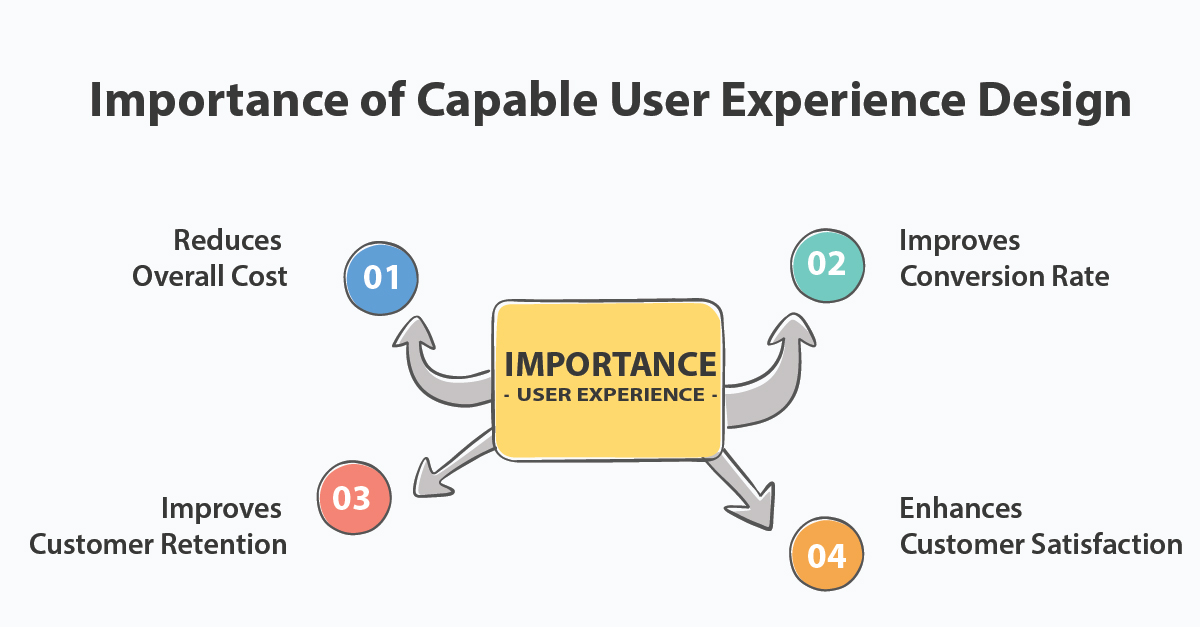 #1 Reduces Overall Cost
When you design for experience, you will consider usability and value during the prototyping state. You will also design for accessibility and usefulness before going into the development stage.
As a result, the number of reworks is automatically reduced, and development productivity increases. You will also avoid redundancy in feature design and make the aesthetic design improvements right at the start. Eventually, it helps you create the best design in fewer hours, leading to a better outcome.
#2 Improves Conversion Rate
Say you are an eCommerce app, and your customer enjoyed their experience from entry to exit. They could search with ease, find their stuff, push it into the cart, pay with their choice of method and finally get the deliveries on time. This makes up for a splendid experience.
As a result, there is a reduction in abandonment and increased conversions. When the experience from the first point of interaction is good, it makes up for an excellent conversion rate.
#3 Improves Customer Retention
When your customer has an incredible experience using your product, they may use it again. It will lead to repeat customers and eventually improve retention. As retention goes up, acquisition costs lower to a great extent. You don't need to keep spending money to acquire customers.
The feedback will help you gain more acquisitions and improve retention, thus reducing costs.
#4 Enhances Customer Satisfaction
If you offer good experiences to the end customer, it can improve their engagement with the product. For instance, they are likely to stay longer on the application if they appreciate the experience they are gaining.
It will eventually improve the satisfaction rate. It will also enhance the net promoter score, as the feedback wildfire will be positive.
5 Mobile App User Experience Principles
When designing user experience first applications, you need to keep a few things in mind. These principles take into consideration:
The mobile app usage

How do they hold the devices?

What are some of how the user consumes applications?
Here, we will dive into the five principles you need to keep in mind.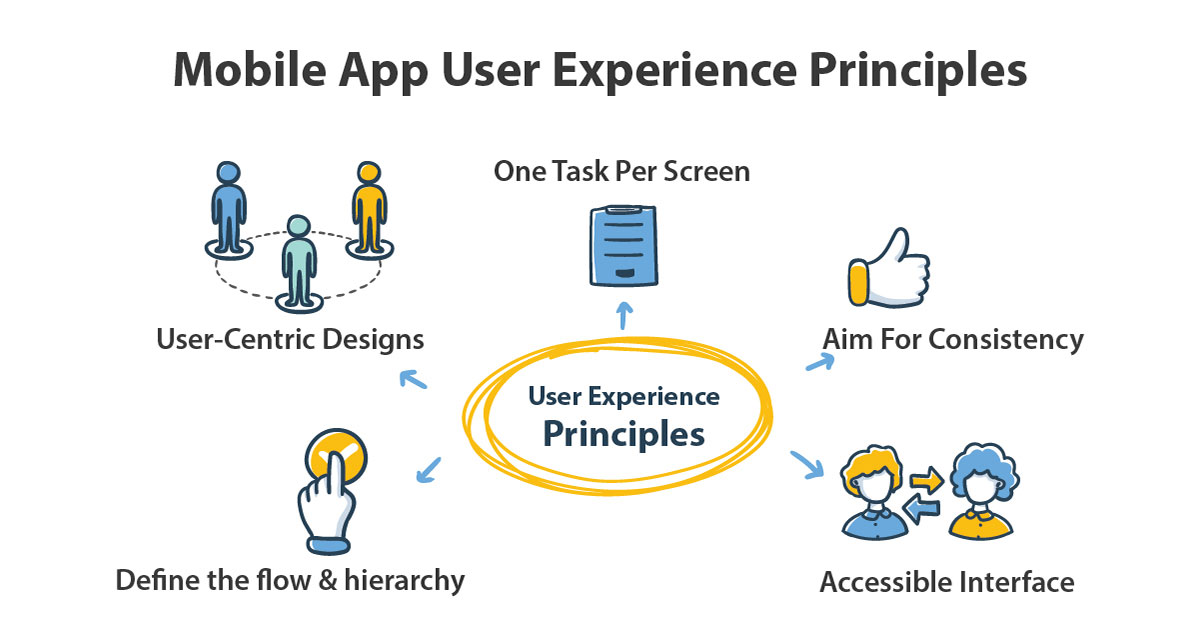 1. User-centric Designs
Focusing your efforts on understanding the user will drive a more capable interface for your mobile app. The core principle of UX-first design is to build for the user and not to impress anyone else.
Everything should talk about the user, from your design attitude to your interface. When you know your user doesn't find it easy to access the most challenging areas on the screen, you will avoid using those spaces.
When you focus your energies on knowing the customer, you will know where to place the buttons for easy access. You will understand how the user prefers to play a game versus watch a video.
There are plenty of consumption habits and preferences that you realize, which help you build a suitable app interface.
2. Define the Flow and Hierarchy
For the best experiences, it is essential to define and design the user's movement. Put yourself at the user's feet and understand how they would like to move from one place within the app to another. Would they like a back button from a particular screen?
When you dive into the hierarchical approach, you first need to identify the essential features and functions for your app. you will then map the sequence of their movement. You can create a tree-like drawing to determine the top-down approach for design.
You will know just what will appear next and how the user will move from one screen to another in this case. It will simplify your task, and you will not add too many plugins or themes that are not essential for the interface design.
3. One Task per Screen
When you go to Uber or Lyft to book your next ride, you notice that these apps enlist one task per screen. If you register as a driver or a passenger, you will be looking at only the form details. There is no other detail that can confuse you as the user.
This is one of the essential principles that you should inculcate as the designer of a UX-first app. Decide the purpose of the screen. If it is a booking screen and the person has to add the destination, the screen should only have the necessary elements.
When you add too many tasks for the customer on a single screen, you might distract them. eventually, it hampers their experience and makes them go away from the app.
4. Aim for Consistency
Imagine using an app that starts with dark yellow fonts and moves on to red fonts. The backgrounds change with every screen, and there is no similarity in the screens. Did that scare you away from the application?
That's why it is essential to develop a consistent app from start to end. Ensure that fonts, font sizes, and even the colors are uniform.
The colors and fonts are similar if you see the Facebook app, thus unleashing a good experience. Similarly, when you use Instagram, you feel the uniformity.
This makes the user stay longer and use the app, driving more conversions and engagement.
5. Accessible Interface
When you are designing for experience, it should be inclusive. Everyone who uses the app should attain knowledge. For instance, if the person cannot see, the alt+text should convey the matter to them. Similarly, if the person has some other issue, the application should be perfectly suited to their needs.
Putting this at the core of your design definition improves the experience and leads to better engagement. There are plenty of resources that help you make the apps disability-friendly.
How to Choose a Good UX Design Company?
Choosing a suitable UX-driven company for your next business app is essential. Here are a few pointers you might want to consider while selecting a UX Design Company.
#1 Reputation
It is essential to choose a reputed company renowned for UX-led designs. Reputation speaks for the company. If they are punctual, user-centric, and quality-driven app designers, you would know about them from the customers they have handled.
It is essential to have someone with a good reputation and a thorough knowledge of the domain to drive your user experience design requirements.
#2 Experience
We don't count experience in several years alone; we also trust it in the app solutions they have offered in the past. For example, if a company has ten-odd years of experience but hasn't created even ten apps, it doesn't count.
It would help if you had someone who has worked extensively in this domain and specifically created apps for your industry. You will then know how they solve a problem with the mobile-first design and how they drive the solutions.
#3 UX-first Design Knowledge
When you search for a UX-led company, you need to find someone who understands user experience and the growing need. They should have complete knowledge of user experience-driven interface design, what it takes to create the experiences and how to improve accessibility.
They should have a first-hand understanding of the principles that complete the user experience design.
#4 Process
Partner with a company that has a defined process. It will help you stay in the loop and offer enhancements when needed.
If they have a process, there will be a starting point, an endpoint, and a feedback loop. It will be clear when you can expect the app to be completed and what the complete scope of the development process would be.
#5 Support
Your ideal partner is an app development company that understands that its role is not over with development. They should offer support after the launch and be there for continuous improvement in the design processes.
Check if they have a good support process and whether or not they offer the support required.
Conclusion
If you are planning a mobile app for your business, going UX-first with design can help you create a beautiful, functional, and engaging solution. User experience can help you plan a more user-centric and accessible application that engages and retains well.
To plan the user experience design, you need a UI UX Design partner, who will help you focus all your energies on knowing the competitive landscape, understanding the user, and building an application to attain your goals.
If you have a mobile app idea, you can connect with our team for an end-to-end solution that furthers your goals.