A Complete Guide to Mobile App Redesign: When and Why Answered
Jignen Pandya
September 13, 2023
10 min read
What makes an application like Slack tick? The total number of Slack customers exceeds 10 million daily (Slack). If you have used Slack, you would know it is a simple collaborative app that integrates with several systems and software. It helps businesses with real-time communication and immediate decisions.
The answer behind this raging popularity lies in the simplicity and usability of the application. You don't need to learn how to use the application; once you are on it, you move intuitively. That's what a mobile application should offer to the end-user- usability and simplicity.
User experience and user interface design are vital in shaping your application and how end-users want to view it. Every $1 invested in user experience can return $100 for your business. User experience includes usability, performance, convenience, and even functionality. If your app is slowing down and the retention rate is taking a plunge, it may be a sign you need to redesign your application.
Some of the UX factors that lead to poor interfaces include
The site's not easy to use. When you move from one part of the website to the other, you notice that the movement is full of friction.If it is not intuitive, you can expect people to move out of your application almost immediately.

The content is not accessible to people with disabilities. You have not created inclusive systems and copies that all can use.

Navigation is slightly disturbed. When the user moves from one part of the website to another, they cannot process the backward movement. It is not as user-friendly as it should be.
When your website is not following the user experience design principles, you may see an impact on your downloads and engagement. This guide will help you identify the signs your business application needs a revamp and how to plan your mobile app redesign.
Top Reasons Why You Should Redesign your Mobile Application
If your app bounce rate has suddenly increased and you notice more abandons, you might want to check on your design. Here are all the signs that your mobile application needs to redesign.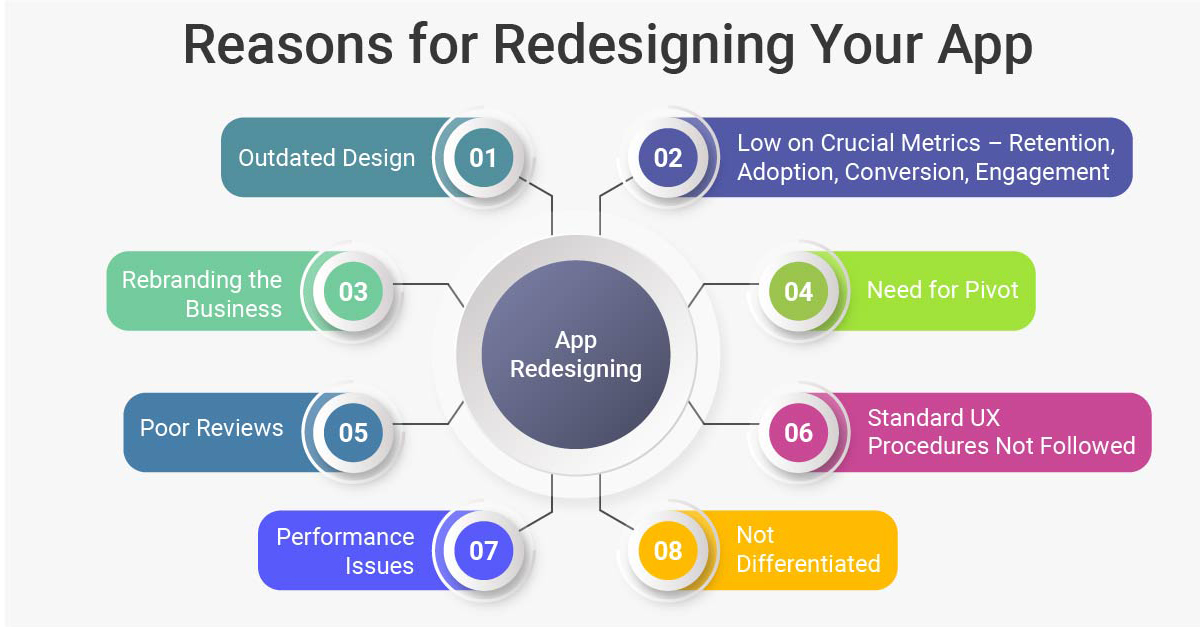 Reason 1. Outdated Design
If you have designed your application using outdated technologies, you might not be able to add new features effortlessly. It is also possible that the current layout doesn't match the new guidelines set by the operating system.
For instance, iOS updates always come with new features and design guidelines. You cannot ignore these guidelines if you wish to enhance the user's experience while being on your app. The design of the application should evolve with time. If your app's plan doesn't meet the current business goals or cannot work seamlessly with newer devices, you might want to consider redesigning the app solution.
Reason 2. Low on Crucial Metrics – Retention, Adoption, Conversion, Engagement
When you design a mobile app solution, your primary goal is to maximize downloads and get more engagement. You want people to know your brand and establish a solid presence among the user community.
However, when the time comes, the user experiences a lot of friction while using the mobile app. As a result, they don't find it usable and accessible. The buttons are out of reach, the interface cluttered, and none of the elements match the goals established.
When customers face difficulty completing tasks on the application, they automatically move away from it, thus reducing the numbers for retention, adoption, conversion, and engagement. If you suddenly notice an increase in abandonment, you might want to reconsider the design.
Reason 3. Rebranding the Business(H3)
When you rebrand your business, you are in for some massive changes. It could be a different band color, icon, and even elements. Redesigning forms a significant part of your rebranding process.
This may not involve redesigning the experience, as your target audience will remain the same. However, the visual goals will change, requiring you to redefine the user interface. You might have to follow the data obtained during user experience research as part of this process. It will help improve the placement of the elements on the app screen and encourage usability.
Reason 4. Need for Pivot
SaaS products went from customer-service-driventools to self-serve. A lot of products underwent pivot after the coronavirus Pandemic. These pivots cannot work if you use the same interface design. A self-serve palette would be more intuitive, easy to learn, and usable than the other tools.
Sometimes, you might do a pivot because your design didn't work the first time around. At this point, pivoting can help you create a more user-centric layout capable of translating your goals into reality. Your business will need an mobile app redesign (UI and UX included) at this point because your customers are mature to embrace a newer app model.
Reason 5. Poor Reviews
If you have launched an application, but it is sub satisfactory, you may need to opt for a redesign. Your app often doesn't meet the user's criteria for using a particular mobile application.
For example, if the user feels stretched when using a particular segment of the application, you must take care of that while designing the interface. Similarly, if your user has been experiencing downtime while on your app, you need to work on that. There are several ways you can manage bad reviews, from performance to load.
However, if your customers face issues using the application, you might want to redesign the interface.
Reason 6. Standard UX Procedures Not Followed
Both iOS and Android have laid out rules that need to be followed when designing the user experience or interface for the application. The design and development team needs to keep the design guidelines in mind.
However, a lot of times, developers tend to ignore these guidelines to deliver an aesthetic solution. While the application looks visually appealing, it doesn't meet the interface design guidelines. These apps don't look at the whitespace and even font size standards in many cases.
This can cause friction in usability and lead to bad experiences. You may want to avoid that by redesigning your application.
Reason 7. Performance Issues
App performance is the one criterion you cannot compromise while designing your mobile solution. Whether you deliver a native-only solution or a cross-platform application, it is essential to create fast to load and scalable solutions. As the company grows, the user base will expand, and the apps need to provide it.
If your app is cluttered with images and overloaded with content, it may produce poor performance. If there are hosting and cloud-related issues, you might notice a slow movement within the app. all this can lead to attrition and, eventually, loss of a potential customer.
Reason 8. Not Differentiated
If you design an application similar to the competition, you won't stand out. Ultimately, your design may not fetch the requisite conversions and stay hidden in the search engine pages.
Not differentiating or filling the gaps can cost you a lot of customers. It is essential to consider redesigning your app with an outstanding interface.
Benefits of Redesigning Mobile App
We have seen all the reasons you should redesign your mobile application. These signs indicate that you need to work on a different design strategy. But will redesigning help your business? Let's look at the benefits of redesigning your mobile app solution.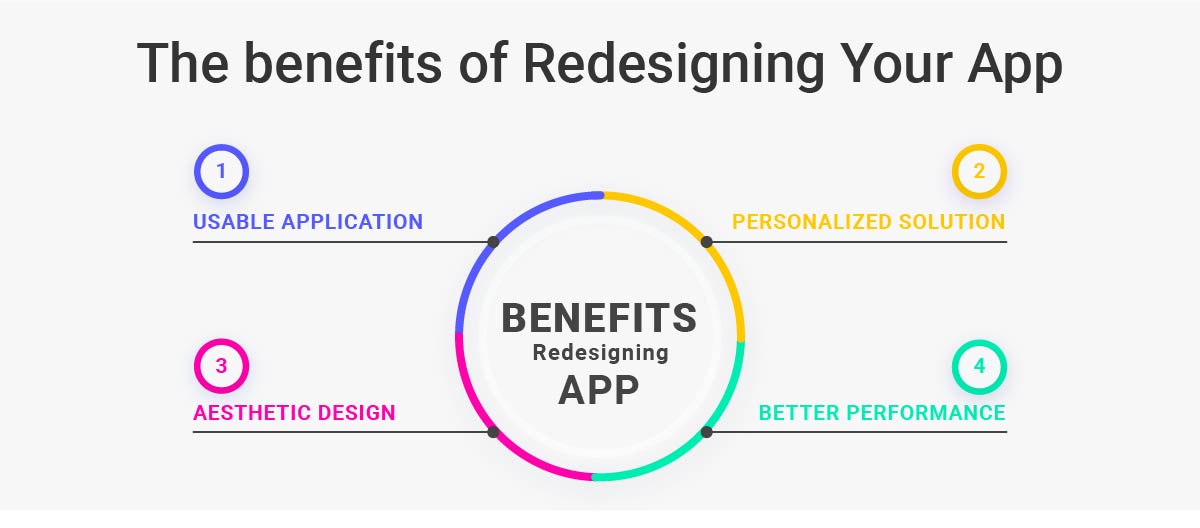 1. Usable Application
Imagine you redesigned the application keeping in mind the user's requirements and the standard design practices. What do you get? An application that is usable and user-friendly.
Yes, you have defined the elements in the spaces where the user prefers and have highlighted the whitespace as per the guidelines. Eventually, you will notice an increase in in-app engagement.
2. Personalized Solution
When you redesign the app be tuned to your user's requirements. Before defining the design strategy, you study the user's mobile app consumption habits and check how they move from one screen to another.
As a result, it is personalized to the end-user and will add to the engagement rate. When people like what they see, it is bound to maximize downloads for the business.
3. Aesthetic Design
If your app wasn't visually appealing and enticing, you need to give it another chance. This comes in the form of redesigning the application. You can work on a new visual that
can guarantee more visits and engagement.
It allows you to add colors that appeal, fonts that strike a chord, and whitespace that makes the app look fulfilling.
4. Better Performance
When you redesign your mobile app, you remove the unnecessary elements from the interface. If images seem to be clogging your performance, redesigning will remove them.
If interface elements' scalability is proving to be an issue, you can redesign it to match the performance needs.
How to Redesign your Mobile Application?
Redesigning cannot be achieved overnight, and we all know that. It is essential to follow the steps thoroughly before getting the design right. Check the app redesign process.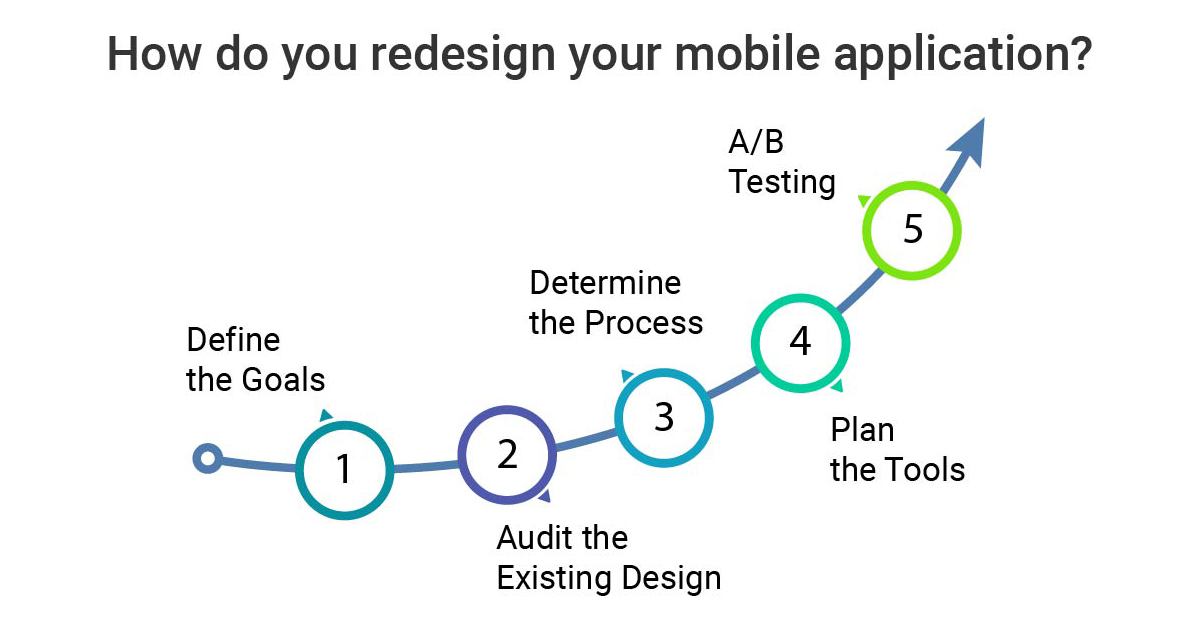 Step#1: Define the Goals
The first step to mobile app redesign is why? Why does your business need a redesign? What is the purpose? As discussed earlier, any one of the reasons could become your purpose. You may want to increase traction or meet the user's design criteria.
A redesign strategy without a purpose is incomplete and may not translate your vision into reality. The reason for defining the purpose right at the start is that you will keep coming back to it at every redesign stage.
Step#2: Audit the Existing Design
This is a crucial phase for your mobile app redesign strategy. You need to understand what is going wrong with the current design. It is also time to identify the gaps in the present application.
For example, your application may not be fully designed for the user, and there could be possible interface changes that you need. It is impossible to catch this problem if you haven't audited the application.
The audit will give you a clear indication of what needs to be redesigned. It will help you strategize better.
Step#3: Determine the Process
How will you begin redesigning the app? What would be your first step? A process can guide you through the redesigning of your application.
Jot down the scope of your mobile app redesign. Choose what you aim to redesign- the interface, experience, performance, etc., align the process to your end goal, and break it into smaller sprints. You will have set the stage for mobile app redesign.
Step#4: Plan the Tools
Which tools will you use for mobile app redesign? It would help if you had the tools to develop the wireframe or skeleton of the application. Web applications like Figma can help you with the same.
Planning tools can include JIRA, MIRO, and others. Slack can be used for collaboration. You will need to define a tool for every stage of redesigning so that it becomes a collaborative effort.
Step#5: A/B Testing
Conduct A/B testing of the app designs. Select two different methods and run them through your customers for feedback. See what they say about the designs before finalizing them. Once your redesigned interface is ready, could you send it to the development team?
Conclusion
Audit the design if you feel your app isn't meeting the download or engagement goals. Check for any issues that can lower the performance or cause frictions in the experiences. It is very important to check for the design from the end user's perspective so that you can rework it accordingly.
Create a defined process for reworking the mobile app design. Follow the steps so that you can ensure seamless launches. reworking in-house can be tedious and lead to pressure on your team. outsource your redesign and work in tandem with your tech partner to enhance quality without disturbing your core work.
Expert App Devs is one of the most trusted Mobile App Development Companies in Phoenix. With our native and cross-platform development services, you can accelerate app launches with minimal latency and risks.