"Just one more game," says the gamer and the developer. There is no end to playing or making games. With every gamer is born a developer who wants to build another beautifully set, tense game that keeps the person hooked.
Mobile games have given more wings and players to the gaming world. It has removed the need for a console and made it accessible on the go.
The mobile gaming industry is growing exponentially, creating new opportunities and opening untapped territories. It is also responsible for the sudden growth in the video gaming industry. 57% of the total revenue generated by the gaming industry came from mobile gaming (Statista).
This article might be helpful if you have been planning to enter the gaming niche or planning your next mobile game app. We will discuss everything about mobile game design, best practices, and addressing the needs for mobile game development.
Top 8 Mobile Game Genres You Should Know
When you begin planning your gaming app, the first thing to consider is the gaming genre. What type of app do you want to build? Here we will take you through the types of mobile gaming apps and what they offer.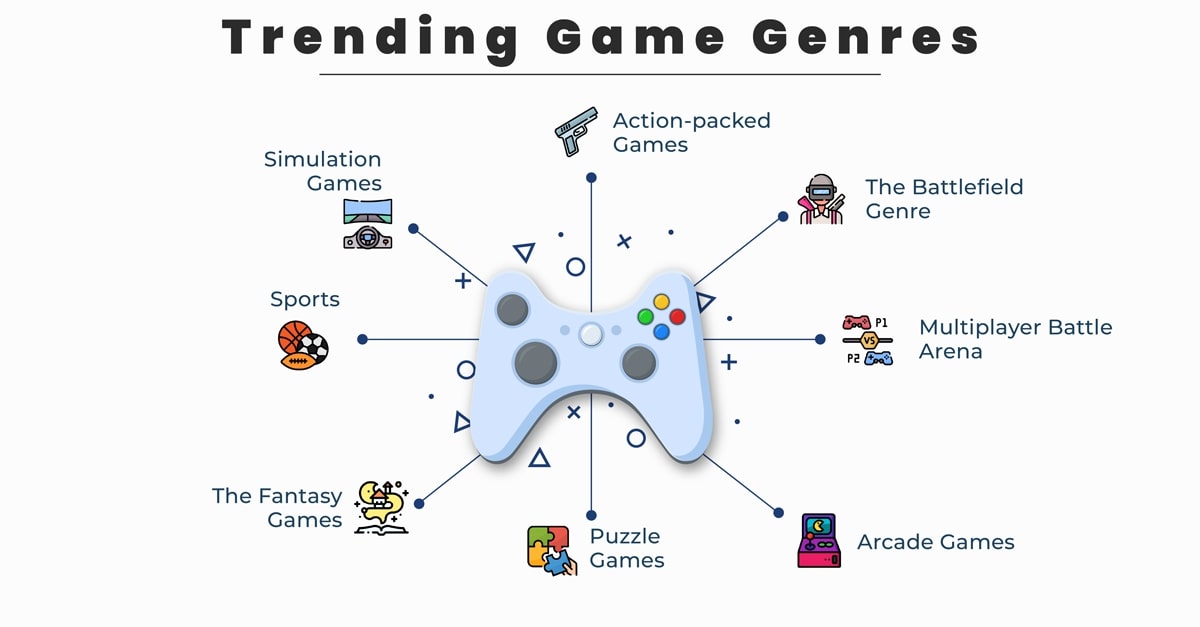 1. Action-packed Games
This genre involves high-power, action-driven games that keep your adrenaline pumped up. Call of Duty is one of the most popular games in this segment. It keeps the gamer hooked on. You might find it challenging to create these games for mobile as there are too many elements to add.
2. The Battlefield Genre
Not very long ago, the battlefield game PUB G had everyone's attention. There is a lot of strategy, strikes, and even movements that need to be planned. It is almost akin to being on the battleground.
3. Multiplayer Battle Arena
This is more of a game where you build strategies to win against each other. It is more of a strategy than a strike level of the game.
4. Arcade Games
is replicating console or arcade games into mobile devices. Subway Surfers and Temple Run are arcade games that became popular mobile games.
5. Puzzle Games
Who doesn't love a good puzzle? Candy crush is a mobile puzzle game that has everyone's heart and soul in it. You should try using the puzzle foundation to make a popular mobile game.
6. The Fantasy Games
Choices and episodes are story games that have become popular owing to the fantasies and role play it offers. Several story-driven games have people's interests. You can create one such game for your audience.
7. Sports
There are several sports-related games such as cricket, football, and others. You can design these games for the mobile platform.
8. Simulation Games
You can create a simulation environment for car driving, airplanes, and others to help people get an insight into these worlds.

Why Do You Need Solid Mobile Game Design?
Take a look at the game you have played the most. Whether it is the famous Candy Crush, PUBG or Subway Surfer, you would notice several elements in these mobile games.
Design helps visualize the application better. It gives your gaming app a better vision. It provides the game design's motivation, regulations, boundaries, opportunities, and aesthetics.
The idea is to have a functional design for customers to learn without much effort. When you create a design-first philosophy, you build a more experiential game that can get you more customers and downloads.
Top 3 Benefits of the Design-first Philosophy
Here are all the benefits of incorporating a design-first philosophy for your mobile gaming application
1. User-centric App Design
You will build a mobile game application that is defined for the end user. When building the mobile game app, here are the answers you would seek first
What is the user's favorite game?

How do they use gaming applications?

What are some of the elements that should be part of the gaming app?
With the user at the core, you will create the game design in a way that encourages more people to download.
2. Better Visualization
You can create an impressive app interface that enhances the usability and functionality of the mobile app. You can better visualise the mobile app. you will know what you want to give your users.
For example, you will know how the user would move from one level to another. You can create the levels in a way that syncs with the users.
3. Small Screen Design
You are building the mobile application for the small screen. As a result, you need to be more creative with your space usage. Let's take the Subway Surfers, for example. If you notice, some elements are sharp and prominent in the mobile game design; however, some are by the side. This can happen when you focus on the design before beginning the logic development.
The Top 5 Challenges that Mobile Game Designers Face
At Expert App Devs, we have released many gaming applications. We will discuss the challenges we faced when building these applications for the users.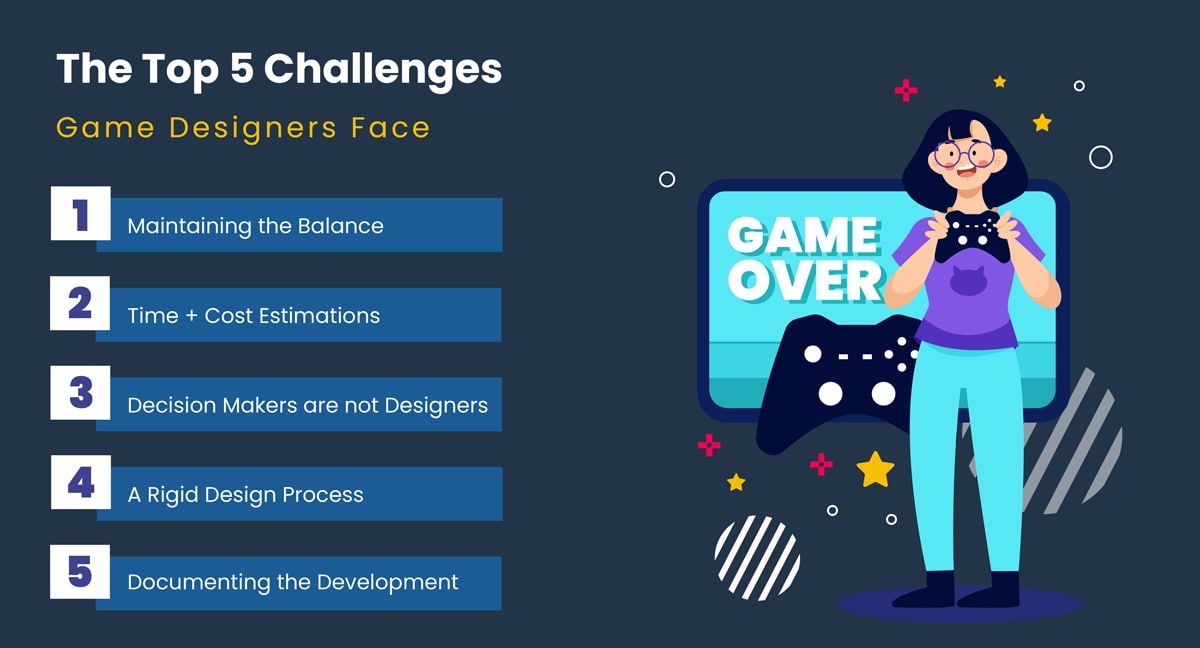 1. Maintaining the Balance
Does story precede design or vice versa? This is an oft-asked question by most mobile game designers. It is a challenge to ensure the fundamental balance between the two elements.
You might give in and let the story take over; your mobile game design might become a priority. On other days It is essential to have a storyboard before you begin game design. You should essentially use the game design rules to build the mobile game. This should include adding rewards, incorporating challenges, and a lot more.
The story should be in the background for the best balance.
2. Time + Cost Estimations
Most mobile game designers make the mistake of underestimating the cost and time. This can lead to losses eventually for your team.
It is vital to consider some contingencies when deriving the cost and time estimations. Make sure you incorporate a buffer period in your timelines. The buffer estimations should be accurate too.
Before estimating your project cost, discussing past projects with team leads is essential.
3. Decision Makers are not Designers
If the people making timeline or other game development-related decisions are not designers or mobile game developers, they may not understand the nitty-gritty involved. As a result, you may notice discrepancies, which can cost you the project.
If your designer or the content creator has no say in the matter, you might notice minor troubles when going live with your gaming app.
4. A Rigid Design Process
This can become the biggest challenge for the mobile game designer. If the process doesn't offer flexibility to incorporate new additions, make creative changes, or incorporate new features, you might feel stuck with your storyboard.
While deadlines are important, the app's scalability and future are equally important. You should ensure your process makes allowance for some flexibility. An agile and easy-going process will foster innovation and help design better.
5. Documenting the Development
It is critical for the mobile game developer to maintain the documentation correctly. They should be able to ensure that all the documents are ready and that the overall game design documentation is up-to-date.
This is where most game designers face their biggest challenge. It becomes difficult to ensure the project's timely completion while keeping up with the documentation needs.
This is where the process can help you. make sure you have a defined process that helps you give good time to documentation and keep everything in place.
The 6-Step Mobile Game Design Process
If you want to release a well-structured, designed, and highly engaging game, it is essential to follow a process. At Expert App Devs, we have designed a process that helps us deliver a capable and functional mobile gaming app.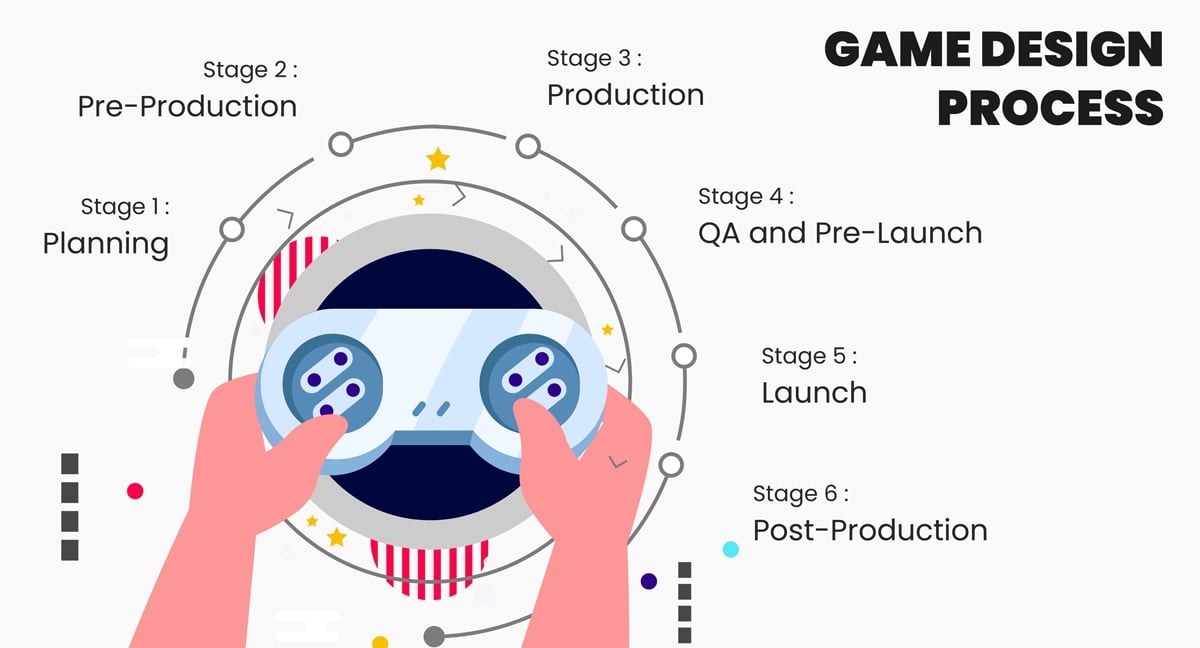 1. The Planning Stage
To begin with, you need to identify the end users of the mobile gaming app. Identify the target market to get started. It is essential to define the actual user of the app.
Which niche does the gaming app belong to?

Who are the competitors existing in this market?

Who is the user of the mobile gaming app you plan to create?

What is their persona? What are their interests?
While discussing customers and competitors, it is equally important to discuss the budget and platform for this game app design.
Decide the budget for the gaming app before you begin designing

Know whether you want to go with a native or multi-platform approach?
It is imperative to plan every aspect of the game, including what you want to offer to the users. It is a good idea to validate the app idea you might have before getting started.
2. The Pre-Production Stage
Once you have planned the app visualised the concept, and even defined the target market, it is time to begin the pre-production phase.
At this point, you are building on the concept to give your idea a narrative. Start with creating mood boards and storyboards for your gaming app.
The pre-production phase is also when you develop the idea to build the prototype. You will create screens, plan the navigation and define the user movement.
At this stage, you will also work on user experience for the mobile game design. It should be usable, visually appealing, connect the right elements and functional.
3. Production Stage
Once your storyboard is ready and you have created the game design concept, it is time to produce the design.
The production stage is the actual development phase. At this point, you need to work on coding the designs, building the stages, adding the logic, and designing the screens. You will also need to render the screens for usability.
In this stage, you will introduce all the motion and effects into the gaming app. You will develop your animations, the backend movements, and the interactions at this point.
By the end of this stage, you will have the game developed and ready for testing. you can use reputed mobile game development tools to improve storyboarding.
4. QA and Pre-Launch Stage
Most mobile game developers will have a test-driven environment. However, you should always test your application at the end of development, at least once.
When doing the quality analysis, answer these questions to get an apt understanding.
Is there friction when playing the game?

Is the movement between stages easy?

Are the stages fully-defined, easy to understand, and play?
Quality, performance, bug, and load testing are essential. You should ensure the app is free of errors and fully optimised for the play store.
You should now prepare for the beta release and main launch. Make sure your marketing material is also set for the launch phase. You can start with teasers and other marketing assets for the launch. Make sure to participate in gaming conventions for visibility.
5. The Launch Stage
Once you have the pre-launch cleared and the app optimised, it is time to plan your master release. Make sure you have polished the application and run the app for bugs or errors.
It is essential to build anticipation for the app before the final launch. Make sure the app has depth and is fully refined for launch.
6. Post-Production Stage
Once the app is launched into the market, your story begins. Your continual marketing will make the application visible. It is time to get feedback from real customers and plan to incorporate them into your application.
You might want to add updates to the app, including patches and new features. The post-production stage can also give birth to a new concept for your mobile game.
Unity vs Panda3D: A Quick Comparison
Here is a quick comparison of Unity, the most popular game design framework, Panda3D.
| | | |
| --- | --- | --- |
| Comparison Point | Unity | Panda3D |
| Rapid Prototyping | This framework allows you to create rapid prototypes for the game design | The prototype development isn't as smooth as Unity |
| Usability | Unity is relatively easy to use and has a low learning curve | Panda 3D comes with a low learning curve and is pretty easy to learn and use |
| Programming Language | This is built using C# programming language | you can use both C++ and Python to develop game applications with Panda 3D |
| Support | It is possible to develop apps for more than 20 platforms including gaming consoles and AR/VR consoles | You can create multi-platform real-time gaming apps with this platform |
| Structure | This is a well-defined, structured, and documented framework for mobile game development | It offers greater flexibility and comes with an object hierarchy system |
| Tools | It comes with a great asset store that provides you with the tools and functionality needed to develop mobile game design | It offers excellent debugging and profiling tools that make it easy to build game apps |

The quality of support and scripting is incredible for both. Both engines have an excellent rating, community, and abilities that help you release fantastic and engaging game applications.
How to Outsource Your Mobile Game Design Requirements?
You should have a quick reference 6-step checklist for when you want to outsource mobile game design:
1. Gather App Requirements: Make sure to sit with a requirement checklist and identify all the things you want in your gaming app
2. Connect with Developers: Network, research shortlist, and consult with game app developers to choose the one that best fits your requirement
3. Plan your Approach: Discuss how you aim to work on your gaming app. Define the approach, discuss the potential opportunities, and consider their experience before going with the development
4. Prepare the Contract: Ensure you have a contract handy before outsourcing the development. It will have the work scope and other important details
5. Document Everything: It is essential to document all aspects of your mobile app game design. It will help you prepare for changes and introduce new features in the future
6. Plan for Outsource: This is a crucial step as it involves defining the core team from both sides. You should also plan the communication protocol to ensure you are in the loop
Frequently Asked Questions
Question 1: Which is the best mobile game engine?
Answer: Unity is the best and most preferred mobile game engine. It is easy to use and designed for both 2D and 3D games. At the same time, it ensures faster game development.
Question 2: Is mobile gaming profitable?
Answer: The revenue generated from mobile gaming contributes to 57% of the total gaming industry revenue. That's more than half of the revenue, which makes this a profitable niche.
Question 3: How to hire the best mobile game UI designers?
Answer: You should look for the following when hiring UI designers for your gaming app; you should look for the following:
Experience with 2D and 3D gaming

Expertise in the gaming genre

Excellent communication abilities

Prompt and honest

An incredible portfolio
Conclusion
We saw how game design is a crucial development aspect. If your concept, usability, experience, and storyboard are on point, you can render a successful gaming application.
To support you on this journey, you need a capable team of mobile game designers, strategists, and developers. At Expert App Devs, we have the right team and ideas for your next gaming app.
If you have a unique gaming app idea, connect with our team for successful step-by-step development.
Read More: