Taxi Booking Solution
Looking for dedicated developers that can help with taxi booking app development? Need a team that can cater to the minutest requirements while maintaining their expertise in the niche. We have delivered 20+ taxi application development solutions over the last few years. Customizing every bit has helped us better understand the industry and the requirements.
The Growing Need
Are you a startup in the taxi niche or someone planning to build their fleet? A taxi booking solution can help you get the right reach and visibility required to grow your business.
People relied on mobile-based booking services to get their taxis in the pre-pandemic world. The growth in this segment has been significant since the Pandemic, as people now trust booking services over on-the-go taxis.
The convenience of booking the taxi beforehand and ensuring its availability removes the stress regarding commute. With a wide range of app services (ride-sharing, individual cars, out-of-city transport, regular commutes, and others), these taxi booking services are gaining more demand.
The Ready-to-use Solution
We have developed an off-the-shelf solution that you can use as it is to manage your fleet or customize it to meet your end goals. With the ready taxi booking solution, you can easily reach the market without delays. It also enhances productivity, as the must-have features can automate the processes.
We have several taxi booking app variations that should help you get started with a solution for the business.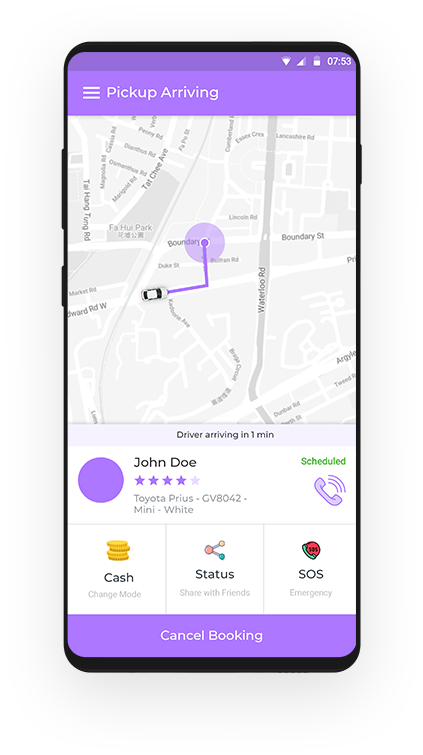 Taxi Booking Development with the Dedicated Team
Expert App Devs is a top-notch taxi booking app development company that offers extensive customizations and integrations to make your solution extensible and engaging. Whether you are a startup getting started with a mobile app or an established company with complex processes, our team will help you with convenient features and functionality.
We are proficient with native and cross-platform app development approaches to deliver capable solutions for your taxi booking app idea.
If you have precise app requirements, connect with the dedicated team to kickstart execution. Build your next Uber or Lyft with our team and their proficiency with intelligent systems and technologies.
White Label Solution
Our feature-rich taxi booking app development solution can be re-branded to match the overall branding of your business.
Flexible and Customizable
Our solution is flexible and customizable for new features and update the existing features as per requirements
Native Technology
With the native technologies, the performance and speed of mobile apps will remain at par and is easier to upgrade.
Tech Support
Our solution includes a 90-days free technical support from our solution experts for any issues if found in the system.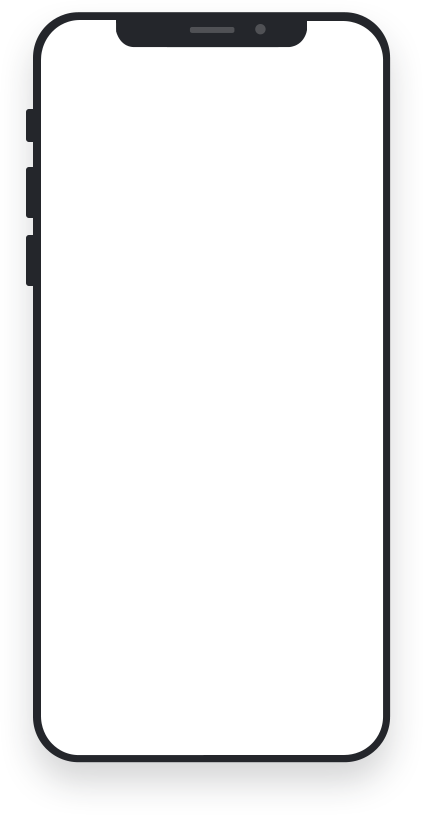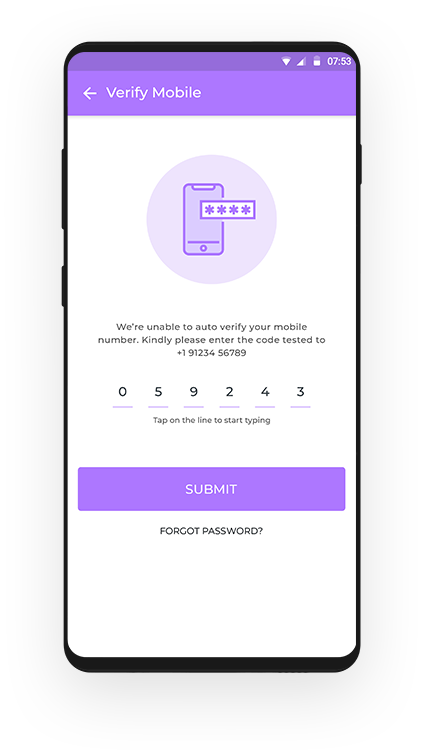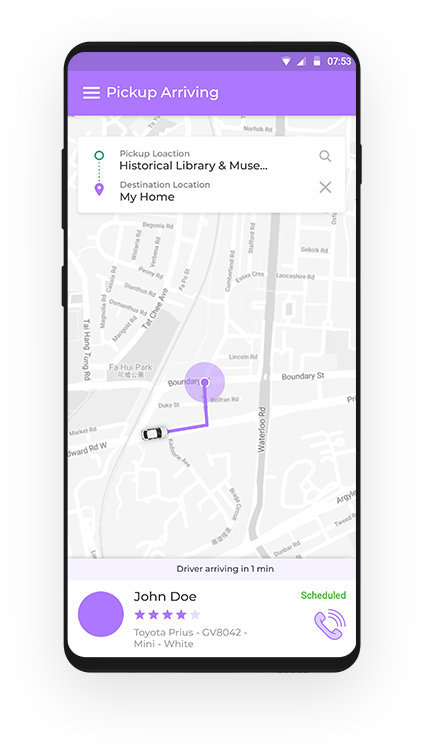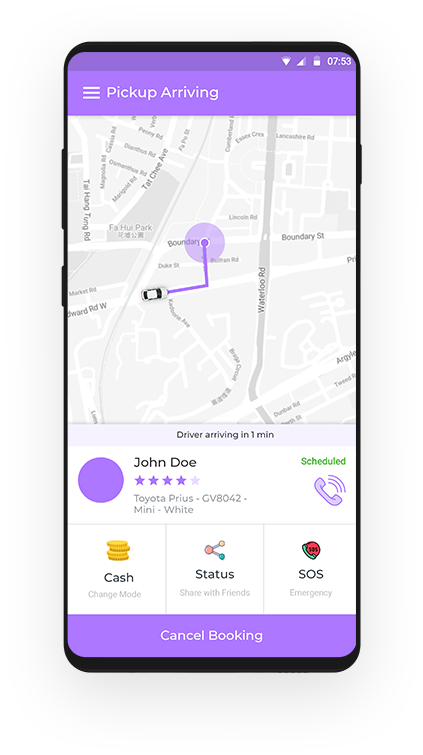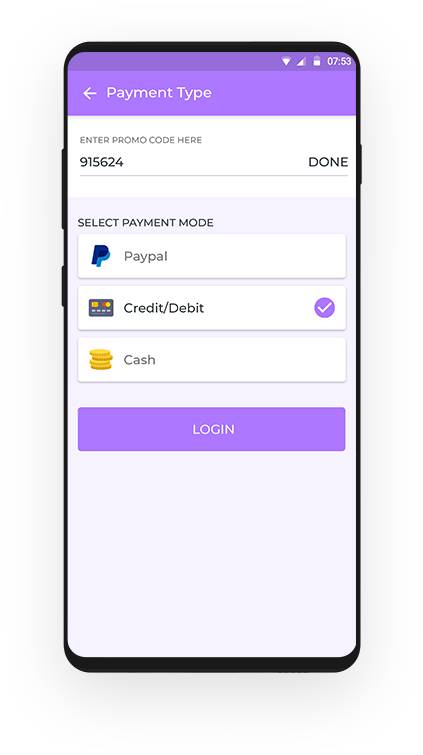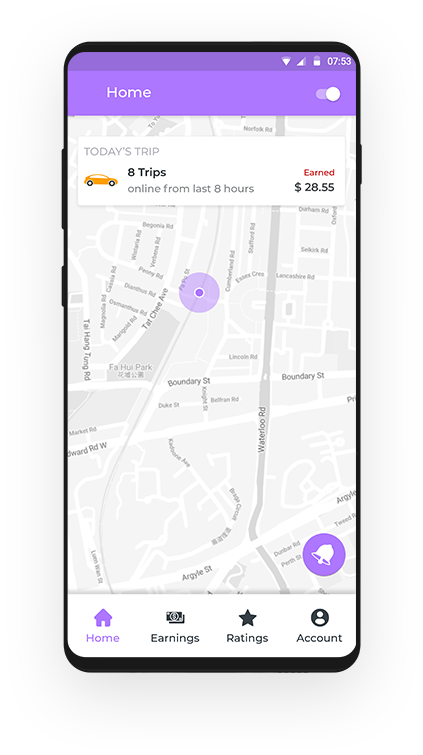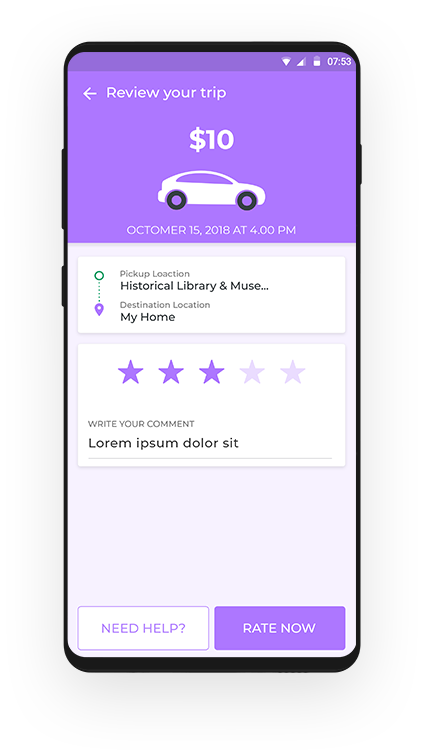 Custom Taxi Booking Solution Development For All
Fare Estimator
Users can get an automatic fare estimate by entering pick up point, drop off points, and selecting a taxi type.
User Verification
Users will need an SMS/Email OTP to verify their account. Drivers need to upload their identification documents for verification. Users will need to provide the OTP to initiate the ride.
Multiple Car Selection
Users can select and book cars based on their preference/occasion which is managed from the backend.
Real-Time Location Tracking
Users can track drivers in real-time using location tracking.
Payment Options
Users can pay in cash or via debit/credit cards.
Driver Availability
Users can make themselves online or offline from the driver app dashboard for new rides.
Two Way Review & Rating
Drivers and customers, both get the option to rate their rides and flag bad behavior.
Full Feature List
Our Taxi Booking solution has all the essential features which provides a smooth experience to riders, drivers and admin users.
Registration Process
Drivers can quickly add the necessary details and request sign up.
Driver Availability
Drivers can mark themselves online or offline anytime and stay flexible.
Real-Time Requests
Drivers get notified of new requests with pickup details.
Accept/Reject
Intuitive interface to accept rides in a limited time frame.
Rider Information
Drivers get essential details about their customers for a seamless pickup and drop.
Google Map Integration
App has Google Map integration for robust performance.
Ride Route
Built-in ride route on Google maps provides the best route and ETA information.
Rider Details
Drivers can call passengers for any clarification on pickup location.
Start/End Trip
Drivers mark when arriving, start and end a trip to get automated bills.
Earning History
Drivers can view their entire job history and daily earnings under the earnings section.
Review & Rating
Drivers and customers, both get the option to rate their rides and flag bad behavior.
Cancel Booking
Drivers also get the option to cancel a trip from their end when required.
Emergency Contact
Users can also add emergency contacts to get them notified for ride updates.
User Management
Admin can manage driver and rider accounts from the admin dashboard.
Ride Management
Admin can manage all ride requests from the admin panel.
Vehicle Management
Admin can manage vehicle type and fares based on the type.
Review Management
Admin can manage all the user reviews from mobile app.
Fee Management
Admin can manage their own commission fees from the admin panel.
Bird-eye View
Admin can view the live location of all the drivers from the admin panel.
Our customers say
We have always thrived to understand each and every bit of what our customer wants from us and have always adhered to our formula of meeting customer expectations.
I am very happy with the final product from the solution as well as support and service from Expert App Devs. They also covered the latest OS updates for Android and iOS apps in the final product! Thank you to the team!
I got all the customization and branding needed from the Expert App Devs team. They listened to everything patiently and planned the implementation effectively. Kudos to the Food Delivery solution!
Frequently Asked Questions
Similar solution of the list
Here is a quick sneak peek at our innovative information in the landscape of Solutions.