5 Easy Steps to Find the Right iPhone App Development Team
Shreyansh Shah
October 22, 2022
13 min read
The iPhone app market is growing with nearly 2 million apps in the Apple store (Apple). iPhone apps are impressive and highly usable. However, that is not the only reason why people trust the Apple store. They produce the most secure solutions that are largely encrypted.
While the apps are increasing, the market share for iPhones is also good. It owns 45.2% of the total market share (Statista). It has become important to cater to these users with high-quality and performing solutions that suit their needs. Apart from being one of the growing markets, it is also the most revenue-generating segment of smartphones. iPhone users are more likely to spend on in-app purchases or subscribe to an application.
It is important to choose the right partner who can help with your development goals. If you are searching for an iPhone app development team, this guide will help you. It will take you through the hiring steps, prerequisites, and best practices to manage the team.
5 Steps to Find the iPhone App Development Company
Hiring the right and responsible team plays a pivotal role in ensuring iPhone mobile app development success. Let's discuss the steps that can help you partner with the right team for your futuristic and feature-driven mobile app.
Step#1: Search for an Experienced Team
Without proper research, you cannot find the ideal team to boost your mobile app-building efforts. Start by looking for iPhone app developers on the Internet or within the network.
Your criterion is to look for someone with the experience required to build the iPhone mobile apps in your niche.
For example, if you are a retail store owner, you want someone with experience in developing iOs-only retail app solutions. They should know how to introduce advanced features and functionality as required by the users.
When you are looking for experience, here are a few questions to ask:
What kind of experience do you possess with iPhone mobile development?

What are the different industries you have catered to?

What types of apps have you built?
For example, if you want someone to help with taxi booking app development, you need to search for people experienced in delivering native app solutions for the same.
Step#2: Check out their Portfolio
Let's dig a little deeper into the type of app solutions they have built by taking a look at the portfolio. The case studies of their past projects can guide you through their capabilities and expertise.
For example, if you want a healthcare app for specific requirements, and you see an iOS app development company with telemedicine app development solutions, you know they are fit partners for you.
The case studies will allow you to see how they solved the problem, what business objectives they helped conquer, and what made the solution different.
The portfolio helps understand their skills, proficiency, and their ability to translate the app concept into a solution.
Step#3: Determine their Online Visibility and Reputation
When you are hiring an iPhone app development team for your business, you need someone who has worked on their website. They should have designed and developed a sound web solution.
Apart from that, looking at their website gives you an impression of their personality. It helps you know more about what they offer, how creative they are, and what values they hold.
To check more details about the prospective iPhone app development partner, you should look into the following questions:
What kind of clients do they have?

What do their past clients think of their services- ratings, reviews, and testimonials?

Do they follow a process? Is it mentioned on their website?

Do they have good clutch ratings? What are the other websites where clients have rated them?

Are they among the top developers online? Have they worked on their optimization?
Step#4: Determine the Goals and Common Vision
The next step is to identify the goals and purpose of hiring the iPhone app development team. When you hire a team, they should be aligned to your goals, and together you should solve the defined vision.
That's why as your next step, you should identify the goals of the app and the purpose of building it. when you have them defined well, it will be easier for you to search for a team that can help fulfill the vision.
Step#5: In-person/Virtual Meet for Protocols and Communication
The last step is to meet the iPhone development company/team in person or virtually. This will help you understand the team and their abilities more. You will know what to expect from the team. They will know what you require.
With in-person communication, you can answer these questions:
What is the communication protocol you need? Do you have all the necessary channels to communicate with each other?

What are the standard protocols for completing the iPhone mobile app development?

Check with them how they aim to solve the problem you are facing. How do they aim to proceed with the development?

Identify how they answer the specific questions to the pain points and development aspects. It will help you know more about How to hire iPhone app development Partner.
We saw the steps you should take to help identify the most suitable iPhone development company. But, why do you need to partner with an expert company? Let's take a look.
7 Benefits of Partnering with an iPhone App Development Company
When you hire professionals to complete a job, they will know how to accomplish it within the timelines with maximum efficiency. There are several benefits associated with hire iPhone app development company.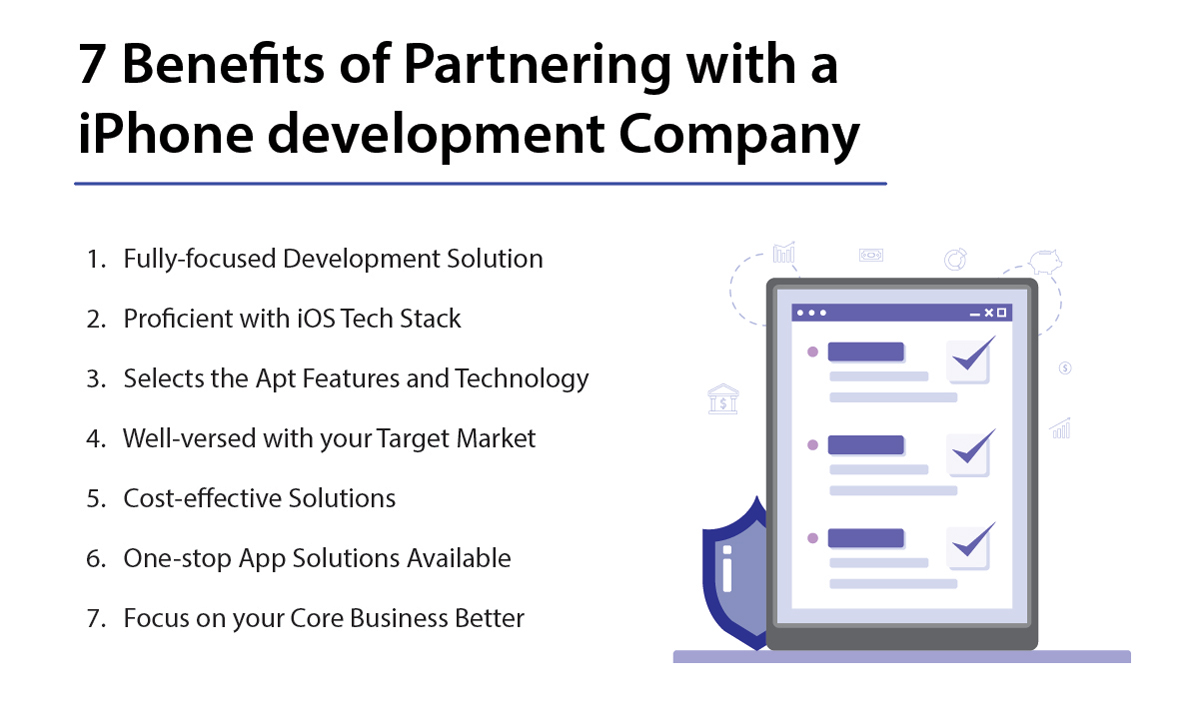 1. Fully-focused Development Solution
When you hire an iPhone app development company, you will receive a focused solution that is customized to match your needs. They will study your business, the requirements, your customers, and the pain points listed. Based on their detailed study and requirement analysis, they will offer a solution.
This will be more detailed and focussed on the superficial solution that a non-professional team can offer.
2. Proficient with iOS Tech Stack
They are well-versed in the tech stack used to build iPhone mobile apps. They understand how to use the IDEs and tools to develop capable mobile applications. They are proficient with both Swift and Objective-C, which makes it easier for them to code the applications.
They will choose the tools and tech stack that best fits your requirement.
3. Selects the Apt Features and Technology
They have expertise in developing mobile apps for the iPhone. They would know which features and technology would benefit your niche. Based on their expertise they can suggest how to get a competitive edge and improve the user experience.
For example, if you are planning a telemedicine app for your customers, the team can suggest the technologies you should use to make the app usable. They can even suggest the features of the app development.
4. Well-versed with your Target Market
When you hire iOS app development professional Partner to support your iPhone app development goals, you will meet someone with a proper understanding of the market. They have already developed quite a few applications for the niche, and know how the target audience uses it.
You need to use their expertise and ability to support your app development goals.
5. Cost-effective Solutions
When you hire the iOS app professional team, you hit the jackpot of cost-efficient and experiential solutions. They won't waste your budget or the resources you are allotting for the purpose. They would make sure that they estimated the whole app development budget properly and don't spend a penny more than that.
6. One-stop App Solutions Available
They become your single place for all levels of app development and support. For example, if you want a prototype development service, you can connect with them. they would offer frontend, and backend development too. In some cases, they help with MVP solutions to validate the concept.
They are built to help every organization size ranging from an enterprise to a startup.
7. Focus on your Core Business Better
By hiring a professional for your iPhone app development requirements, you outsource that part of your job. It allows you to focus better on the business at hand. For instance, if you have outsourced iPhone app development completely, your in-house team can work on Android app development. They can also work towards building the user base for the mobile app.
5 Things to Consider Before Partnering with the iPhone App Development Company
We have already seen the steps and benefits of partnering with an iPhone app development team. Let's see what are some of the things that you should consider for suitable hiring. These are the prerequisites that can help you streamline the hiring process.
#1 Determine the Requirements for Development
What are your requirements for mobile app development? Are you planning to outsource partial mobile app development? Do you have the designs ready and do you want someone to help with iOS app development?
Do you want a team that can help you plan your mobile app, and build the strategy? The team would be defined in sync with your requirements. If your requirement is coding-specific, then you need developers and testing specialists. However, if you need help with design, the team would be formed accordingly.
#2 Detail the Work Scope
Before you hand over the project to the selected team, you should define the scope of the work. What parts of the development will be handled by them? What are some of the non-negotiable aspects of their work scope?
The work scope will help determine the timelines and budget estimate. If the work scope is defined, it becomes easier for your partner and you to work together. If you begin without the scope, it might lead to chaos. Eventually, you would exceed the timelines and budget.
#3 Estimate the Budget for Outsourcing
You should have a defined budget in mind that you are ready to spend when outsourcing the project to an iPhone development team. This should include the payment for the services, maintenance, and other upkeep solutions.
You can study the competition, the target market, and the related aspects to determine the ideal amount to spend on this project.
#4 Define the Outsourcing Goals and Vision
It is important to outline the goals of your outsourcing. Do you want some relief from work? Would you like to outsource to boost the team's productivity? Would you like to gain some support with your work?
Apart from the goals, the vision plays a pivotal role in outsourcing the project. For example, are you looking for someone with end-to-end development expertise to partner with you?
#5 Determine the Tech Stack
You are planning to outsource iPhone app development to your partner company. It is important to identify whether you want to develop using Swift or Objective-C. What kind of technologies do you want to use? What would be the database management solution you need?
Preparing the tech stack for reliable development with the help of your consultants and in-house tech team can help streamline the outsourcing.
Best Practices and Protocols to Manage your iPhone App Development Partner
Let's discuss the top ways you can ensure smooth management of your iPhone app development team. This will make the whole process smooth and streamlined.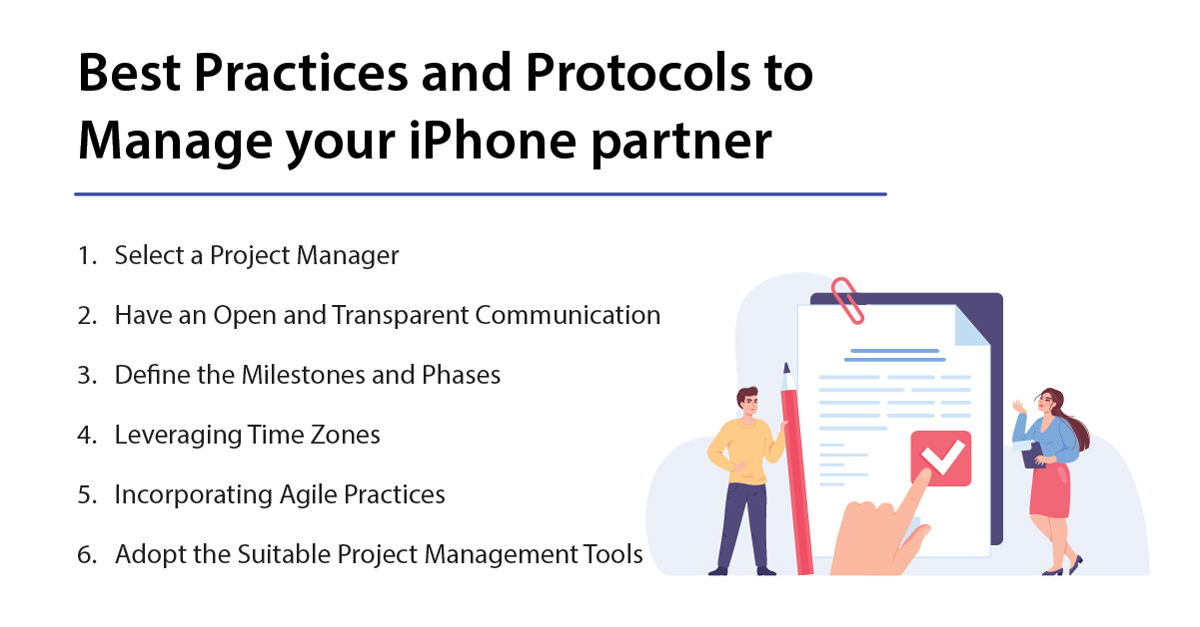 1. Select a Project Manager
Having a middleman who will connect with the team and your in-house tech specialists can help you manage the outsourced project better. They will be the single point of contact and will help resolve the matters immediately. They will help connect with the right people, who can in turn improve the outcomes.
2. Have an Open and Transparent Communication
As discussed, it is important to set up communication protocols at the start of the project. At the same time, it is important for the teams involved to have transparent and open communication with each other. This will help resolve the bottlenecks and ensure the completion of the project on time.
3. Define the Milestones and Phases
Divide the entire project into smaller and defined phases with timelines. It is important to break down for structured development. This will ensure timely completion and better efficiency. You can monitor the progress of the application when divided into phases.
4. Leveraging Time Zones
If you operate in different time zones, it can benefit both parties. If you and your offshore iPhone app development team understand the benefit of handling time zones, you can ensure better timelines and manage the project better.
For example, if you finish identifying the bugs at the end of your day, the team can begin working on resolving them as soon as they start their day. The revised application would be ready for review at your day's start.
5. Incorporating Agile Practices
It is very important to implement an agile methodology for faster and more high-quality project development. With agile methodology, you can divide the project into shorter and more capable sprints. This can improve the quality of development and enhance the overall time-to-market. As a result, the app is launched before the time specified.
6. Adopt the Suitable Project Management Tools
Lastly, you should identify and implement the ideal project management tools. These can help you serve the purpose of accelerated, high-performing, and quality app development. For example, Jira can help the different stakeholders collaborate and get a complete view of the mobile app development. Similarly, Asana can help you manage and delegate tasks.
3 Mistakes to Avoid When Finding Your iPhone App Development Partner
Here are all the mistakes you are likely to make when looking for an offshore iPhone app development team.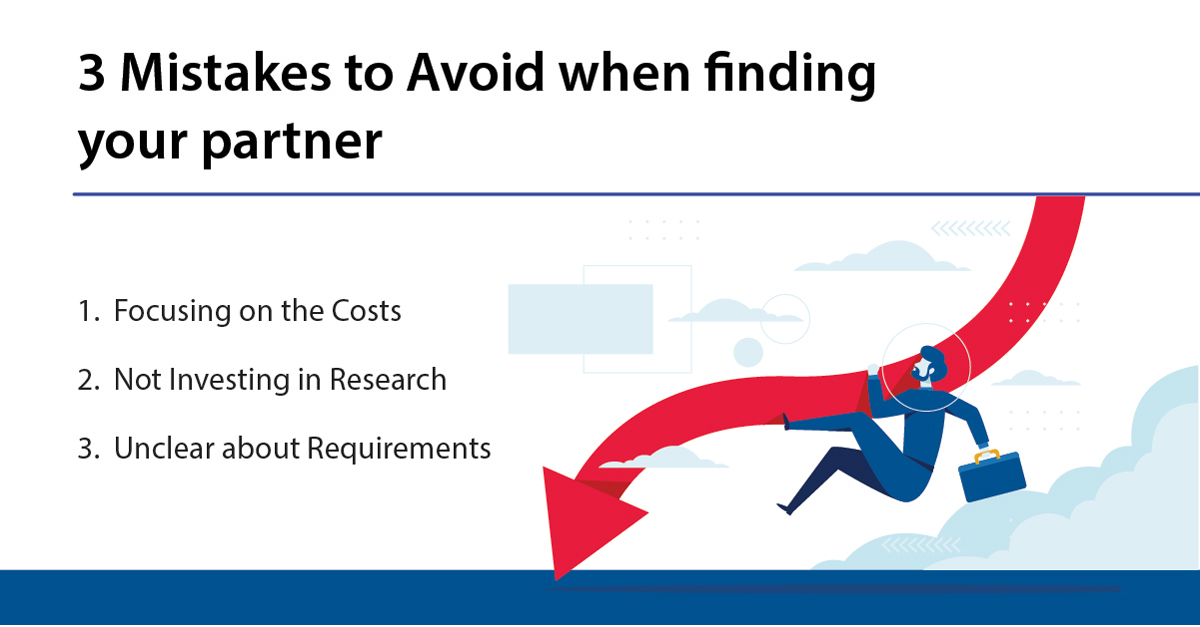 1. Focussing on the Costs
If you search for an app development partner while staying focused on the words affordable and cheap, you may not get the quality and performance you need. Ultimately, you will waste resources and money; at the same time, it will not fetch you the requisite conversions.
2. Not Investing in Research
You won't find an ideal offshore development partner overnight. You need to invest your time and effort into researching for the ideal partner and looking for someone with the right capability. If you hire based on recommendation alone, without carrying out a proper research, you might not find someone fit for your requirements.
3. Unclear about Requirements
If you or your team have no clarity about the requirements or work scope, it will lead to the wrong partner for app development. When you don't have clarity about your requirements, you won't know what you are looking for in the app development partner. It can hamper your research.
Conclusion
It is important to hire a suitable iPhone app development team for your business app needs. We discussed the steps you should follow to find a suitable partner. You should conduct thorough research, have clarity of requirements and define the work scope before engaging in the research.
Expert App Devs is a qualified, and reliable one of the top 10 iPhone app development company with an extensive portfolio. If you want to translate your idea into an iPhone application, connect with our team by filling out the contact us form.