Top Reasons to Hire Offshore Mobile App Development Company for your Business
Jignen Pandya
September 15, 2023
14 min read
The world has come to an intersection where it is vital to deliver seamless customer experiences while keeping up with the rapidly changing technology. The era is dominated by the latest tools, constantly evolving trends and newer techniques that give businesses an edge over their competitors. Innovation is at the core of every business; if you are not innovating, you are probably as good as dead in the current times.
The Pandemic and the period after the curve went down have led several businesses to reimagine their strategies and redefine their strengths. Many companies contemplating the need for a mobile app have started ideating an apt solution. The digital transformation is incomplete without a mobile-first world that apes most current technologies, including ML, AI, and IoT.
Mobile Apps – More Than Just Convenience
When we look at mobile apps, we always think of them as a medium offering convenience. What if mobile apps were more than just that? Your mobile apps are powering the whole business and reinventing the maps for your organization. They are bringing your hidden vision of growth and scaling to the fore without compromising on quality or comfort. Statistics across the globe also convey a raging increase in app downloads and usage.
Mobile app usage has gone up by 23.3% since the Pandemic hit the world. The grocery and food delivery apps saw maximum use in the work-from-home phase. In 2020 alone, customers downloaded 142 billion apps globally. Android customers contributed to a maximum percentage of these downloads.
These statistics convey how mobile apps are not just about convenience but also about revenue generation. The mobile apps will generate about $395 billion in revenue by 2023. Approximately 90% of the app revenue comes from free apps of the total mobile apps.
Mobile apps are an extension of the business model. It helps the business stay visible, connected, and always available for the customers. It also enables the business to stay at the top of the mind and convert faster.
Mobile apps' benefits make it impertinent to design and create your solution.
While mobile apps are becoming increasingly efficient and essential, they are also evolving. Today's apps are entirely different and distinctive from those that started the app trend. Let's look at the current app trends and importance to get a big idea of why your business should go with a mobile app solution.
How Mobile Apps Have Evolved Since Inception?
The first set of apps was efficient and straightforward. They solved the fundamental issues that customers were facing. For instance, Facebook introduced news feeds, real-time communication, and adding new friends.
Let's take the messenger app, and you could make calls/send messages to the people you are connected. Lastly, the music apps allow you to choose from the existing collection and play the songs.
Times changed, and apps evolved. Businesses have become more considerate of customers' problems and have begun incorporating newer technologies to gain an edge. For example, Amazon has started recommending products to customers based on the purchase history and most viewed items. Applications are personalizing the solutions to make customers use them more often.
Mobile App Trends to Incorporate:
For mobile apps to offer more than just convenience and become an integral part of the customer's life, you must incorporate the latest trends and technologies. Let's look at some of the trends that enhance the experiences.
↪ The dominance of 5G Technology
While 5G has been in talks for a while, it is currently under massive adoption by technology businesses across the globe. Implementing this technology while building your business app is critical for scaling, fast adoption, and enormous penetration.
This technology will enhance the video streaming speed, reduce latency, and increase the performance of the apps.
Data transfers will be smooth and frictionless. It will result in smoother payment processes.
↪ Foldable Device Solutions
The foldable devices are changing how customers use mobile apps. For example, videos are viewed differently as compared to messaging apps. The foldable devices have considered that, allowing you to open the device to view videos on a larger screen and improve experiences smoothly.
The foldable phones will reach a suitable 50.1 million units in 2022. While these devices are still in the nascent stage, you will need to consider them when developing your mobile app solutions.
↪ The Realities- AR and VR
With Metaverse gaining momentum, VR and AR are no longer mere technologies; they drive businesses and their inherent solutions.
When you want to live the moment of reality in the virtual world, you would like to implement AR and VR into your mobile apps. For example, Ikea implemented this solution to help people know if particular furniture or décor would suit their house. They didn't have to move out of their home or call the furniture to check this. They could do it in the app by clicking a picture of where they aim to place the piece.
Not many businesses can use AR and VR to their full potential. This will enhance experiences and make it easier for people to get a real-world experience virtually.
↪ AI and ML
There is no doubt about the growing need and increasing potential of these technologies. Whether it is fraud detection or a need to personalize the solution, machine learning sets can help you improve experiences.
From Fintech solutions to fashion wear brands, everyone uses this technology to improve the app solution and make it more segmented for the customers.
In the coming years, it is even more critical to integrate this technology with your solution to offer smooth and competent experiences.
↪ Securing the App Solutions
With the growing demand, increasing user base, and a plethora of vulnerabilities to match the foot, it is crucial for app owners to give immense importance to mobile app security.
When designing your mobile app, you will need to conduct a security-first strategy to reduce the uncertainties and improve the overall usage of the solution.
It is no wonder that the best minds in the technology-driven world are working to improve security features and reduce vulnerabilities in cyberspace.
↪ P2P App Solutions
Peer-to-peer applications like UPI payments and digital wallets are gaining momentum in the current times. A lot of social media platforms are also eyeing the in-app payment models. This will also touch upon the Blockchain and crypto wallet solutions.
These solutions will enhance the fintech industry, helping it capture a large segment of the audience.
↪ Blockchain Apps
With the curiosity around Blockchain growing by multiple folds, it has become impertinent to drive more decentralized app solutions. Blockchain wallets are gaining more attention considering the safety parameters and transparency involved. This technology keeps track of everything from digital assets to digital programs. We live in an era that is soon dominated by Blockchain-as-a-Service platforms. This trend will reimagine the mobile app space, leaving little to the imagination.
Key Challenges Developing Mobile Apps In-house:
Imagine a scenario where you have to incorporate the new trends, build a defining solution, and grow your business as efficiently as possible. As an entrepreneur, you will face multiple challenges trying to develop an app internally.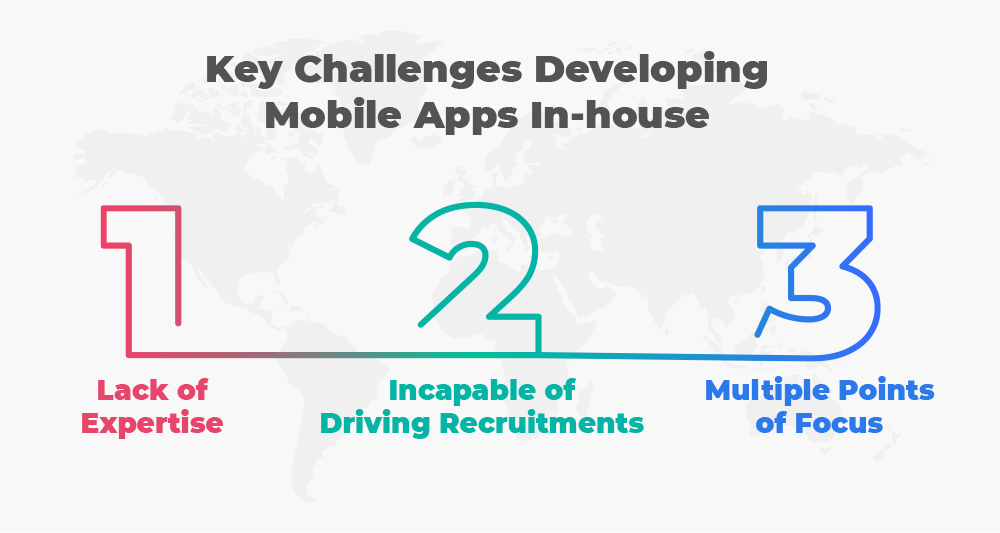 ↪ Lack of Expertise
Say you are a business actively involved in the productivity space. You have excellent ideas and notes that can help people boost productivity. However, you are not a development company. You don't even have a development team in-house.
This means you lack the expertise required to pull the mobile app development in-house. Imagine a situation where you drove recruitments for the said developer/team, and you wouldn't know what to look for in the developer. This will lead to time and effort investment while not gaining enough returns.
↪ Incapable of Driving Recruitment
We just discussed how the efforts and time are all in vain. Say you know who to recruit and how to recruit the team. What would your next step be? Spend a lot of time browsing through resumes for capable team members. You will need to appoint the strategist, designer, marketer, and even the developer individually. Eventually, you will need to sit with them, understand how things work and then build the rest of the team.
It is possible that owing to the lack of expertise and experience, your recruitment is not up to the mark. You miss out on the essential aspects and conclude recruitment that cannot drive your development.
By combining the above two points, your mobile app will die a sad death even before you get to work.
↪ Multiple Points of Focus
As a budding entrepreneur or a business looking to scale, you already have a plate full of responsibilities. Developing your business app in-house will overfill the plate. Eventually, you will be left with minimal to no time to focus on the right things, such as growth or furthering the business.
With multiple points to focus on and a lack of time, you will be lagging in business growth and development. When you wish to take your business to another level, you would be struggling with managing the time between teams.
How Offshore App Development Companies Help Businesses?
Let's reimagine this situation. You are comfortable working on your niche and growing your business. Simultaneously, an expert controls your app development while keeping you in the loop. When two things work together, it lifts your company and helps you scale frictionless.
Most of the big businesses and enterprises have realized the importance of outsourcing. Doing everything in-house will cost you a lot of time and effort. It will add to your overheads. Instead, outsource what is not your area of expertise, and you will earn more profits and save a lot of money.
Let's look at how hiring a suitable offshore mobile app development company can help your business.
#1 Onboarding the Right Expertise
When you set out to develop a mobile app, you need experts on your side. There are plenty of questions that come with app development:
Should you consider Android or iOS?

How should you move into the development stage?

What kind of design would suit your customers?
These questions touch the base. However, answering these questions is not accessible if you are new to this niche. That's why you should outsource it to an agency or company that works in this field. You will better understand the development path and can release a frictionless app solution.
#2 Reduced Cost
As discussed earlier, if you were to develop an app in-house, you spend a lot of money recruiting, training, and even paying for the infrastructure.
In the case of outsourcing the app development, you will pay for the expertise and the services. The partner company already owns the infrastructure and other aspects needed for growth.
#3 Uncompromised Quality
There is an assurance of gaining good quality outcomes when dealing with an offshore mobile app development company. They know how to begin and include in the mobile app development process.
They will work on your app from idea validation to actual release and post-release work. They give you the strength to design and innovate the mobile app solution by partnering with you.
#4 Shouldering the Whole Process
If you were to develop the app in-house, you would need to invest time and energy in identifying the process, managing it, and keeping an eye on the development. However, you need to have a single point of contact for the development process when you outsource.
The offshore app development company will handle everything, and you will stay in the loop. You can focus on your core and strengths while being assured that you will get the mobile app.
Things to Consider When Hiring Offshore App Development Company
It is not easy to select an offshore app development company to partner with for your mobile app development needs. However, if you go through these factors step-by-step, you might find a suitable partner.
#1 Innovation Abilities
If your partner agency is crippled with age-old practices and methodologies, then you might not be able to innovate and grow. It would help if you found an agile partner and thought outside the box.
While this might sound cliché, it is the sense of having fluid processes and disruptive solutions that makes the partner agency drive more growth for your business. The right partner would identify the untapped market and hunt for newer opportunities that take your business to the next level.
#2 Effective Communication
You cannot think of partnering with an agency that delays communication and does not have a collaborative approach. While you don't necessarily need input into daily work, you need some essence into the work that has been done in the past.
There should be tools and medium for communication that helps improve the efficiency of work and the effectiveness of collaboration. Look for a partner who has set up real-time and asynchronous communication to enable remote working.
#3 Excellent Reputation
When you walk out in the market to look for partners, you should gain a good review or insight into the companies you have shortlisted. If your partner is reputed for having the right expertise, an excellent team, and innovative ideas, then you can collaborate with them for mobile app development.
From planning to execution, they should have a reputation for ably administrating everything within the budgets defined and keeping the milestones intact.
Conclusion
Investing in a business app is essential to enhance the scope of your business and improve customer experience. With the app, you can reach your customers, increase brand visibility and convert faster.
However, there is a difference between having an idea and executing the same. Your vision may be unique and different; however, you may fail even before starting if you don't have the right team to run it.
That's why it is essential to outsource mobile app development. It will help you gain an expert partner who understands the world of development and can help you with the right solution.
When finding the right mobile offshore app development company, you should look for innovation capabilities, reputation, and expertise along with your past portfolio and experience.
Expert App Devs has an exceptional track record of being an offshore mobile app development company. We have partnered with several industries to offer capable and brilliant solutions.
Our team collaborates with your business team to develop exciting and innovative solutions for your business requirements and goals.
Frequently Asked Questions
1. How do you hire offshore mobile app developers?
Recommendations are the first step to hiring a good offshore mobile app developer. You can ask people in your network to suggest a good partner agency. In case you are unable to find anyone through networking, you can look for them online.
When shortlisting and zeroing down on your offshore development company, look for the following things:
Experience and expertise

Budget

Portfolio

Communication

Types of industries they have worked in

Clients they have handled

Ratings and reviews they have received
2. How do offshore app developers work?
Most offshore app developers have a working engagement model. You can hire a dedicated app developer from the development company side and work with them. they will be on the offshore company's payroll and will manage your work dedicatedly.
The second model is outsourcing the entire project and having a single point of contact. This way they will manage with the resources they have. They will provide you with the timelines and milestones. There would be a fixed budget for the entire project, which is then divided into phases.
3. Why should you outsource app development?
There are multiple reasons to outsource app development.
It is impossible to handle all the tasks and development work in-house

You won't be able to focus on your business strategies and growth phase

It is not your strength, which translates to not being able to manage it completely