Top 5 Tips to Work Effectively with Offshore Mobile App Development Teams
Jignen Pandya
Famous management consultant Peter F. Drucker once said, "Do what you do best, outsource the rest."
Outsourcing has been prevalent since the 1980s; however, it has gained momentum in recent times and has become an integral part of business strategy. In 2022, the global market size for outsourced services was $92.5 billion (source: statista). In the US alone, 3,00,000 jobs are outsourced annually.
The majority of the businesses outsource jobs to reduce costs and improve productivity. Apart from this, outsourcing also helps businesses gain the expertise their team lacks.
Understanding Offshore Development with an Example
Let's understand the growing importance of offshore mobile app development with an example. Say you have the necessary expertise in Android app development. You, however, need someone who can handle iOS development.
When you start hiring for the cause, you realize that the costs are more than your company can handle. You need to invest in the infrastructure and tools to top it off. It is going to be very expensive. When you approach the iOS development company with your idea, they manage to provide you with the exact solution at a more affordable cost.
You don't need to invest time and effort in hiring the person, which gives you more time to focus on building and marketing your idea. As a result, you are at the helm of getting more customers to know about your project and using it while the development team will take care of getting the product ready.
Why is Collaboration Important for Successful Outsourcing?
Outsourcing is not sharing your requirements and letting the company do its job. It is a more collaborative effort where you are equally involved in the development process.
Say you are into the retail business and have approached an agency to help with app development. The agency is exceptionally good at creating user-friendly apps and triggering downloads. However, they may not be proficient in your industry.
They are not aware of your customers, who you have tracked and understood since the inception of your business idea. When creating a product for the end-users, you need to make sure both (industry expertise and software proficiency) are given equal priority.
Without collaboration, you will release a half-baked solution, which will not fetch the desired outcome.
When you collaborate with another company with a different process and approach, things can become challenging.
Challenges of Working with Offshore App Development Company
Collaborating and producing a seamless product comes with its challenges. Say you are a company in the United States. You want to outsource to a mobile app development company in India. Considering the different cultures and processes, you might need some time to understand and adjust before proceeding with the development.
Here are some of the commonly experienced challenges you should know of when outsourcing to a mobile app development company.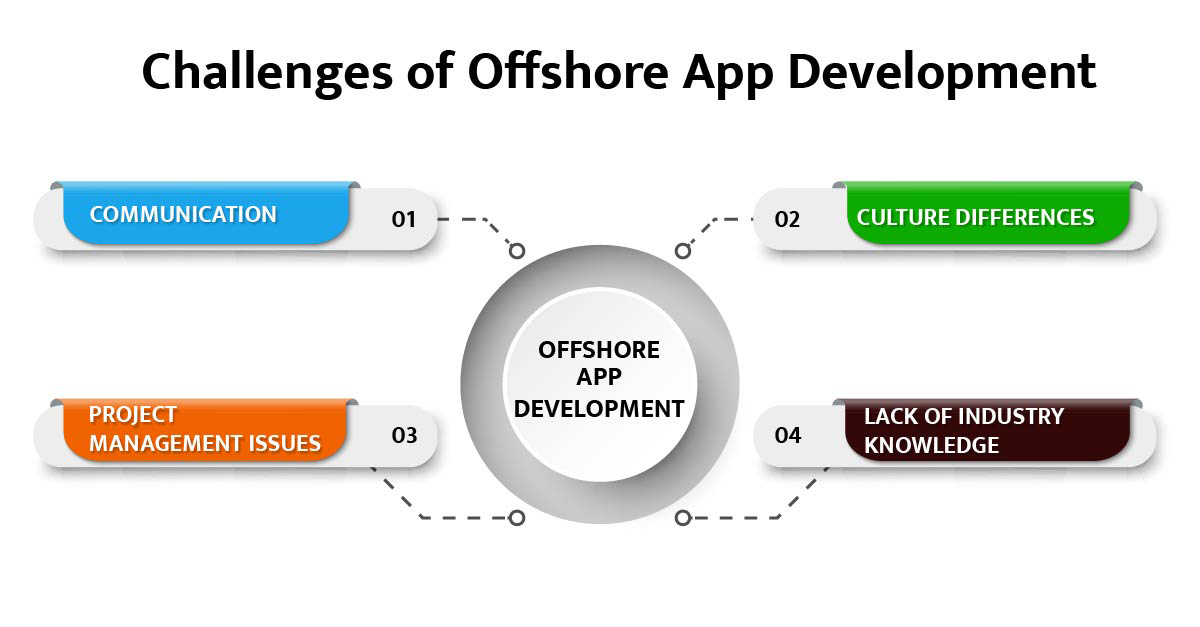 1. Communication
Language isn't the only barrier you will face with your offshore development company regarding communication.
What might sound friendly or professional may not be considered the same by the offshore development company. Similarly, what is follow-up for one country might be a rude intervention for another.
Communication protocols differ from country to country. For example, how you start an email is different in India compared to the United States. Again, the way non-English speakers convey a point may seem inappropriate to the native speaker.
The key is to understand each other's communication styles, define a straightforward process and be more patient.
2. Culture differences
There is a difference in culture when we move from one place to another. This difference will be more significant when you go from one country to another.
A simple example is how people greet in India versus how they greet each other in Japan. Though both are Asian countries, they differ in this simple aspect.
You cannot overlook the methodology and process differences when it comes to culture. Each country follows its methodology. In some countries, they empower the teams to make their decisions. On the other hand, there are countries where the instructions are defined and precise. All team members need to follow them.
You need to make sure you are aware of the culture in the country where you plan to outsource. Make a mental note to understand how they connect and communicate for you to make the process smooth.
3. Project management issues
When you are outsourcing, you may face managing issues. You are not sure about the stage of the development or how long it might take. Your project's lack of control and visibility can be quite a challenge.
The biggest challenge is collaboration, as you cannot connect with the several people on the team and work in tandem.
You also cannot have most of your resources attending to the offshore app development while your work back home suffers. Managing several tasks and ensuring you have some visibility into the milestones can be a challenge.
4. Lack of industry knowledge
As we discussed earlier, you are outsourcing to a company with expertise in developing software solutions. However, they may or may not have the requisite knowledge of your target audience or the industry. They may not know how your industry works and what the app consumption pattern is.
This can be challenging as it can ruin the experience and download rate if you don't get the application right. That's why you will need to outsource it to someone who has good research capabilities and can draw the persona.
It is equally essential for you to sit with the development team to talk about your industry, what people want and how you visualize the solution.
How can you overcome offshore app development challenges?
Every challenge comes with a solution. We have mentioned most of the pointers while talking about these challenges. However, we would like to take you through how outsourcing can be seamless for you and the partner company.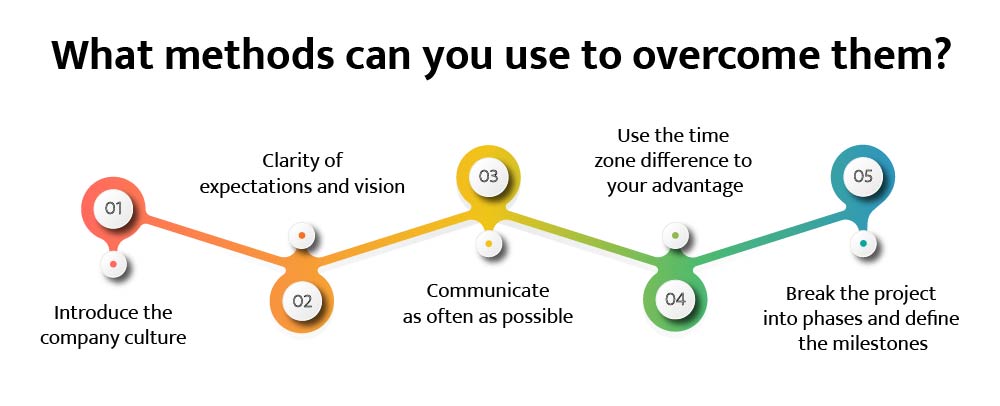 1. Introduce the company culture
As a thumb rule, you should introduce your company's culture to the partner organization. At the same time, take time to understand how they work.
For example, if there is an open door philosophy at their end, it would help understand how the hierarchies work. At the same time, it is essential to know their processes. You should see if they have defined instructions, point of contact, engagement models, and teams.
Make sure the two teams take some time to connect before collaborating.
2. Clarity of expectations and vision
When you partner with an offshore app development company, you two must start on the same page. It will help you manage the work better.
When you have decided who your partner agency is, it is vital to sit and discuss what you expect from each other. You may be visualizing your project in a particular manner. However, you may not get the desired results if you have not mentioned the application's goals, vision, and appeal to your tech team.
When outsourcing, remember this rule:
Don't assume the other person knows what you want

Discuss the possibilities for the particular project

Ask them for suggestions and voice your opinions

Take them through the requirements

Let them ask as many questions as possible
3. Communicate as often as possible
The first kick-off meeting is the first crucial part of outsourcing. However, it is also the start of communication between you and your tech team. Over-communicating is the key to smooth and hassle-free outsourcing.
Start by identifying the tools and resources to help you achieve real-time and async collaboration. Next, identify the things that require real-time intervention versus async intervention.
For example:
If you have identified the bugs for a particular project, you might need async collaboration. You can mention it in one of the project management tools, and the offshore team will handle the same.

However, if you have some new project requirements that you need the team to work on, it requires real-time sync. You need to connect over call or slack to get this done.
The key to good communication is understanding the standard processes and protocols both of you follow.
Establish a communication routine to get started. It is equally important to have a single point of contact to manage the processes and make communication effective.
4. Use the time zone difference to your advantage
It will benefit you when you are dealing with an offshore mobile app development company from countries that follow a different time zone. The time to the market reduces eventually, and you can iterate the development faster.
Let's understand this with an example:
Say you have outsourced a mobile app development project to a company in India. The offshore development company has created prototypes for the mobile app.

They send it to you at the end of their day, which marks the start of your day. You have a look, send your comments, and get back to work.

When your day ends and the development team's day begins, they have the requisite comments and revisions. They will get it done during their day.

Once your day begins, you can check and send in approvals.
This way, the teams are constantly working, and you don't have to waste time in many iterations. At the same time, both companies can manage productivity and enhance their efficiencies.
5. Break the project into phases and define the milestones
For successful outsourcing, you and your team should be on the same page about milestones. It is essential to break down the whole project into smaller tasks. Associate a deadline with each task.
Define a milestone for each of these product phases. For instance, you may have set phase one of the project for getting approvals on the strategy. Mention the tasks, the deadline, and each event within this milestone. When this is done, a part of your project is accomplished.
Conclusion
Outsourcing is the key to increasing productivity and speeding up development. You can accelerate the development of an idea and put it out in the market faster by partnering with an offshore development team.
Apart from the speed, you also get scalability in terms of resources and infrastructure. When you need more resources, you can connect with the partner company, and they will scale to match your needs.
Expert App Devs is a thriving offshore mobile app development company. We have been innovating this space with high-performing applications and experiential solutions for the past 11 years. Our experience helps us pave the way for smooth and streamlined outsourcing.
Connect with our team for your offshore development requirements.