Top 10 Automotive Industry App Development Ideas for Startups
Jignen Pandya
August 22, 2023
10 min read
The world has moved from box-like car designs to sleeker versions. We have gone from changing the gears manually to autonomous vehicles. This is just a singular example of how technology has accelerated the evolution and transformation of this industry.
There are several elements involved in making this industry huge. From quality testing to ultrasonic inspection and data logging, a lot goes into converting the concept into an automobile.
An app would help businesses (wholesale, manufacturing, retail) to handle the different aspects and meet tight deadlines. From inventory management to actual sales, there are numerous places where you can use a mobile app.
Want to enter the automotive segment with a mobile app? We have curated top automotive industry app ideas that you should validate and build in 2023.
A Glimpse into the Automotive Industry
As we discussed, there are too many verticals in the automotive industry. The industry involves the design & development, and manufacturing of essential parts to further the businesses.
The revenue generated by the automotive industry in the US markets through motor vehicles and their parts retail is $1.5 trillion. A total of 14.9 million units of lightweight vehicles were sold in 2020 (Statista).
This industry did dip during the Pandemic, but it was also one of the few that recovered fast.
With the increase in auto-tech investments and the rise in the number of electronic products within vehicles, there is a growing need for software products.
At 4.3% CAGR, the automotive market will surpass $16,997.6 million by 2030. At this point, China is the fastest-growing automotive market globally (GlobalNewsWire).
Why does the Automotive Industry Need a Mobile App?
The first question you may ask as a business in the automotive industry is- does my business need a mobile app? Let's find out why you should go with an app to further your automotive business (whether it is design or manufacturing).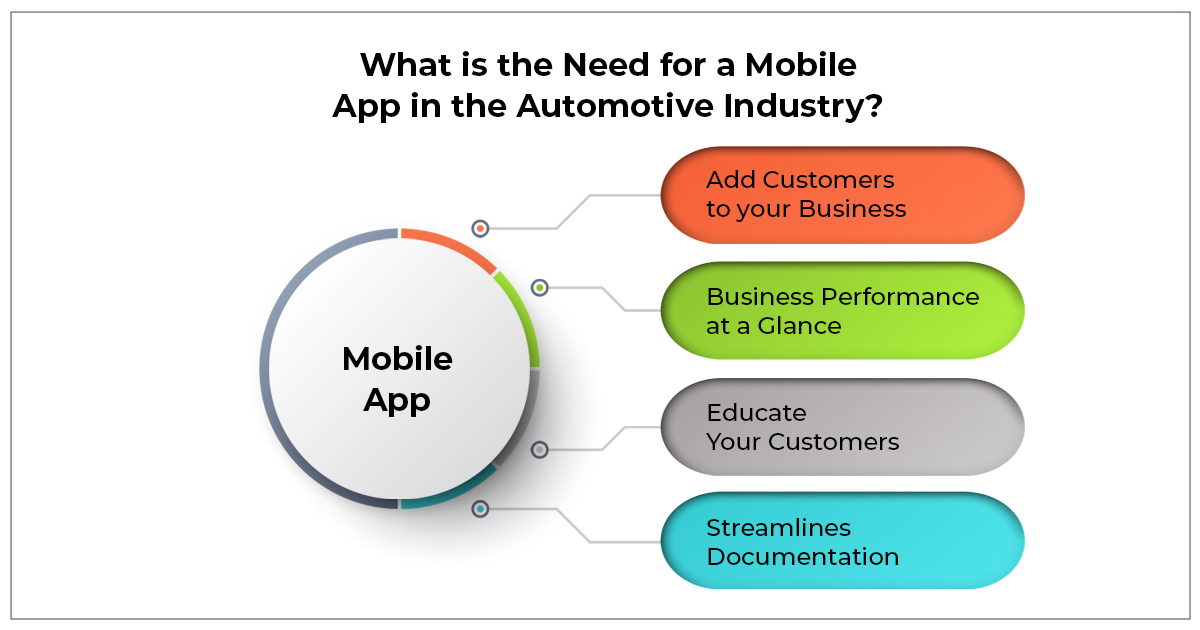 1. Add Customers to your Business
When you go online, you begin offering convenience to your users. As a result, more people view your business as a prospect for their needs.
The users are on mobile phones and are sure to use the applications to research and learn about your business. by being present on the medium they often use, you will improve acquisitions.
2. Business Performance at a Glance
Whether it is the sales performance or your supply chain, business owners need a glimpse into their shop floor activities. With the mobile app, you can measure and monitor the key metrics. It will help give you a complete insight into the performance and plan your next steps accordingly.
3. Educate your Customers
People can go to their mobile app when they need information about your products or the best materials. It offers immediate access to the end users. The automotive mobile app can provide retail and B2B-related details in real time.
4. Streamlines Documentation
Whether making payments, filling out forms or completing the checkout, the mobile app tends to reduce paperwork. It also helps businesses manage the data logs and meet their growing needs.
Top 10 Automotive Mobile App Development Ideas
The automotive industry has several instances of tech-driven solutions. From smart cars to intelligent supply chains, there are a lot of factors that contribute to the growth. In the past, numerous players have also developed the on-demand vehicle rental app.
Here, we will take you through a few app ideas that can earn you downloads and profits.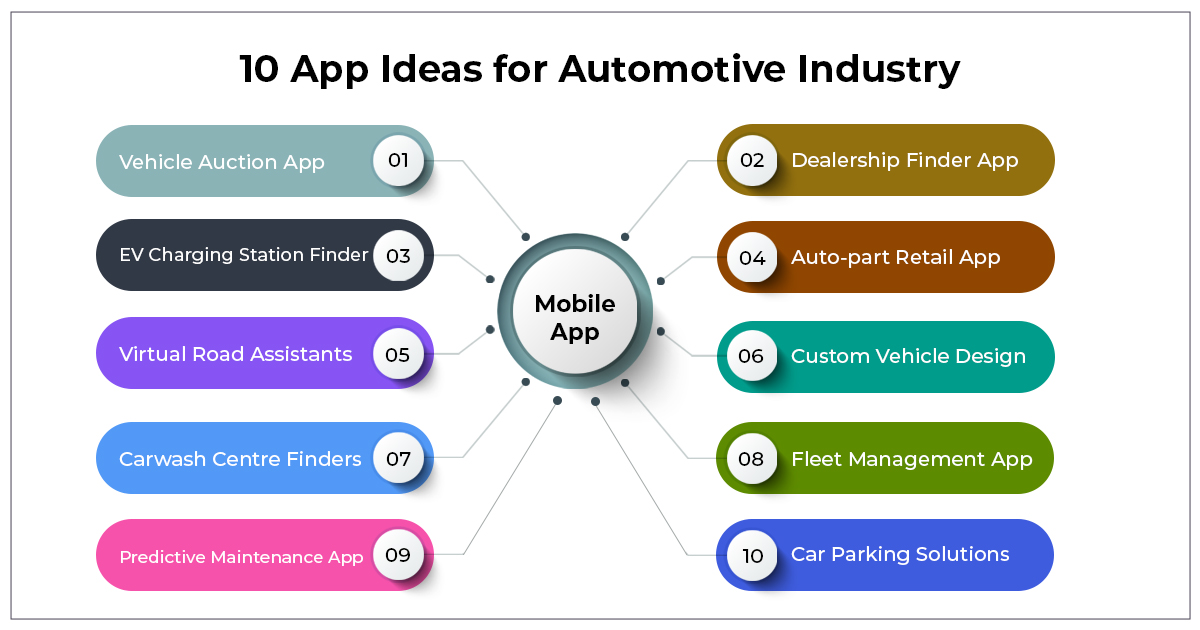 1. Vehicle Auction App
If an owner of a vintage vehicle wants to sell it, there are limited to no online options available. These options may or may not work in the global environment.
A decent vehicle auction app will allow users to auction and sell vehicles such as boats, cars, and even heavy vehicles. You can also enable users to sell and buy vehicle parts to build custom machines back home.
This is an excellent opportunity and has a good market across the globe.
2. EV Charging Station Finder
In light of the increase in electric vehicles, it has become essential for these vehicles to find charging stations to keep moving. While moving or in a new city, you would not know where the charging station is.
This app can help users find the stations, get the vehicle charged before it hits zero, and return to the road.
3. Virtual Road Assistants
You must have gone through the trouble of finding a restaurant on Google Maps only to know it is a 16km detour. There are several times when you need a gas station and somehow miss it.
It would be a welcoming thought if your users could get the virtual road assistant that tells them where to find what on the particular route.
You can build an assistant that shows them the nearest restaurant, gas station, charging point and restroom. This will make them less anxious and help them enjoy the road journey.
You can create your individual or commercial vehicle GPS app.
4. Carwash Centre Finders
Your car might need a quick clean and wash when you are on the go. However, finding carwash centers can be complex. That's why your customers need an application that can bring them to the carwash centers at a click. The carwash for vehicle finder app can help you look for service providers in your vicinity.
You can keep building the directory and adding new names to it. It is essential to help customers compare the carwash centers. You can also offer helpful information to the customers that can help them make the right decisions.
5. Predictive Maintenance App
Every vehicle needs some fine-tuning and a lot of care. However, if you aren't offering timely maintenance to the end customers, the vehicles may not perform well.
The new age vehicles are tech-driven and have advanced technology and super intelligence supporting them. The application can look into the intelligent sensors and identify the parts that need immediate replacement. The vehicle inspection app is one of the many maintenance solutions.
When it is time to repair or update a part, the app will notify the users immediately.
In some cases, the vehicle manufacturer might roll out updates that the user doesn't know. As a result, an app is needed that can guide the user through these maintenance requirements and regular updates.
If you deliver a personalized vehicle maintenance app, you can improve downloads.
6. Dealership Finder App
You must find a good deal when you plan to buy a new vehicle or sell your car. Finding a good dealer can be difficult. Additionally, you must compare multiple things before choosing them for your buy or sell.
An app with all the requisite information and the ability to compare can help your customers identify the dealers. This is an excellent application that can help dealers and customers get together to complete the transaction.
It will make the transaction paperless and reduce the steps involved in finding the right dealer for the vehicle deal. It will also remove the need for mediators that complete the transaction.
7. Auto-part Retail App
This is a profitable segment of the automotive industry. It deals with customizations that many people insist on in their vehicles.
For example, many users tend to purchase parts that can improve their vehicle's performance. Similarly, they will buy parts that have been damaged or need replacement. However, finding these parts offline can be pretty tedious. At the same time, you may notice that geographical restrictions can hamper their deals.
That's why you should create the auto part retail app. it will help people find the parts they need to improve their vehicle's performance.
8. Custom Vehicle Design
You might have fallen for the many custom designs if you are an automotive industry enthusiast. There are a lot of people who wish to give their car a custom look and feel. However, they don't know designers who can help them.
The custom vehicle design app can help them self-design the cars. You can also build an app allowing users to meet the designers and share the requirements.
These apps will help translate custom design concepts and dreams into reality.
9. Fleet Management App
This app helps businesses manage their fleet operations. It is essential, especially if you have a large fleet to manage. The vehicle tracking app can help gain real-time visibility into the movement. It is an excellent solution for warehouse management as well.
You can track the movement of the vehicles, keep a record of the products being carried and update end users with the requisite status.
10. Car Parking Solutions
It is impossible to find parking when you need it the most. Sometimes, the area seems overparked, and you cannot spot it on time despite having one empty place. This is why it is essential to create car parking app solutions. They can help the customers find parking spots on time.
It will remove the stress associated with finding parking. You will always find the empty spots nicely recorded on the app.
While this idea has been there for years, it can be modified or personalized to meet your customer's unique needs. Here's a bonus idea
Bonus Idea: 11. Car Rental Application
You can offer numerous solutions as part of this application. It can range from applications to help rent a car to booking a car for the weekend.
You can choose to rent out cars with drivers or self-driving ones. There are numerous ideas within this space. Once you have researched the niche well, you can find a solution that matches the requirement.
How to Look for an Automotive App Development Partner?
Have an idea for automotive app development? Let's take a quick look at how to choose a mobile app development partner for taxi booking app development.
1. Automotive Enthusiast:
If they love the automotive industry as much as you do, they would know what you need without saying it. For example, when you build a retail app for vehicle parts, they will know what things are essential to automotive lovers. This is an integral part of your checklist.
2. Experience:
You need someone experienced in automotive mobile app development. They should have created a driver app, a cab sharing app or something related that can help you judge their knowledge. It would showcase their ability, level of industry knowledge and proficiency.
3. Tech skills:
When partnering with someone for mobile app development, you should check their technology skills. They should be well-versed in programming languages and essential app development skills.
Here are all the places where you can search for a mobile app development partner.
1. Online directories: There are several online and offline directories where mobile app development companies list their businesses. You can search for someone with the requisite skills and capabilities there.
2. Automotive Magazines: Mobile app developers proficient in the automotive industry would have authored a few posts in these magazines and websites. You will find your prospective partner in one of the many posts.
3. LinkedIn: This is an excellent place to find someone suited for your next project. It is an excellent social media site for potential business partners.
Conclusion
The automotive industry is gearing up for digital transformation and the advent of technology disruption. While most segments have embraced mobile apps, there are quite a few untapped segments that you can venture into.
You can implement these ideas for a defined target market to grow profitably. You should ideally validate the concept, research the niche and identify the budget before hiring the technology partner.
Expert App Devs have extensive experience delivering capable mobile app solutions for the automotive industry. Our off-the-shelf taxi booking app has helped many businesses manage their fleet, empowering drivers and enabling better taxi management solutions.
Whether you are looking for an off-the-shelf solution or a customised one, connect with our team by filling out the contact us form.
Read More: