The proliferation of mobile devices is magnanimous. In 2021, the number of mobile devices reached 15 billion; it is estimated to reach 18 billion by 2025 (Statista). With variations such as foldable devices and the recently added support to the 5G network, mobile app development will become a crucial part of this growth.
With the newer technologies and networks, we will need more mobile apps to meet device requirements and users' needs.
With the rise in mobile app demand, stiff competition has made everyone up their game. At this point, businesses must strive to bring their apps into the market. Clone app development is the way to rapid application development. It gives you the upper hand in the game, helps you be in front of the customers before anyone else, and offers excellent visibility.
In this article, we will discuss clone app development benefits, the best practices to deliver a clone app, and what things you should consider before getting started.
Top 10 Clone Apps You Should Know
The world of apps has predominantly seen many top apps being cloned. Here we will take you through some popular clone apps to help you understand the use cases and benefits.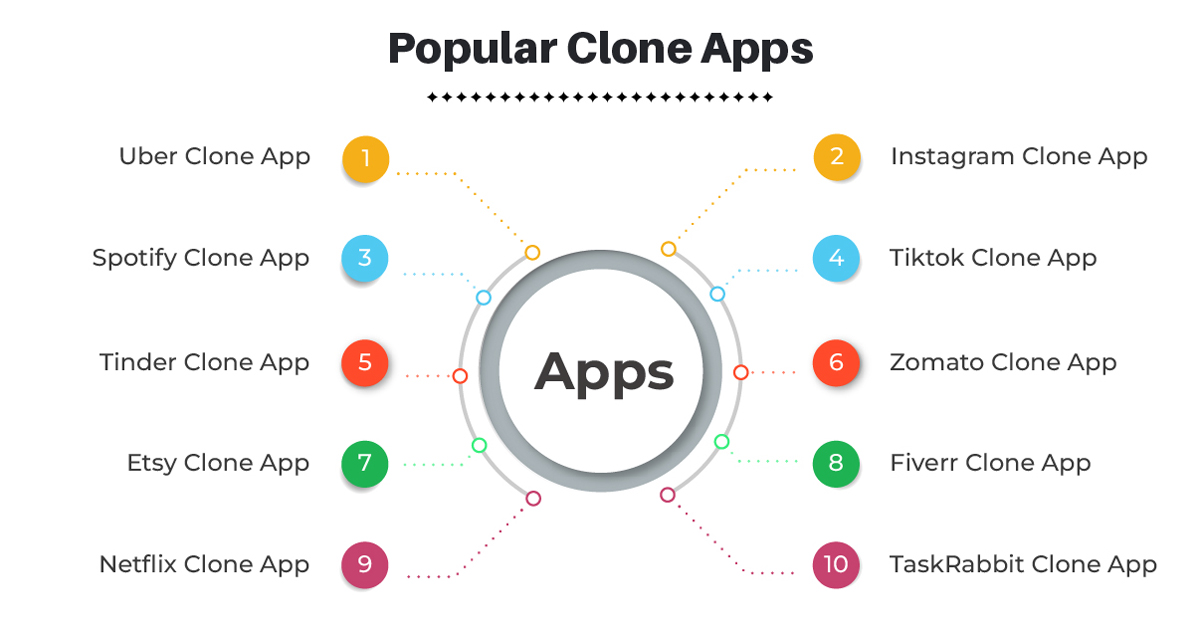 1. Uber Clone App
Uber redefined the taxi booking services. Earlier, people had to go out of their houses onto the street to get a cab. However, with Uber, they can hail a taxi outside their doorstep.
Taking the Uber premise a step further, businesses have created Uber-like solutions
Trucking: People or companies can book trucks to carry their goods
Delivery: book the delivery for your package or courier through your app
Pets: Hire walkers for your pets
You can always use these examples to create an Uber clone app for your needs.
2. Instagram Clone App
Instagram has influenced several photo-sharing apps that offer a wide range of solutions. For example, you can use the Instagram clone script to create a private photo sharing solution, where only a few people will receive your requests or photos. You can also create apps that allow you to add filters and improve the image you want to share on Instagram.
You can use the clone script to start your photo-sharing app idea and accelerate its launch.
3. Spotify Clone App
Audio streaming apps like Spotify are creating a rage owing to their ability to create personalized recommendations and playlists that everyone will like. Several apps help construct a mood-based playlist or have a podcast recommendation.
The Spotify clone can help deep dive into the music preferences and build niche applications for the customers.
4. Tiktok Clone App
Who doesn't love a good TikTok video? However, with the rising fame of this micro content creating a platform, several clones came into existence. You can develop a solid TikTok-like app that can cater to the video creation requirements posed by your business.

5. Tinder Clone App
The dating app tinder rose to popularity, which led to tinder clone app development. You can create a Tinder-like app for people who want to make new friends.
There is an app in the market that allows moms to meet other mothers and get connected. There are several networking possibilities with the tinder clone.
6. Zomato Clone App
Zomato redefined food delivery and convenience. During the Pandemic and a little after, these food delivery apps helped many people survive. They branched out into grocery delivery as well. Uber Eats, Amazon Fresh, and others have also followed suit.
The Zomato clone is an excellent niche for businesses as food delivery will not go away anytime soon. People will keep needing convenience in this niche specifically.
7. Etsy Clone App
Custom gifting or vintage shops online have turned to apps. Etsy is a popular store where people can find various gifting options. You can also trade on Etsy. The Etsy clone app development can offer a wide range of opportunities to small-time businesses and help them gain visibility.
8. Fiverr Clone App
Freelancers keep struggling to find good projects that can get them the requisite cash. Fiverr became the numero uno platform that allowed freelancers to meet the businesses that could offer good projects.
The deal was that no freelancer could ask for more than $5 for the project, which is why the name Fiverr. The clone apps are trying to fill in the gaps, segregate the customers and create more personalized solutions. This is an excellent marketplace as it offers splendid opportunities.
9. Netflix Clone App
Most people survived on OTT platforms during the Pandemic as they were behind closed doors for a good time. The Netflix clone has led to the creation of several applications that serve local needs and niche customers. You have Netflix-like apps for Korean drama, classics, and others. You can always identify the niche for which you want to create the application.
10. TaskRabbit Clone App
The handyman found it hard to look for jobs during and immediately after the Pandemic. There was a need to connect the handymen with the right jobs. AllBetter and TaskRabbit are on-demand handyman service applications that help the marketplace flourish.
Fewer apps serve these purposes; we need location-specific apps. There are plenty of opportunities for the service provider marketplace.
We have seen the different clone apps that have taken the mobile app development by the storm. So, why are clone apps in demand? Let's take a look at the benefits.
5 Key Benefits of Adopting Clone App Development
We will address the benefits of clone app development for your business here.
1. Rapid Development
As a business, you want to ensure that your app is launched to the market as soon as possible. Developing the application ground up can consume a lot of time. Every component needs to be planned and executed.
However, your code is ready if you were to develop the application using clone app development. You can build on this ready-to-use solution, which helps with a faster turnaround time.
2. Easy to Customize
The basic code and application are ready; you must build on the existing components. As a result, it gives developers the flexibility to focus their attention on driving customizations.
The developer can quickly build the application to suit the requirements of the business. For example, you can use the Uber clone script to develop the trucking business. While the basic features and code are ready, the trucking business can include components specific to truck booking or trucking operations management.
3. Cost-effective Solution
Imagine having to build a photo-sharing app solution from Groundup. It can take up a lot of resources, time, and infrastructure. If you follow a native application development approach, you will need two different teams at least. You will need the tools, IDE, and infrastructure for developing native apps.
If you use the Instagram clone script to start, you are halfway through building your apps. With half the resources and tools, you can accomplish apps for both iOS and Android. This will help you save money and time.
4. Better Success Rate
As the original apps are already validated and running successfully, you know that the market is ready for these applications. Launching an app that helps with a specific issue can lead to immediate success. You are piggybacking on the success of a popular app, which means your visibility and reach are guaranteed.
5. Easy to Develop
You might complicate the process when you begin coding an application from scratch. It can lead to complex development. However, when you create mobile apps using a clone script, it becomes easier for you. The development process is far more approachable, and the developers have a clean script to work on and customise.
If you have decided to go ahead with clone app development for your business, few factors are non-negotiable for a successful app.
5 Most Crucial Factors to Consider for Clone App Development
You need to consider and research a few things before you can build the clone application for your idea. We have listed all the factors you should consider.
1. Researching the Competition
When you are developing a clone app, the market is already flooded with competitors. Take the Uber-clone niche, for example. Several businesses have developed an Uber-like model for their business requirements.
Researching the competition will give you an insight into the niche, the kind of customizations they have incorporated, and how they marketed the app. Every part of the clone niche competition is essential. It will also help you identify how people have developed the clone app.
For example, Uber has been used to find babysitters, hire dogwalkers, and several other use cases. You need to check if people are working on something similar to what you have planned.
2. Determine the Clone App USP
When Uber for trucking was released, the USP was to make trucks available to businesses. It was also valuable for businesses to manage their fleet and ensure they didn't waste their resources.
The USP of a Tinder-like app for Mothers was to help moms meet each other and make new friends in the exact location.
The main app (Uber, Instagram, etc.) has a USP. It is time to determine the value add your application will provide. You will need this uniqueness to improve your app's selling capabilities.
3. Know the Purpose
Before you begin the execution, it is time to know why you are building this app. What is the problem you are solving? What do you aim to achieve with this application?
If you are creating an application to help resolve a problem, you must study the problem and the customers carefully. If you want to strengthen your market positioning and add value, the app features will differ slightly.
Your purpose will determine whether you need to include varied features, plan a different marketing approach or position your app in a certain way to attract attention.
4. Hire a Developer or Ready-To-Use App Builders
It is essential to know beforehand whether you want to use the clone script and ready-to-use builders or hire ios app developer/team for the app. This is an important decision and motivated by several factors:
Your in-house team expertise

Low code platform knowledge and abilities

Budget for app development
5. Plan Monetization Strategy
The monetization model is an essential aspect of mobile app development. You should have a defined business and monetization model. Do you want to charge from the service providers or earn from app downloads? Are you planning a subscription service?
Considering the end user's app and purchase behavior, you should carefully plan these things.
After carefully analyzing the different aspects and looking into essential factors that need your attention, it is time to begin clone app development.
How Much Does a Clone App Cost?
To help understand the approximate cost of developing a clone app, we will take the example of Uber Clone. We will take a look at basic features, and the timeline for development, design and testing.
Note: The table gives total hours taken to develop the basic app.
| | | | |
| --- | --- | --- | --- |
| Features | iOS Development | Design | Testing |
| Sign InScreen | 4 | 1 | 1.5 |
| Base Code | 4 | 0 | 1.8 |
| Location Access | 6 | 2 | 2.1 |
| Choose the Vehicle | 6 | 2 | 2.1 |
| Tip for Driver | 6 | 2 | 2.4 |
| Send the Ride Request | 10 | 2 | 3.75 |
| Ratings and Reviews | 8 | 2 | 3 |
| Push Notifications | 8 | 2 | 1 |
| Refer and Earn | 12 | 4 | 4.2 |
| Wallet | 12 | 6 | 4.5 |
| Profile | 12 | 6 | 4.5 |
| About Us | 1 | 0 | 0.45 |
| Logout | 1 | 0 | 0.45 |
| Make Payment | 20 | 5 | 7.5 |
The one side of an Uber clone app (for the end customers) takes approximately 42 hours. This is just for the few basic features that you cannot avoid.
The cost of hiring a developer per hour amounts to $25-30 in an Indian market. The total cost for one aspect of the Uber Clone application costs $1260. Depending on the number of features, hiring costs and the complexity of the app, the cost will go up.
Conclusion
This article detailed clone app development, wherein we talked about the different apps that are regularly cloned by businesses. Cloning an app has several benefits, including rapid app development and smooth launches. Just like any other app development, you should plan before you proceed with clone development. It is essential to follow all the steps, consider the critical factors, and plan before you execute.
Expert App Devs has delivered 500+ clone apps to date. With our experience across industries and expertise in clone app development, we offer the best solutions for your business needs. Connect with us by filling out the form for a free consultation and a dedicated team for your project.
Read More:
The 9-Step Process for Successful Clone App Development