Top 4 React Native App Development Cost Determine Factors
Jignen Pandya
September 22, 2023
10 min read
An app for your business is no longer a luxury. With the onset of the Pandemic, many companies had resorted to an online presence for survival. Today, they have embraced online operations and thrive due to their digital presence.
The question has changed from "should I go online?" to "how do I go online?" Most businesses are looking at cost-effective ways to embrace the transformation. Let's break down the reason behind looking at cost-efficient strategies.
Most businesses, especially startups, are unaware of their actual market till they get people to start using their solutions.

At this point, they need to maximize their reach and penetrate all markets possible.

With a native app development strategy, they may not find it easy and efficient, as releasing on each platform separately can be expensive.
The cost-efficient strategy at this point comes down to cross-app platforms. Of the many frameworks that developers are embracing, React Native and Flutter are gaining popularity. Before looking at the cost-deciding factors, consider why you should consider React Native.
Why React Native for App Development?
React Native may be your first choice when you choose a framework for mobile app development. Here are some of the reasons to follow through with the thought:
It is an easy-to-use framework where you code once and use the same logic across the different operating systems like Android and iOS.

Popular and long-term companies like Facebook, Tesla, and Walmart have used this framework.

You don't need to learn a new programming language; you can create app solutions using Java, Python, and C++, the languages you already know.

With strong community support and an eye on evolution, it offers some of the top-notch features that make app development solid and functional.
React Native App Development Cost Deciding Factors
When you look at React Native, you know it is the most cost-efficient way of developing an app solution. It is perfect when you don't have a lavish budget for apps.
However, your app development cost depends on varying factors, such as how many features you plan to add and what is app level? Here we will discuss the different cost deciding factors that you should know before diving into the app development phase.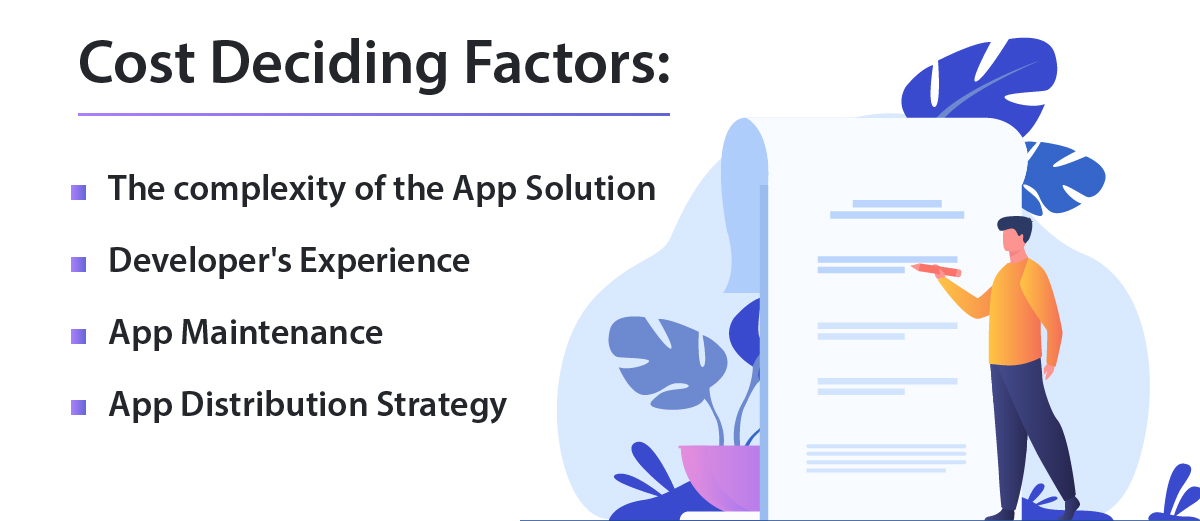 #1. The Complexity of the App Solution
When you sit to plan a mobile app, the first thing you do is define the app's purpose. Why are you planning this app solution? The answer to this question will help you unravel the app deliverables, which in turn help you define milestones.
Let's talk about the deliverables for the app. This is where the complexity of the app is defined. An app with minimal features, integrations, and access can be termed less complex. It will not take a long while to develop. You can calculate the cost based on the deliverables and the time taken.
So, when the deliverables are more, the time to complete will be longer, and the app cost will be higher. The budget for a simple app will decrease as it will be developed in a shorter period.
How do you define the complexity of the app? If you know the complexities involved, you can budget better. Here are six deciding factors for whether the app is complex or not.
How do you plan to deploy the backend of the mobile app? Would you use the BaaS model (Backend as a Service), or would you be opting for a custom architecture? BaaS offers you a ready-to-use backend.

You need to keep track of your app's activity and monitor the statistics to keep up with the optimization. Developing an intuitive and feature-rich admin panel is essential. This will also add to the complexity of your app.

Third-party integrations need to be considered at this point, as they are essential to improve the app and lower the learning curve. However, they can add a few more steps and make the process complex at the development stage.

In-app purchases are another reason that app development grows complex. As you add in-app purchase options, it increases the complexity. You should define the essential additions to your app at the planning stage. Avoiding the rest can help you shorten the development phase and make the app intuitive.

Are you planning to use the device's in-built features? For example, you may need to use the iPhone camera feature when developing an app. If that's the case, the native features for different devices may differ. You will need to design your app accordingly. this, too, can increase the complexity in the logic and, eventually, app development

If you have a legacy system in place or an already running ERP system, you may want to integrate the newly developed app with them. Integrating your designs with the app means sharing data, moving the data, and streamlining the processes. This takes more than just migrating the movement; you will have to build logic for the same.
Based on how you plan your app after checking these six-pointers, you will have a low or high-complexity app solution on your hand.
#2. Developer's Experience
You will need a developer to support your vision. There are two hiring models that you can opt for - In-house and Outsourced.
Let's look at how your choice can impact the cost of overall react native app development.
➤In-house
We have already defined the purpose of the app and the complexity involved. You will need to hire a team according to the requirements. If you have a high-integration, enterprise-grade app in mind, your developer vision should suit your goals.
When hiring in-house, you will need to consider the following:
App developer's salary

Their experience with React Native development

Past portfolio

Competencies and knowledge
Your cost planning will need to consider the training period, the time they will take to understand your domain, and the infrastructure you will provide them for development.
You might also need a team of developers comprising a mix of seniors and freshers to help with the development.
You will also consider the hiring and screening time, money, and efforts spent by your team.
➤Outsource
In this engagement model, you may not be directly involved with the developer's salary or the infrastructure. Yet, you will be paying for the experience, the services, the complexities and features, and the whole process in place.
You can hire an individual react native developer or an entire team based on your business's most suited engagement model. When you are outsourcing, you need to consider:
The portfolio of the development agency

Ability to construct this complex app

Whether or not they are asking the right questions

Their experience in your domain

Knowledge and expertise level
Make sure you don't screen every profile or agency. It is equally essential to ensure a minimal training period so that you can save costs. Choose a freelancer if you have a simple app project and don't have an in-house team.
#3. App Maintenance
You cannot negate this point when deciding the app development cost with React Native framework. Even after the deployment of your app, you need to introduce new updates or upgrades to the app.
You will need an expert who can help keep the app up-to-date and remove the bugs from scratch.
While you are developing and releasing a beta version of the app, you also need to incorporate the feedback to ensure the app has resolved all the woes.
It is equally essential for an app owner to publish regular updates and notify the customers about it.
A lot of app owners have defined milestones for app development. They may not release all the features together. They may have planned phased development, which means they would plan to release new features after deploying the first version.

Once an app is released, there is a chance that you might face some bugs and issues that need to be fixed. To enrich experiences, you should get on it immediately.

You should also update the corresponding app when an operating system is updated. This occurs in the post-deployment phase.
You may either need a freelance app developer on an hourly basis to push out the updates or hire someone permanently for this purpose. Depending on how often and what type of updates you may need to roll out, you should choose the hiring model.
#4. App Distribution Strategy
When you develop an app for both iOS and Android, you also want to ensure it reaches maximum people from across the globe. You will need to proactively invest in a solid distribution strategy that can help you increase conversions.
Most people download apps from Apple Store or the Google Play Store. Certain companies have specific stores, like Mi and Samsung, where you can launch your apps. Every time you choose a channel, you also have to pay the developer licensing amount to ensure your app is added to their channel.
Approximately $100 is charged for every platform. Apart from this, you will need to ensure that the apps are in sync with the defined terms and conditions, standards, and policies.
To make the distribution strategy cost-effective, you should choose the channels wisely. It is equally important to check which channel gives you maximum reach and be present there. You should include these costs at the planning stage for a defined budget.
Add-Ons
The focus of a modern app is the customer. Most businesses consider deploying a user-centric and highly accessible app solution that helps them differentiate in the market. You may need to include add-ons like social media channels, in-app purchases, payment methods, and others to enhance your experience.
It would help if you planned for the add-ons, as every add-on increases the cost of development. When you add a social media channel to your app, you increase the development time and effort, eventually impacting the price.
Conclusion
When you are developing using React Native, you are enhancing the app's capabilities and reducing the overall costs. With reusable components, third-party libraries, and extensions, you can deliver app solutions effectively.
It makes use of native components to drive native-like experiences. The single codebase minimizes coding efforts and helps you budget the developer costs.
It comes with an easy-to-implement updates feature. Combining it with a hot reload, you can go live with your features in production.
It is an excellent idea to outsource your app development to an expert app development company as it saves you time and effort. At the same time, you get the requisite expertise that allows you to deliver top-notch solutions with a competitive edge.
At Expert App Devs, our team helps proactively solve your queries and enhance your app development experience. We offer customer-centric, experiential, and competent app solutions that align with your business goals. Connect with us to know the react native app development cost in India, and we will take you through the idea-to-delivery path.
Read More - Hire iOS App Developer India: Outsourcing vs In-House vs Freelance