Boost Your Startup's Success with Mobile Apps: A Guide for Tech Entrepreneurs
Jignen Pandya
Mobile app startups are picking the pace. It is no surprise. At least 57% of the digital media consumption occurred on mobile applications (AppMySite).
The app stores, Google and Apple, enjoy 2.87 million and 1.96 million applications. It is a good time to start your mobile app business.
However, only a few apps grow successful. It has been seen that at least 90% of apps fail. Here are all the reasons mobile app startups can fail (Statista).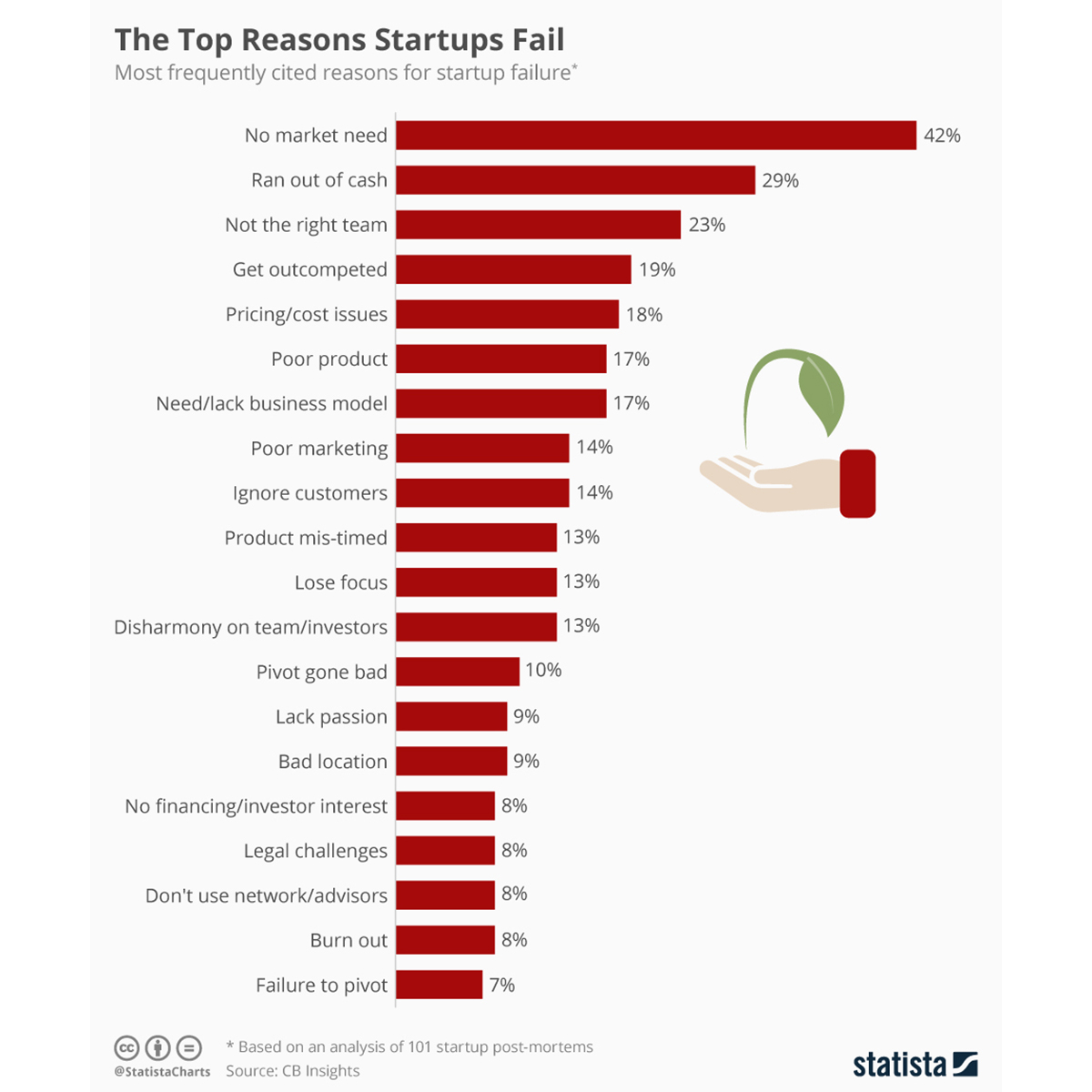 Poor app planning, not thinking about design first and an inaccurate marketing strategy can lead to a major failure in the Android and Apple App Store. Even if the idea is worth investing in, if your planning standards are not up to the mark, you may not get the desired outcomes for your startup app.
If you want to move from ideation to growth in a hassle-free manner, here are a few things to consider. We have listed out the mantra of success and also the steps you need to take as a mobile app startup.
So, let's get started.
The Mantra for a Successful App
There is a reason that 10% of mobile app startups succeed. There is a defined mantra that helps answer how to start an app. Let's look at it before we begin building a successful startup.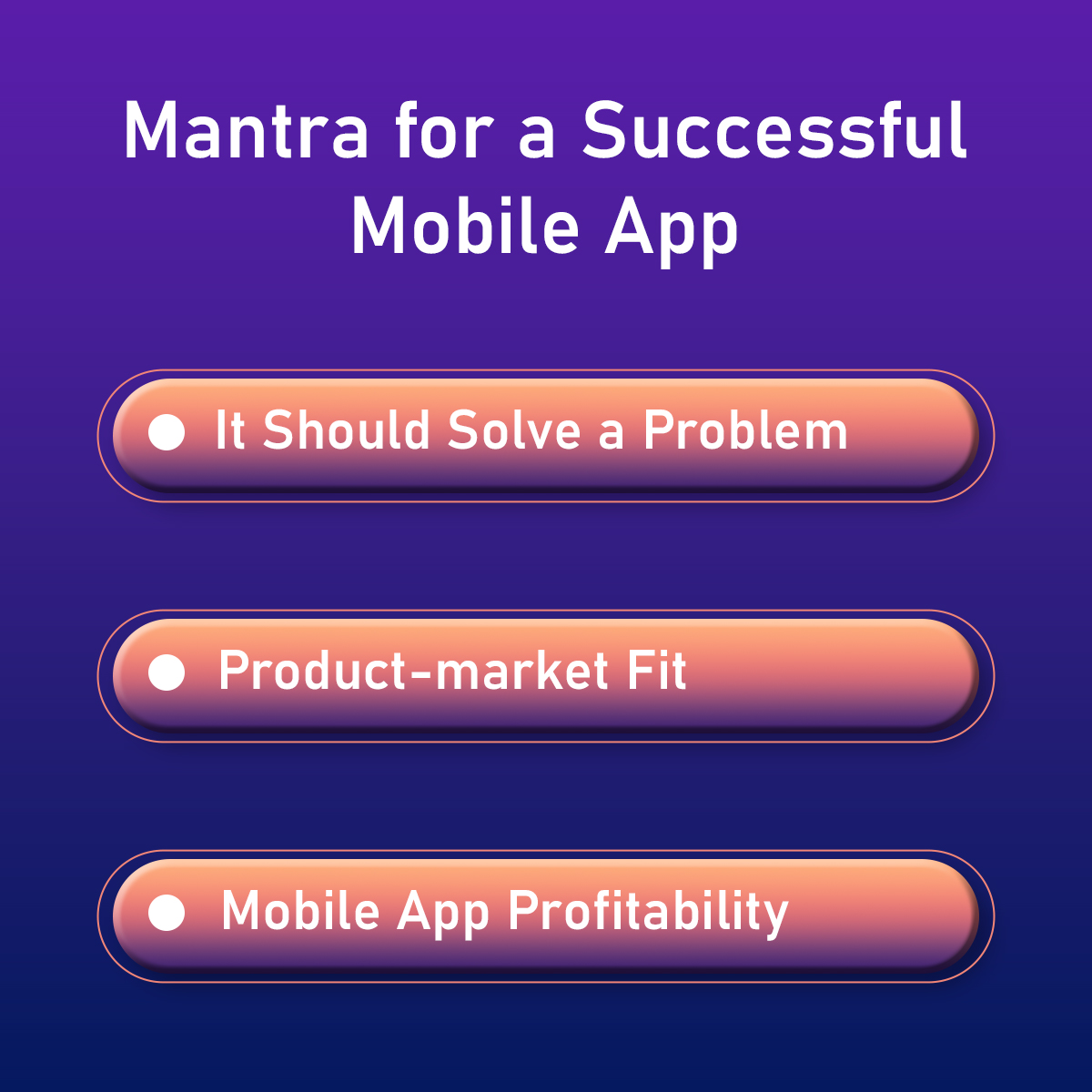 1. It Should Solve a Problem
When you create an app for your business, make sure the mobile app startup solves an actual problem. The startup should understand the user's problems, know if they are solving one, and build the app accordingly.
If you are building an app to allow users to be more efficient, your app should understand where their productivity is failing. Accordingly, build a solution that can make them more efficient. Knowing the problem will guarantee a successful application.
When you know the problem you are solving, building the application and estimating the cost is easier.
2. Product-market Fit
Do you believe that your user market is ready for the product? Do you think there are enough users for you to consider building the product?
Market readiness and product-market fit in the early stages are important to ensure success. Look at the user group, understand how they react to the app idea you are offering, and determine if the users will download the application.
If the people show a positive response, you will know that the app is ready to be a success. That's why readiness and validation are important ingredients of mobile app success.
3. Mobile App Profitability
A successful app for mobile devices will offer good returns on your investment. Before you begin developing, check if your mobile app will return the cost or grow to be more profitable. Will your monetization strategy earn you a good user base that will help generate revenue?
The app will be considered successful when your app leads to more profits and helps you earn returns on the investment. This is part of your initial validation, where you would know if users will pay and download the app.
Top Steps to Create a Successful Mobile Apps for Startup
If you plan on creating a successful mobile app startup, you need to follow all the steps, from validation to monetisation. Here we will take you through the top non-negotiable steps to crafting a successful application.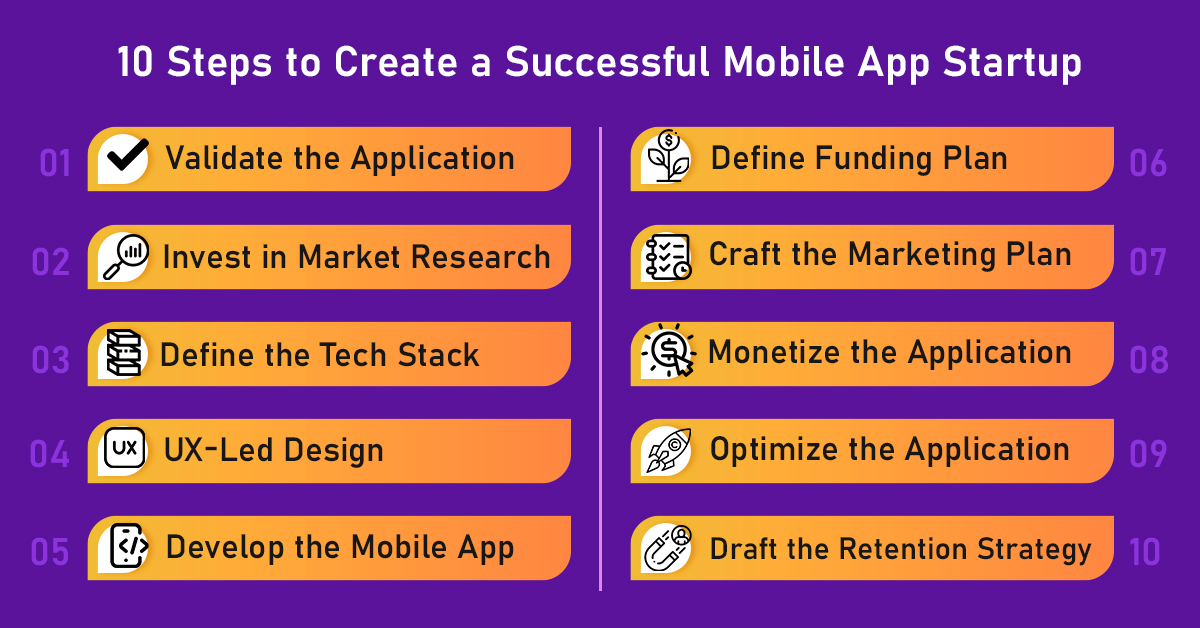 Step#1: Validate the Application
Your idea may seem lucrative. You may want to jump at the first opportunity to build the application. However, you are not sure if your target market is ready to embrace the application. Did you check with your users if they would consider using the application?
Validation will help you know if you have a market for the product you are creating. It will also help improve the idea, analyse more problems, and get feedback from the real users of the application. This might delay the app development by a bit but, it will guarantee a successful and usable application.
Step#2: Invest in Market Research
Most often you begin development without delving deeper into the competition or the people using the application. Do you know what your competitors have built?
Are you aware of the things your customer likes? Did you check if the product is fit for the target audience? Does it solve the one problem that persists?
Has your competition looked at this problem? Did they offer a solution? What are the gaps in the existing solution?
You must answer these questions when you build a mobile application. With the research, you can identify the questions and answer them effectively.
Step#3: Define the Tech Stack
It is crucial to plan the development as early as possible. You can begin your planning by determining the tech stack for your mobile application. Before you begin planning the stack, look at the approach you are planning to take to build the application.
If you decide to take the native app development approach, you should choose between iOS and Android. iOS means you go with Objective-C or Swift while Android means you go with Kotlin. If you plan to go with cross-platform, you should choose between Flutter and React Native.
Step#4: UX-Led Design
Design is crucial to engage the users and get more people on board. You should think UX-first when designing your mobile application. User experience is the key to getting more people to the application, allowing them to stay there longer and retaining them.
The ease of use, accessibility, and other factors determine if your mobile or web app offers the experience. You should follow the app design guidelines set by Apple and Android when building the UX strategy to get more users.
Step#5: Develop the Mobile App
The actual mobile app development should be well-thought. You need to simplify the process, underline the most important aspects, and create the logic before coding.
Utilize the right technologies and tools to complete the coding well before the timeline. When you are developing the product, the actual developer plays a pivotal role. You can either hire them in-house or outsource to an offshore development company.
This will depend on the skillset you need, the proficiencies your app requires and the experience. Budget is also an important factor, which is considered when building the application.
The best way to go about creating a successful mobile app is through MVP. If you have built the MVP, developing it is easier.
Step#6: Define Funding Plan
Funding is crucial to a successful mobile app. If you don't get the desired funds, you cannot build on your idea. Whether you go bootstrapping or you plan to raise funds, a good plan can help you stay afloat. Most mobile apps are successful when they know where the money will come from.
You should have an idea of the money flow as well. If you know where the money will come from, investing and growing your mobile application is easier.
Step#7: Craft the Marketing Plan
It is important to reach your target market to raise more users and increase the conversions for your app. The profits of your app are dependent on the number of users converting and populating your application.
The marketing plan is key to getting more people to download and use your application. When people see ads related to your application, look at all the users and hear the buzz around the mobile application, they are likely to use it more often. Make sure to create an app marketing strategy that will be effective for your target market.
Step#8: Monetize the Application
Earning from the mobile app is equally important. You have invested a lot of money in building the solution. It is time to grab some returns and add to the profits of your startup. You have startup expenses and a lot of salaries that are dependent on the monetisation strategy.
Start by identifying the most lucrative monetisation option for your business. If you believe that more people will identify with paying for what you use, then you should adopt the strategy. However, if you think people might look at subscription-based business or in-app purchases as an option, make sure to invest in them.
Step#9: Optimize the Application
What you have built is just the starting phase. You have got a lot to create. When you start working on the user feedback, you realize some features might get more market.
Constant improvement is the key to reaching more users in the target market. you will need to regularly update the application, incorporate platform-specific upgrades and add features that your user is seeking.
Optimizing the app for the app store is equally important. You need to ensure that the app is visible and discoverable. Lastly, maintaining the application regularly can be rewarding. It will make the application usable and accessible.
Step#10: Draft the Retention Strategy
This is the final step towards a successful mobile application. You need to make sure you are able to retain the users who are added to your system. It is important to identify the apt retention strategy that can keep the users rooted in the application.
Start with the notifications. If your users are updated via notifications regularly, they would be happier and stay with you longer. Similarly, if you are transparent about your operations, you are likely to enjoy retention.
Update the application when you need to with the features that make a difference to the users. Too many updates can cause attrition.
Top Ways to Fund App Development
It is not easy to develop a mobile app; it is not cost-effective either. You need to spend some amount of money to ensure you have a mobile application to roll out. Startups face a lot of trouble finding their apps.
The success is short-lived as they run out of money, either because of poor planning or basic shortfall. Raising a good amount of funds is important to stay afloat and gain that success you have been eyeing. Your funding strategy will help you get the money for the mobile app business. Here are a few strategies that you should adopt to boost your startup's success.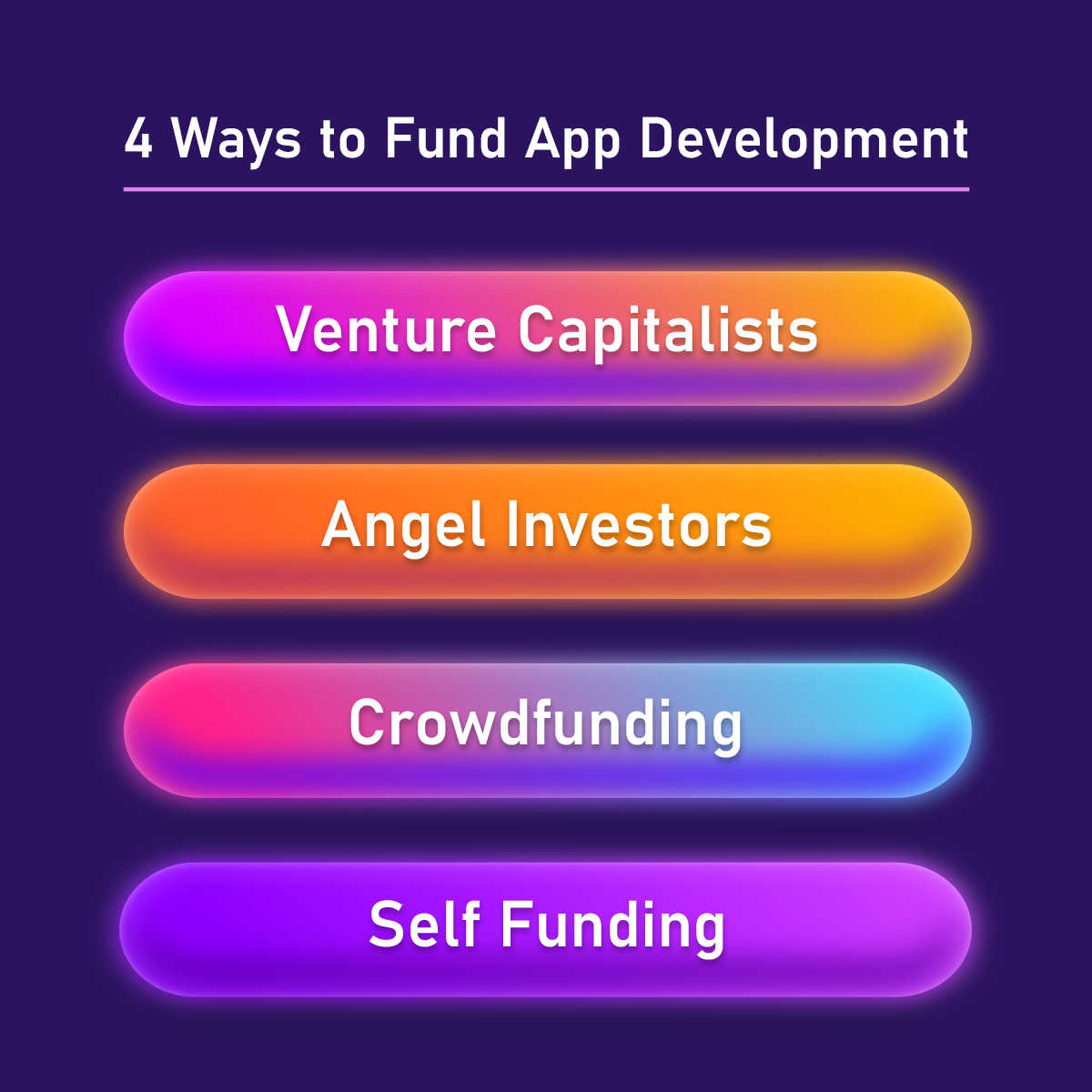 1. Venture Capitalists
They are managed funds handled by professionals. They invest in companies that they believe in. The VCs will hear the pitch, look at the growth aspects and determine if the startup is promising enough to invest.
They can help the startups with the resources they need so that they can boost from inception to growth. They help startups during the incubation stage before they are ready to take on the world.
2. Angel Investors
These are private and wealthy investors who are looking to increase their money. They offer the fund as a debt to the startups along with other resources. The angel investor will also guide the startup toward growth and help them identify its strengths.
3. Crowdfunding
If you have an excellent idea and want to grow it, you can look at the Internet to help you. There are several people who are ready to fund startups with money. You can raise funds through a good fundraising campaign, and use it to grow your startup.
4. Self Funding
Bootstrapping is a great alternative to building and growing your startup. You will rely on your funds and investments to grow the business. you can even consider bank loans or traditional funding strategies to back your business. This would be a great way to support and grow your business.
Strategies to Succeed with Mobile Apps
Successful apps require well-thought strategies. Let's look at some of the top strategies that can help you create a successful solution.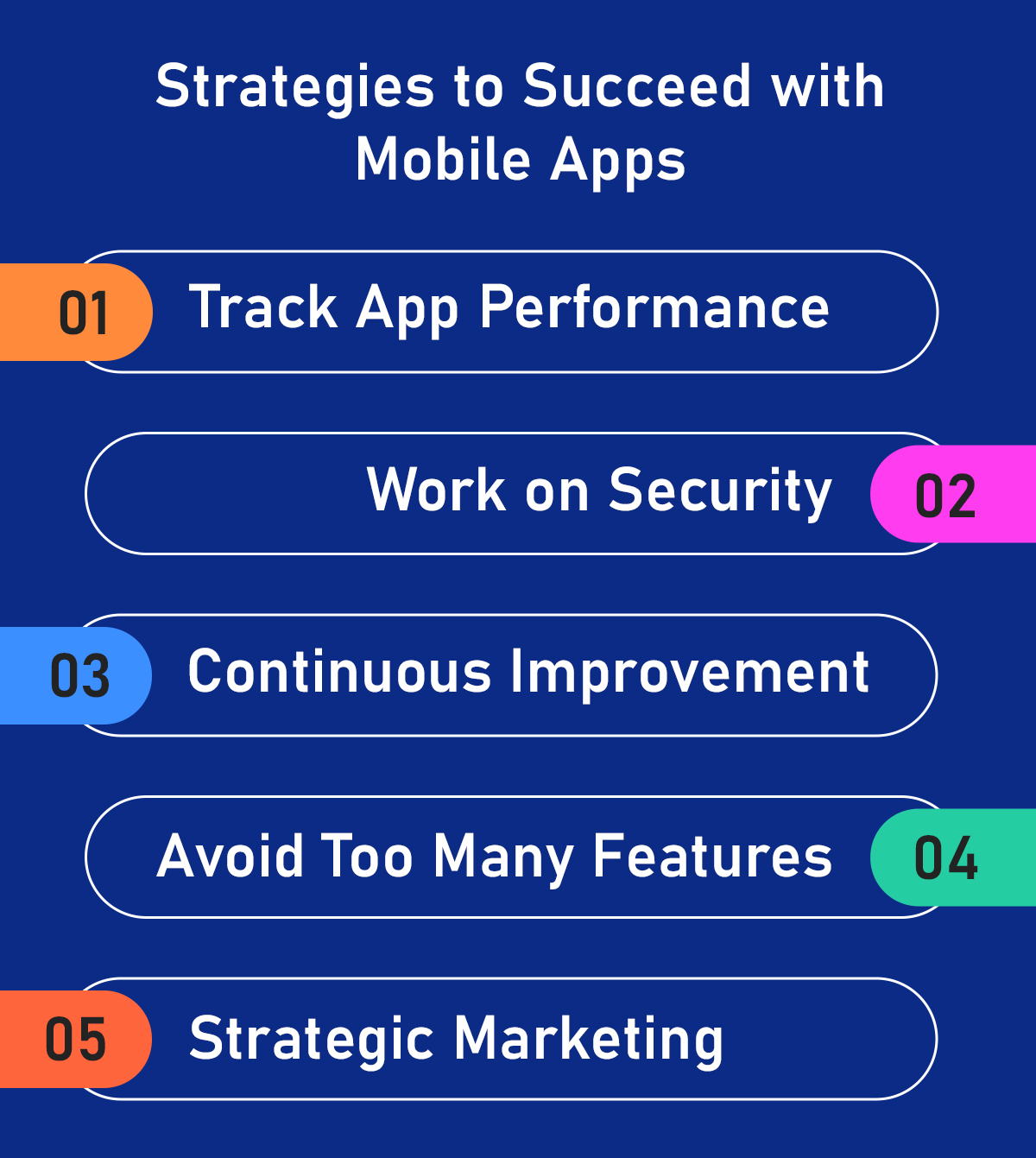 1. Track App Performance
Keep an eye on the top metrics governing your application performance. For instance, the load speed will determine if your app is performing well. The bounce rate, time spent in the app and engagement rates are all important to keep an eye on the performance.
It is equally important for the app developers to minimize distractions, remove pop-ups and ensure smooth elements for better performance. If you monitor the app performance, and notice the engagement levels you can enhance the performance.
2. Work on Security
If you want to make your app visible and popular, you ought to design it for security. Make sure to include the apt strategies that will help protect the app from malicious attacks and security threats. Encrypt the data wherever required so that people cannot steal it.
The idea is to boost your credibility and make your customers confident in using the application. If they can add biometrics or use two-factor authentication to enter the application, they would use it more.
3. Continuous Improvement
While building a successful application is important, improving on what you have created can help increase retention. You should listen to your users, find what makes your app tick, and know what more they need. This would help you enhance the application and increase its visibility. By improving and optimizing, you are making it more usable for your target audience.
4. Avoid Too Many Features
If you create an application with feature overload, you might notice an increase in attrition. This can cost you a lot of money. Before you begin development, sit with your team and decide the high-priority features that will help your users solve their problems. Make note of all the features that you would possibly need.
Prioritize their appearance in the app. Make sure not to add any extra features that would cause attrition.
5. Strategic Marketing
It is very crucial to build a strategic marketing plan that can help you achieve your goals. You can make your app visible and improve your reach with these strategies.
The first step is app store optimization using the appropriate keywords and effective descriptions. Complete your marketing strategy with social media, email and PR to grow your user base organically.
Why Partner with Tech Companies to Release Apps Faster?
Choosing the appropriate engagement model can help you enhance app development. If you already have the expertise in-house, you can outsource the aspects where you need help. In case you have no one in-house, you should outsource the entire model.
There are benefits of partnering with tech companies:
They bring to the table expertise and skillsets that can help build quality solutions

The right team can help from ideation to development and post-deployment support

Help with marketing and monetisation strategies to boost profits

Will deliver a security-first solution that ensures risk mitigation and zero hassles
It is crucial to jot down your requirements and research well before you partner with a tech company. Ensure you have an in-person meeting before you sign the contract.
Conclusion
Successful mobile app startups are fewer. Poor design, security issues and inaccurate planning could be reasons for this issue.
However, you can make your startup successful and profitable if you follow all the steps. It begins with validation and ends with making it marketable. Listening to the users before and after development is equally important to ensure optimized solutions.
To make sure you have designed and developed a usable application, partner with a suitable mobile app development company. Expert App Devs is a reputed mobile app development company in India that releases robust and secure solutions. Connect with our team for exceptional solutions.
References: