Top 5 Mobile App Development Companies in India to Outsource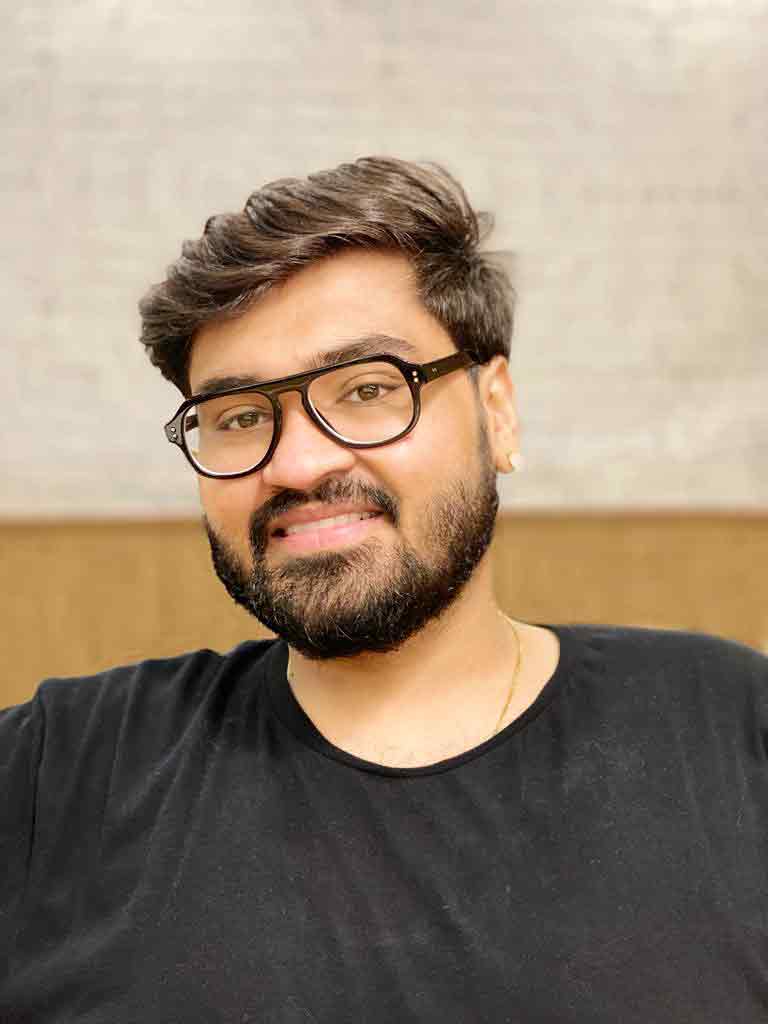 Jignen Pandya
March 20, 2023
14 min read
How often have you pondered over the question "Whether my business needs a mobile app?" and gone back to work without answering it? How many times have you considered outsourcing app development but changed your mind at the last minute?
While most of you know there is a need to create an app, there was no compelling reason to act on that thought. However, the Pandemic changed the consumers and their consumption habits. This led to a severe shift in business functions. Most businesses across industries reevaluated their business model to put digitization at the core. Companies underwent a pivot to make their solutions mobile and take the remote-first approach.
Smartphone penetration keeps growing in the post-pandemic world. The total number of app downloads went up by 23.3%, and consumer spending went up to $29.3 billion (Sensortower).
In-app spending has gone up by 32% across both iOS and Android platforms. Users are constantly on their phones, accessing numerous apps. Most discoveries are made on their smartphones.
If you are still contemplating whether the mobile-first approach would give you the desired visibility, these statistics should help you make the right decision.
Mobile app development has transformed since its inception. Here we will take you through everything that you need to know before hiring a tech partner for app development.
How Has Mobile App Development Transformed?
A lot of service-industry businesses used to develop apps to reiterate the information that was served by their websites. While there were apps that innovated the service and product industry, they were limited. Apps were limited to music and shopping.
The world changed, and today we have a plethora of apps solving one problem or the other. Traditionally, apps were just created to gain one-upmanship with your competition. However, with time businesses are looking at solving problems that their customers are facing. They want to extend mobility with convenience to their customers.
Let's take the example of Amazon, which was the eCommerce marketplace where buyers could meet sellers. They delivered books during the starting phase. Eventually, they saw an opportunity to sell everything from furniture to books on their website.
They saw another challenge that customers were facing with respect to delivery timelines. Sometimes, a customer wanted things on the same day, which wasn't possible online. However, with some changes made to the supply chain, the eCommerce business was able to transform its processes toward same-day delivery.
Today, Amazon has also entered into the two-hour delivery segment to provide door delivery for groceries. Amazon brought shopping convenience to the end user's doorstep. Uber did that with cab services.
Apps are no longer defined to a particular role. They keep updating and upgrading to meet the end user's requirements. for instance, Ola went from being just another taxi booking app to an instant grocery delivery app. One app wears too many hats.

If you look at conceptualization, it has transformed too. Earlier, apps were more business-centric, trying to identify ways to earn more profits. However, with time, businesses have realized the importance of including customers in their ideation process. Whether it is an on-demand grocery app or an E-commerce app, businesses have started considering the user pain points.

Accessibility is a major driver of app solutions. The app should be usable and accessible to everyone. Apps had images with set colors or text-only screens. Today people with color blindness, partial vision, hearing problems, and fine motor skills issues are also considered when developing mobile app solutions. The design and prototyping process includes blueprints to make these apps inclusive.

App support and customer service play a pivotal role in the success of a mobile application. In the past mobile apps didn't have enough user base or customer support to boost experiences. However, times are changing and more businesses now showcase interest in enabling better experiences so that the customer stays with the business longer.

User-experience-first designs are the talk of the hour. Let's take an example to explain this aspect. Say you are using a meditation app, which is relatively slow. You would eventually get frustrated, and move to its competitor app. However, if the app developer had taken experience design into consideration, they would have checked the app speed, performance, and other aspects into account. It would have helped if they had taken the user experience into account when designing the app.

Another very important transformation is the increasing need to design for a plethora of devices and sizes. For example, Android is a fragmented platform and works across resolutions and sizes.
We can see how businesses are reassessing and redefining mobile app development. However, for a business to grow with the target audience, it is equally important to incorporate the latest trends and technologies.
Mobile App Categories in Demand
The mobile app segment has evolved over the last few years. The categories that probably held consumer attention in the past are no longer popular. A whole new category of mobile apps, on the other hand, came to the fore during this period.
We will talk about the applications that are currently in demand and highly popular.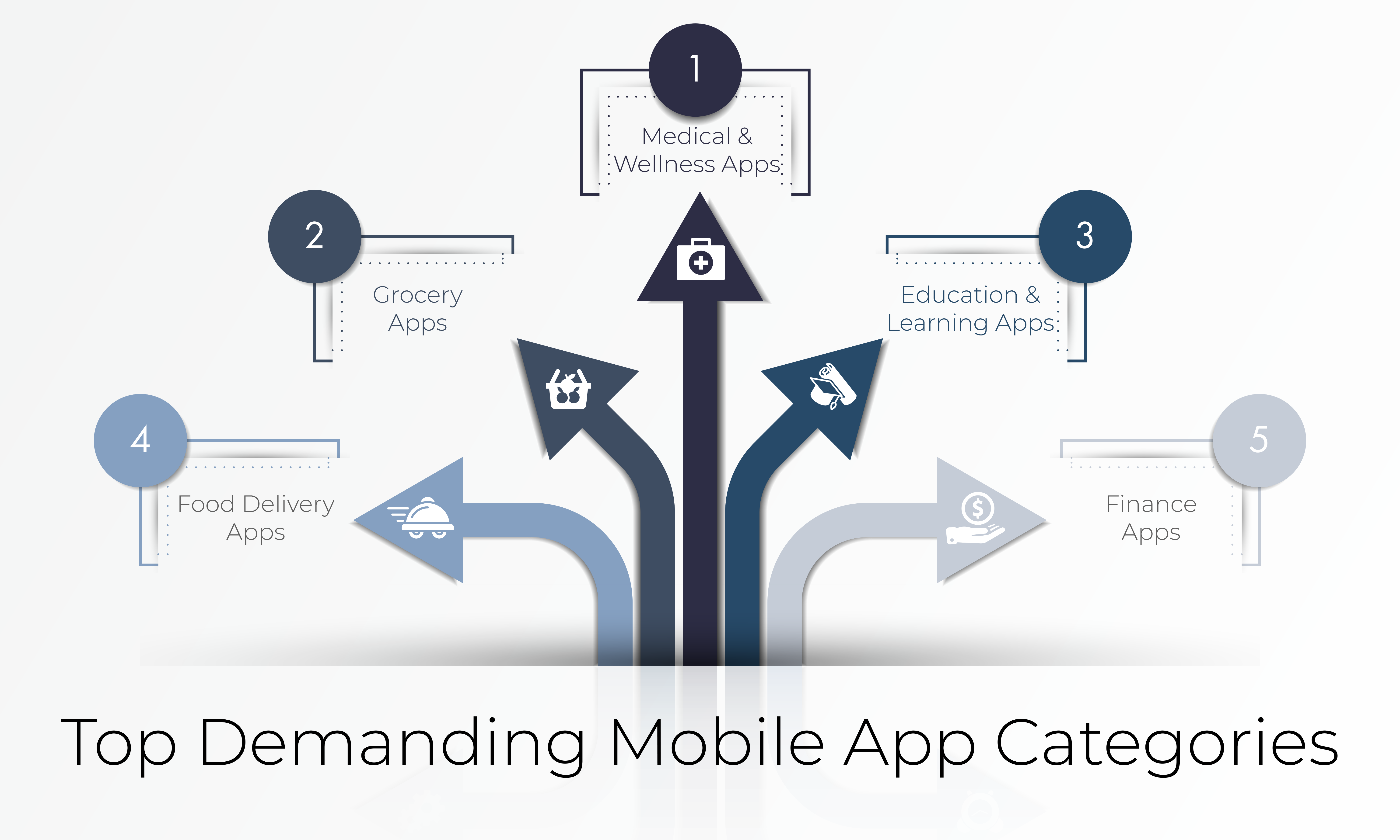 #1. Medical and Wellness Apps
With the onset of the Pandemic and remote working structures, a lot of people are stressed. There is tremendous pressure that makes it difficult to maintain sanity. A lot of people suffer from physical issues like back pain, headache, and a lot more. There are also mental health issues that no one talks about.
With people stuck inside their houses, it is only important that they get the medical help needed online. That's why the medical and wellness app segment grew popular. It aims to make the patient's life easy and stress-free.
#2. Grocery Apps
During the pandemic, if anything sold like hotcakes it was grocery apps. As discussed earlier, we have come down to 10-minute deliveries, as groceries are very important for all households.
With the increased spending in this segment and the much-needed innovation, it is a good idea to invest in grocery solutions. Supply chain and inventory management issues can still be solved with good app solutions.
#3. Education and Learning Apps
This is the third and most popular segment of mobile apps. With schools going remote and learning getting restricted to homes, a lot of companies came out with their ed-tech applications. Some businesses crafted a learning environment while several others were into creating a learning app that helped kids.
The learning space is growing and innovation is at the core of this space. You can plan to expand this niche by developing a mobile app solution that enhances user experience.
#4. Food Delivery Apps
Along with grocery app solutions, the other segment that received the maximum boost was the food delivery apps. You will see tremendous growth in the number of food delivery solutions. Even restaurants have started coming out with their own mobile app solutions. This is going to be one of the most popular categories of mobile apps.
#5. Finance Apps
The Financial-technology solutions are seeing a tremendous boost. There are the aggregator apps, the payment apps and even the KYC apps that are offering convenience. It is not just about banking solutions, but also financial needs. there are apps that become your accountant or your agent. There are also solutions that help with investment and trading. Basically, the fintech markets are growing.
Among the other solutions that are definitely making a mark are the dating app solutions and eCommerce apps.
How to Choose a Mobile App Development Company?
When you plan to invest in a mobile app solution, it becomes important for you to partner with an exceptional mobile app development company.
Here are the pointers that will help you choose the ideal app development company for your business.
Goes Beyond Development
It is important for the company to think beyond development. Technology companies that think only development will limit their thinking and offer very restricted solutions. However, those companies that go beyond the app and try to understand the business will help you grow and convert your goals. They don't visualize the app; they see how the app will help you achieve the vision.
Find a company that asks questions about your business, the purpose behind creating the app solutions, and how you aim to help your target market.
Experience & Expertise
When you are looking for a development partner, knowing their experience in this segment is important. Ask them if they have worked in your niche? What kind of apps have they developed in the past? What made them come to this solution?
An understanding of their experience in this niche can help you know if they can offer something innovative and different or not. it will also tell you what range of solutions they have delivered in the past.
Showcases their Portfolio
You need someone who is reliable and has hands-on experience in delivering a mobile app. if your mobile app solution needs someone with on-demand experience, you should check for similar portfolios.
Checking past work is equally important for those who want to hire a capable and reliable partner company.
Budget
You cannot hire a company that is on the expensive side. That's why you need to look at cost estimates and budgets before hiring the company.
When the mobile app development company has a complete understanding of your needs, check with them the cost estimates for the application. What do they suggest would be the overall cost? This will help you know if you should hire the company on your list.
Top 5 Mobile App Development Companies

1. OpenXcell:
With over 500+ successful projects and experience panning out 12+ years, there is no doubt OpenXcell is one of the five top app development companies. They started out as a software solution provider, and have gained recognition in native as well as cross-platform services in these few years. Their clutch rating of 4.8 also shows why they hold the top position.
2. Dash Technologies:
This is an ISO 9001-certified company that was founded in 2010. They started out with simple mobile app solutions and have over the years embraced modern technologies and current sciences to deliver winning solutions. They foster innovation with their excellent ideas and intelligent brains. Dash Technologies' minimum project size is $10k. They have delivered over 450+ projects across industries and business sizes. With over 150+ clients and a clutch rating of 4.9, they definitely stand tall in the mobile app industry.
3. Konstant Infosolutions:
This company has an impressive portfolio that spans across industries and business sizes. They are actively involved with business needs to offer exceptional solutions. Founded in 2003, they have delivered solutions for social media, enterprise apps, and other requirements. With 18+ years of experience and ISO 9001 certification, they are definitely one of the top companies in this industry. They have an excellent record of 64% repeat business. With a 4.8 clutch rating, they have gained incredible recognition.
4. Hyperlink Infosystem:
Yet another ISO-certified company, they have redefined mobile app development. Founded in 2001, they have recorded excellent track records in the US, UK, and Japanese markets. Hyperlink Infosystem delivers top-notch and high-quality solutions for all company sizes. They are members of GESIA, one of the prominent associations for software companies. With a clutch rating of 4.8 and positive reviews throughout, they do offer exceptional customer experiences.
5. Expert App Devs:
A custom approach towards app development makes this company stand out. with the right solutions, they help your business stand amidst competition. Abreast with current technologies, they help enhance mobile app experiences.
The company pronounces cutting-edge solutions with current technologies. They have gained expertise in IoT mobile applications. They enjoy a clutch rating of 4.8 with 11+ Years in business, 300+ Developers, and 90% on-time delivery. No wonder, Expert App Devs is one of the most inspiring and must-include companies in the top five list.
Top 6 Mobile App Trends
If your mobile app doesn't incorporate the upcoming trends or the latest technology, it will not be able to further conversions. As part of this guide, we will take you through some of the trends that you need to keep in mind when developing a mobile app.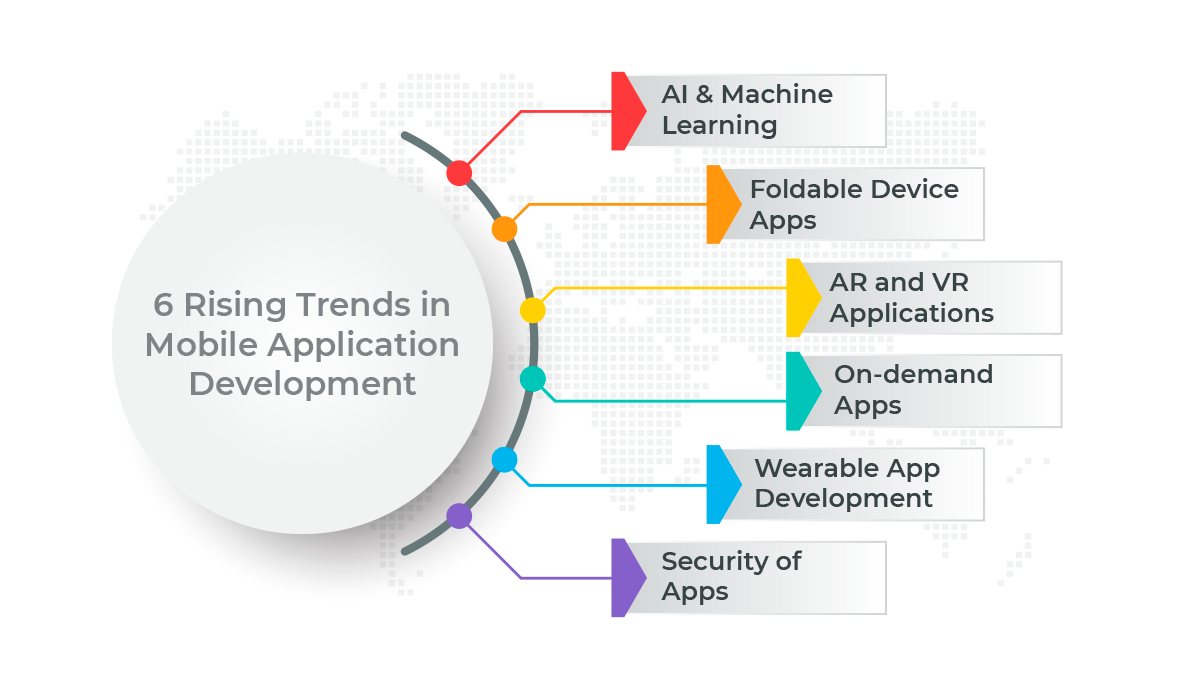 #1. AI & Machine Learning
The world and its people are getting smarter; it is only fair that mobile apps are intelligent enough. Assume you are developing a hospital mobile app to automate admin tasks. Machine learning is core to this app. ML will use past data to create comparison data sets to determine the maintenance schedule, the inventory requirements, and the supply-chain situation. AI/ML Development Services!
Whether you are an e-commerce business with hopes to make more personalized suggestions or, a productivity app offering recommendations, AI can help you be smarter and customer-centric.
#2. Foldable Device Apps
When planning a mobile app starting now and into the future, your business should consider foldable apps. The new foldable devices and their app needs will be different from regular app solutions.
There will be at least 50 million foldable devices in the near future. The foldable devices have their own pros
The foldable device, when unfolded, hosts a huge screen that drives more engagement and boosts the experience

These foldable devices are best suited for multiple tasks simultaneously
You will need to design your apps to run within another app or as an independent app solution.
#3. AR and VR Applications
We would not say this trend is anywhere new. In fact, if anything, it has been there for a while. Gaming apps have increasingly considered incorporating these new technologies. However, now we see fashion apps, as well as other mobile applications, increasingly use this technology.
As the need for convenient purchases of tangible goods is increasing, more app developers are pursuing the use of this technology.
Lenskart allows users to try the glasses virtually before buying them. Fashion brands help you check if the clothes will fit you before you checkout.
There are several instances of how AR and VR will help brands in their mobile app ideas.
#4. On-demand Apps
This is a growing trend and will continue this year too. The on-demand app solutions are extended to laundry and other services. We are currently in living in the 10-minute grocery moment, where people get their groceries delivered within 10 minutes.
This is just one such idea of how on-demand can be used in app development. Businesses are looking at innovating this segment and enhancing the experiences.
#5. Wearable App Development
This is another mobile app development trend that is being carried forward into 2022. The reach of wearable devices is increasing with time, as more businesses are releasing their wearable devices. Even technology is growing with time, and enhancing the experiences of the users.
It is very important for businesses to deliver app solutions to wearable devices. you need to ensure a seamless experience when delivering wearable app solutions.
#6. Security of Apps
With the increasing vulnerability and the hawk-eyed hackers, your business needs to be extra careful. You should ensure that more people feel safe while using your app.
Security is a major aspect, especially when you are developing an Android app. the open-source nature combined with the fragmentation can lead to increased vulnerabilities.
Define the security goals, make way for two-factor authentication, and add layers that will make your users feel comfortable when using your app.
Conclusion
A business in the digital era cannot survive without a customer-centric mobile application. Whether you want to personalize experiences or attract more customers, an app is critical for growth.
Hiring the right mobile app development company guarantees flawless and seamless solutions. You should look for a partner who understands your business, is an expert in your niche, and can collaborate with you to help you with the ideal go-to-market approach.
Make sure to follow all the hiring tips before you partner with a mobile app development company to further business growth and visibility.
Need a consultation?
Drop us a line! We are here to answer your questions 24/7.