Top 5 Mobile App Development Companies in India to Outsource
Jignen Pandya
July 28, 2023
13 min read
Does your business need a mobile app? Running away from this question might prove costly to you. Mobile apps are everywhere, and millennials are simply loving them. Even your competitors might have business mobile apps to stay ahead.
In the post-pandemic era, digitalizing your business makes sense. Whether small or large, global companies now understand the importance of going mobile.
Check out these statistics if you still need more time to decide about mobile app development.
It is the right time to hire the best mobile app development company in India to build a tailor-made, secure, and versatile app for your business.
Outsourcing a mobile app development project also makes sense. Establishing and equipping an in-house team with the required resources might cost you a fortune.
India has become one of the world's most preferred IT outsourcing hubs. Choosing an Indian mobile app development company will offer you high-quality outcomes at the best price in the market. Here is a list of reasons to hire a mobile app development company in India.
What are the Benefits of Hiring a Mobile App Development Company from India?
India is a new IT hub with a vast talent pool. You can find certified mobile app developers with expertise in the respective domains.

They have state-of-the-art infrastructure and tools to develop highly challenging IT solutions.

Outsourcing your project to an Indian company will reduce your app development cost to a great extent.

Indian developers possess sheer proficiency in business English. You will not have any communication issues.

Indian mobile app development companies are known for their timely project delivery and transparency.
How Has Mobile App Development Transformed?
Let's check out how mobile app development has transformed in recent years.
Earlier, mobile apps were limited to music, shopping, and social media. It is not the case anymore. Businesses from retail, healthcare, banking, investment, gaming, and transportation have mobile apps to offer a seamless user experience to their customers.

Earlier, businesses developed apps to get a competitive edge. Today, the main aim of developing an app is to offer convenience to customers by solving their issues.

Apps have turned from business-centric to customer-centric, keeping end-users in mind. Now, apps are all about addressing issues and problems customers face.

Apps are no longer defined to a particular role. Ola, an on-demand taxi booking app, has also started selling groceries.

The design and prototyping process has become crucial to make apps highly inclusive and accessible.

Support and customer service play an essential role in making an app successful. Businesses offer high-end support to customers to keep them engaged and interested.

User experience has become crucial while designing apps to ensure high engagement.

App development companies use the latest technologies, such as AI, ML, IoT, Blockchain, and others, to facilitate users with highly advanced features and functionalities.
Top 5 Indian Mobile App Development Companies
1. AppInventiv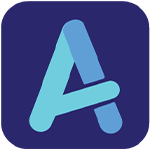 Appinventiv is a leading mobile app development company in India with highly talented IT brains who strive to build high-end, tailor-made mobile app solutions. It has served reputed brands such as KFC, Pizza Hut, IKEA, KPMG, BCG, and more. It was founded in 2014 and has carved a niche for itself. On Clutch, it has a 4.7 rating and received some excellent client reviews. From project initiation to delivery, they ensure 100% transparency and professionalism.
800+ professionals

A 4.5 rating for quality on Clutch

Average hourly rate ranges from $25 to $49

India's Grwoth Champions in IT award from Statista

Tech Company of the Year award from Times Business Awards

90% returning client base

3000+ projects delivered
2. OpenXcell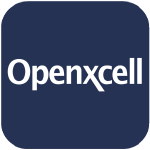 OpenXcell was founded in 2009 and offers the top 1% of talent in the IT industry. They have highly skilled resources with rich experience and promising portfolios. They have served clients such as Reliance, Byju's, Orderhive, Kotak Mahindra Bank, and others. It has a 4.8 rating on Clutch and earned a reputation for offering highly customized web, software, and mobile application development services.
700+ happy customers

A team of 500+ employees

24/7 support

1000+ software and mobile apps delivered

Earned various prestigious awards from IGDA, JiraAlign, Zesty.IO, and others

CMMI level 3 company

12+ years of industry experience
3. ManekTech
Recognized by Microsoft for offering high-end, customer-centric IT solutions, Manektech was founded in 2011 to add comfort and convenience in people's lives with the best-in-class IT solutions. Their average review rating on Clutch is 4.7, which tells more about the company and its reputation. Their clients and partners are in the United States, the United Kingdom, Saudi Arabia, Australia, Dubai, Netherlands, Spain, Greece, and various other countries. Some clients they have served are National Geographic, ABB, GEA, NYSE, and others.
12+ years in business

Served 500+ clients

Delivered more than 2500 projects

400+ team strength

Cater to almost all industries and verticals

Awarded by iTRate, Clutch, Top Developers, and Microsoft
4. HyperLink InfoSystem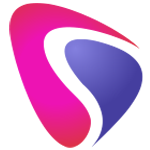 Hyperlink InfoSystem is a leading mobile app development company from India with an active presence in various other countries. The company was founded in 2011 and has set a benchmark by offering best-in-class mobile app solutions to small, medium, and Fortune 500 companies. Some previous clients are Disney, BBC, TATA, Astral Pipes, Zydus, etc. The company has got a 4.9 rating on Clutch and was also awarded as the number one mobile app development company.
11+ years of experience in the industry

4500+ mobile apps developed

1000+ dedicated designers and developers

110 million app downloads on Apple Store and Google Play Store

An ISO 27001:2013 Certified Company
5. Prismetric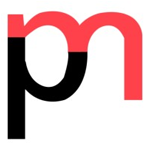 Established in 2008, Prismetric is a dedicated mobile app development company from India. The company offers high-end, customized, secure Android and iOS mobile app development services. It has got some excellent reviews and a rating of 4.8 on Clutch. The company is known for on-time delivery, highly scalable solutions, and pocket-friendly services. Some of the clients they have served are GLYD, PEUGEOT, Singapore Post, Today, Airtel, Book Bird, Startup Space, etc.
14+ years of experience in the industry

500+ happy clients

1000+ solutions developed

Served more than 25 countries

Have a team of 100+ developers

Awarded by Appfutura, Clutch, and Top Developers
Mobile App Categories in Demand
The mobile app segment has evolved over the last few years. The categories that probably held consumer attention in the past are no longer popular. A whole new category of mobile apps, on the other hand, came to the fore during this period.
We will talk about the applications that are currently in demand and highly popular.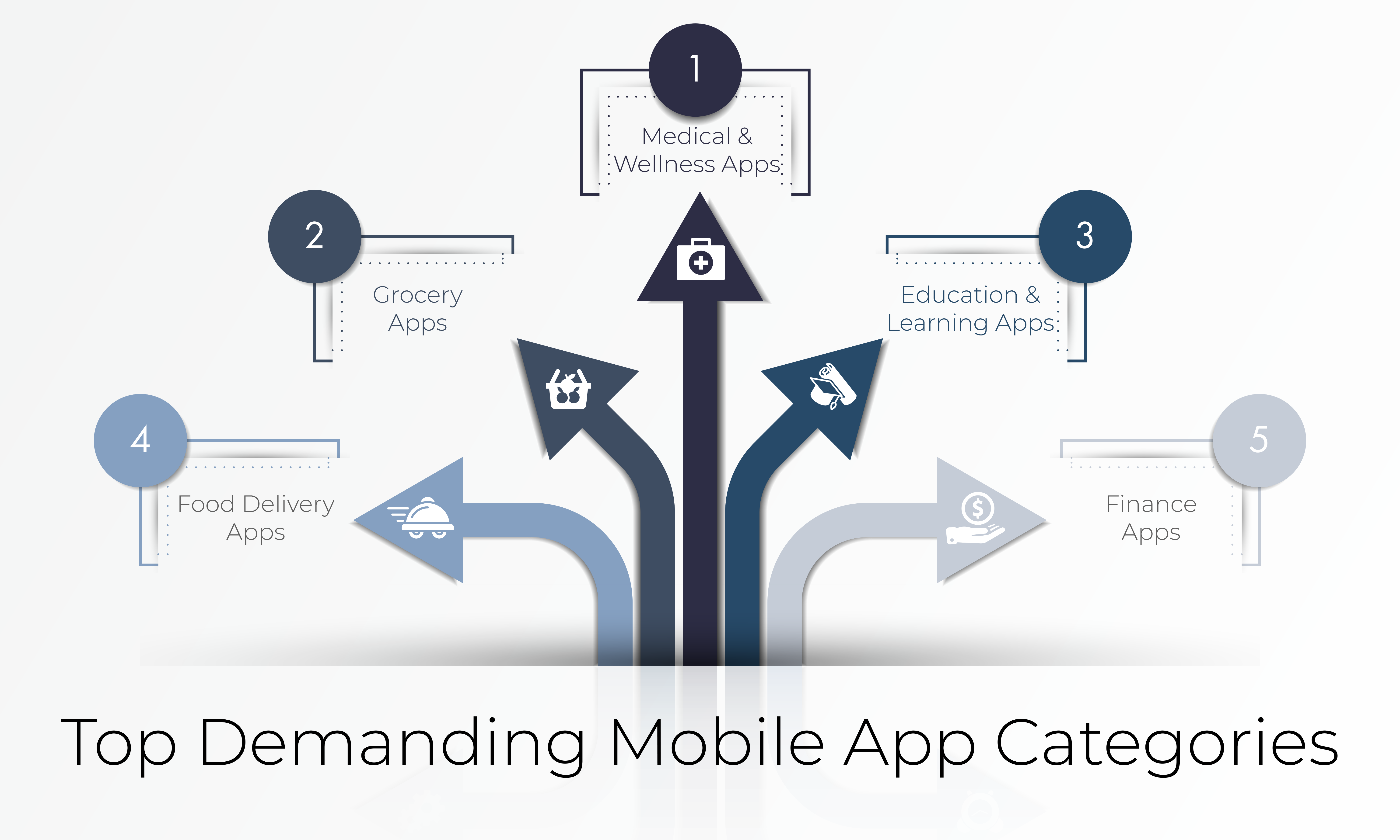 #1. Medical and Wellness Apps
With the onset of the Pandemic and remote working structures, a lot of people are stressed. There is tremendous pressure that makes it difficult to maintain sanity. A lot of people suffer from physical issues like back pain, headache, and a lot more. There are also mental health issues that no one talks about.
With people stuck inside their houses, it is only important that they get the medical help needed online. That's why the medical and wellness app segment grew popular. It aims to make the patient's life easy and stress-free.
#2. Grocery Apps
During the pandemic, if anything sold like hotcakes it was grocery apps. As discussed earlier, we have come down to 10-minute deliveries, as groceries are very important for all households.
With the increased spending in this segment and the much-needed innovation, it is a good idea to invest in grocery solutions. Supply chain and inventory management issues can still be solved with good app solutions.
#3. Education and Learning Apps
This is the third and most popular segment of mobile apps. With schools going remote and learning getting restricted to homes, a lot of companies came out with their ed-tech applications. Some businesses crafted a learning environment while several others were into creating a learning app that helped kids.
The learning space is growing and innovation is at the core of this space. You can plan to expand this niche by developing a mobile app solution that enhances user experience.
#4. Food Delivery Apps
Along with grocery app solutions, the other segment that received the maximum boost was the food delivery apps. You will see tremendous growth in the number of food delivery solutions. Even restaurants have started coming out with their own mobile app solutions. This is going to be one of the most popular categories of mobile apps.
#5. Finance Apps
The Financial-technology solutions are seeing a tremendous boost. There are the aggregator apps, the payment apps and even the KYC apps that are offering convenience. It is not just about banking solutions, but also financial needs. there are apps that become your accountant or your agent. There are also solutions that help with investment and trading. Basically, the fintech markets are growing.
Among the other solutions that are definitely making a mark are the dating app solutions and eCommerce apps.
How to Choose a Mobile App Development Company?
When you plan to invest in a mobile app solution, it becomes important for you to partner with an exceptional mobile app development company.
Here are the pointers that will help you choose the ideal app development company for your business.
Goes Beyond Development
It is important for the company to think beyond development. Technology companies that think only development will limit their thinking and offer very restricted solutions. However, those companies that go beyond the app and try to understand the business will help you grow and convert your goals. They don't visualize the app; they see how the app will help you achieve the vision.
Find a company that asks questions about your business, the purpose behind creating the app solutions, and how you aim to help your target market.
Experience & Expertise
When you are looking for a development partner, knowing their experience in this segment is important. Ask them if they have worked in your niche? What kind of apps have they developed in the past? What made them come to this solution?
An understanding of their experience in this niche can help you know if they can offer something innovative and different or not. it will also tell you what range of solutions they have delivered in the past.
Showcases their Portfolio
You need someone who is reliable and has hands-on experience in delivering a mobile app. if your mobile app solution needs someone with on-demand experience, you should check for similar portfolios.
Checking past work is equally important for those who want to hire a capable and reliable partner company.
Budget
You cannot hire a company that is on the expensive side. That's why you need to look at cost estimates and budgets before hiring the company.
When the mobile app development company has a complete understanding of your needs, check with them the cost estimates for the application. What do they suggest would be the overall cost? This will help you know if you should hire the company on your list.
Top 6 Mobile App Trends
If your mobile app doesn't incorporate the upcoming trends or the latest technology, it will not be able to further conversions. As part of this guide, we will take you through some of the trends that you need to keep in mind when developing a mobile app.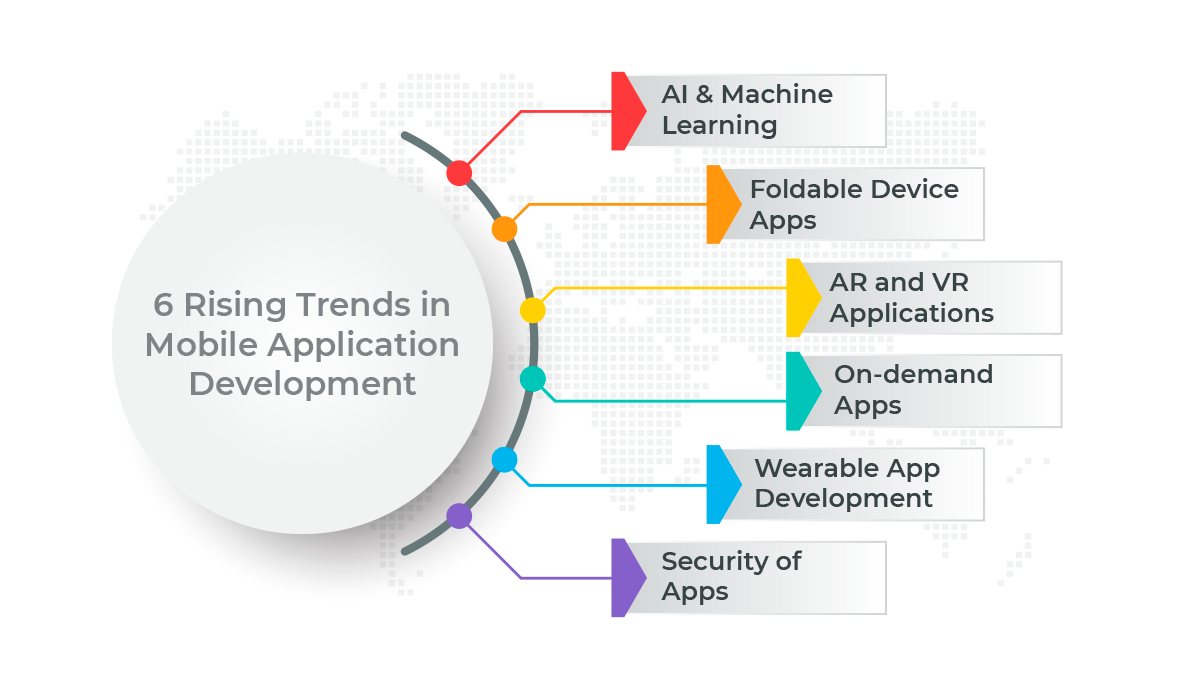 #1. AI & Machine Learning
The world and its people are getting smarter; it is only fair that mobile apps are intelligent enough. Assume you are developing a hospital mobile app to automate admin tasks. Machine learning is core to this app. ML will use past data to create comparison data sets to determine the maintenance schedule, the inventory requirements, and the supply-chain situation. AI/ML Development Services!
Whether you are an e-commerce business with hopes to make more personalized suggestions or, a productivity app offering recommendations, AI can help you be smarter and customer-centric.
#2. Foldable Device Apps
When planning a mobile app starting now and into the future, your business should consider foldable apps. The new foldable devices and their app needs will be different from regular app solutions.
There will be at least 50 million foldable devices in the near future. The foldable devices have their own pros
The foldable device, when unfolded, hosts a huge screen that drives more engagement and boosts the experience

These foldable devices are best suited for multiple tasks simultaneously
You will need to design your apps to run within another app or as an independent app solution.
#3. AR and VR Applications
We would not say this trend is anywhere new. In fact, if anything, it has been there for a while. Gaming apps have increasingly considered incorporating these new technologies. However, now we see fashion apps, as well as other mobile applications, increasingly use this technology.
As the need for convenient purchases of tangible goods is increasing, more app developers are pursuing the use of this technology.
Lenskart allows users to try the glasses virtually before buying them. Fashion brands help you check if the clothes will fit you before you checkout.
There are several instances of how AR and VR will help brands in their mobile app ideas.
#4. On-demand Apps
This is a growing trend and will continue this year too. The on-demand app solutions are extended to laundry and other services. We are currently in living in the 10-minute grocery moment, where people get their groceries delivered within 10 minutes.
This is just one such idea of how on-demand can be used in app development. Businesses are looking at innovating this segment and enhancing the experiences.
#5. Wearable App Development
This is another mobile app development trend that is being carried forward into 2022. The reach of wearable devices is increasing with time, as more businesses are releasing their wearable devices. Even technology is growing with time, and enhancing the experiences of the users.
It is very important for businesses to deliver app solutions to wearable devices. you need to ensure a seamless experience when delivering wearable app solutions.
#6. Security of Apps
With the increasing vulnerability and the hawk-eyed hackers, your business needs to be extra careful. You should ensure that more people feel safe while using your app.
Security is a major aspect, especially when you are developing an Android app. the open-source nature combined with the fragmentation can lead to increased vulnerabilities.
Define the security goals, make way for two-factor authentication, and add layers that will make your users feel comfortable when using your app.
Conclusion
A business in the digital era cannot survive without a customer-centric mobile application. Whether you want to personalize experiences or attract more customers, an app is critical for growth.
Hiring the right mobile app development company guarantees flawless and seamless solutions. You should look for a partner who understands your business, is an expert in your niche, and can collaborate with you to help you with the ideal go-to-market approach.
Make sure to follow all the hiring tips before you partner with a mobile app development company to further business growth and visibility.
Read more: Top 10 Flutter Development Companies in India: Ratings and Selection Criteria