Top 8 Fantasy Sports App Development Tech Trends & Innovations
Irfan Kureshi
August 03, 2023
15 min read
Have you noticed a sudden increase in league games across sports? This penetration could be attributed to the shifting mindsets of the viewers. It is also because of the need to grow a loyal user base for the sports.
With the increase in smartphone culture and enthusiasm of the league user base, businesses unveiled the fantasy sports landscape. It is the space where users can discuss sports, and compete against each other with their chosen teams. They can become virtual league team owners.
Fantasy sports platforms have driven more viewership towards a league match and increased engagement for the sports. More people are now enthusiastic about watching sports that had a dying user base sometime back.
Fantasy sports is a global phenomenon with an estimated market size of$49.53 billion by 2028 (Mordor Intelligence).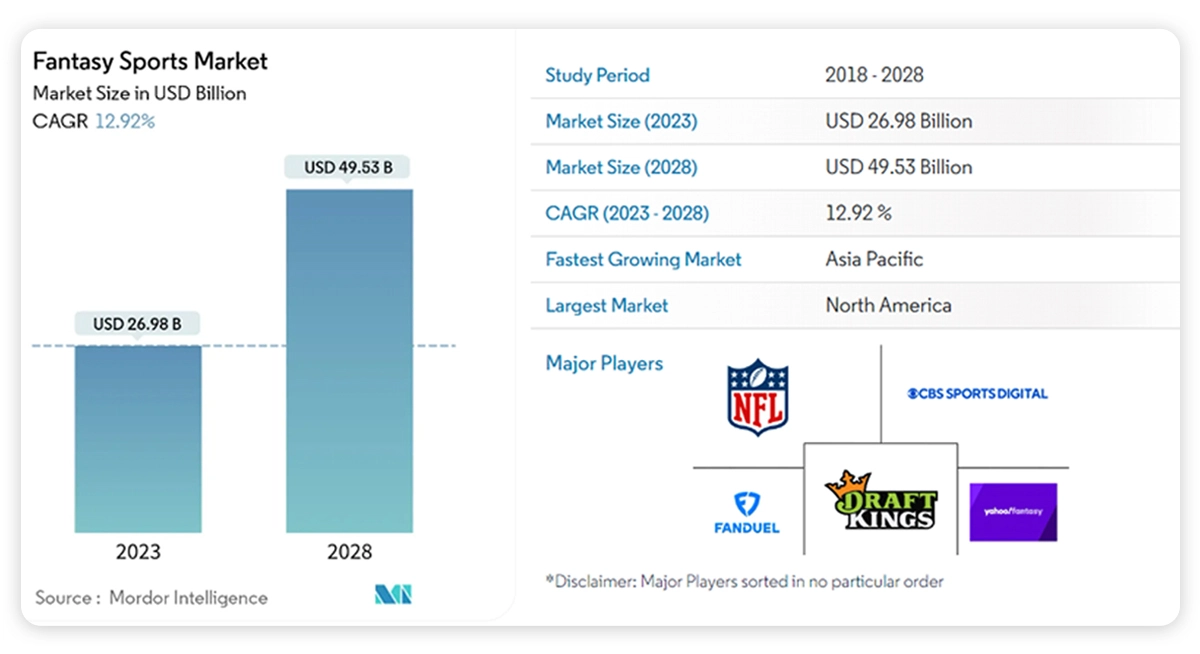 Apart from being an excellent place for sports enthusiasts, it attracts software engineers, data scientists and cybersecurity professionals. They can upgrade the existing applications to drive more engagement and enhance their abilities.
Fantasy sports industry is a competitive market with several players creating engaging content and incorporating new-age technologies. It has a significant influence on the popularity of the actual sport.
If you plan to invest in a fantasy sports app, you could build your idea now. There is an excellent opportunity for these solutions. Here, we will take you through the top tech trends to incorporate into your fantasy sports application.
Top 10 Trends in Fantasy Sports App Development
Incorporating the current trends in your fantasy sports app development can give you the desired edge. We have created a list of all the trends that are popular in this domain. Let's look at each one in detail.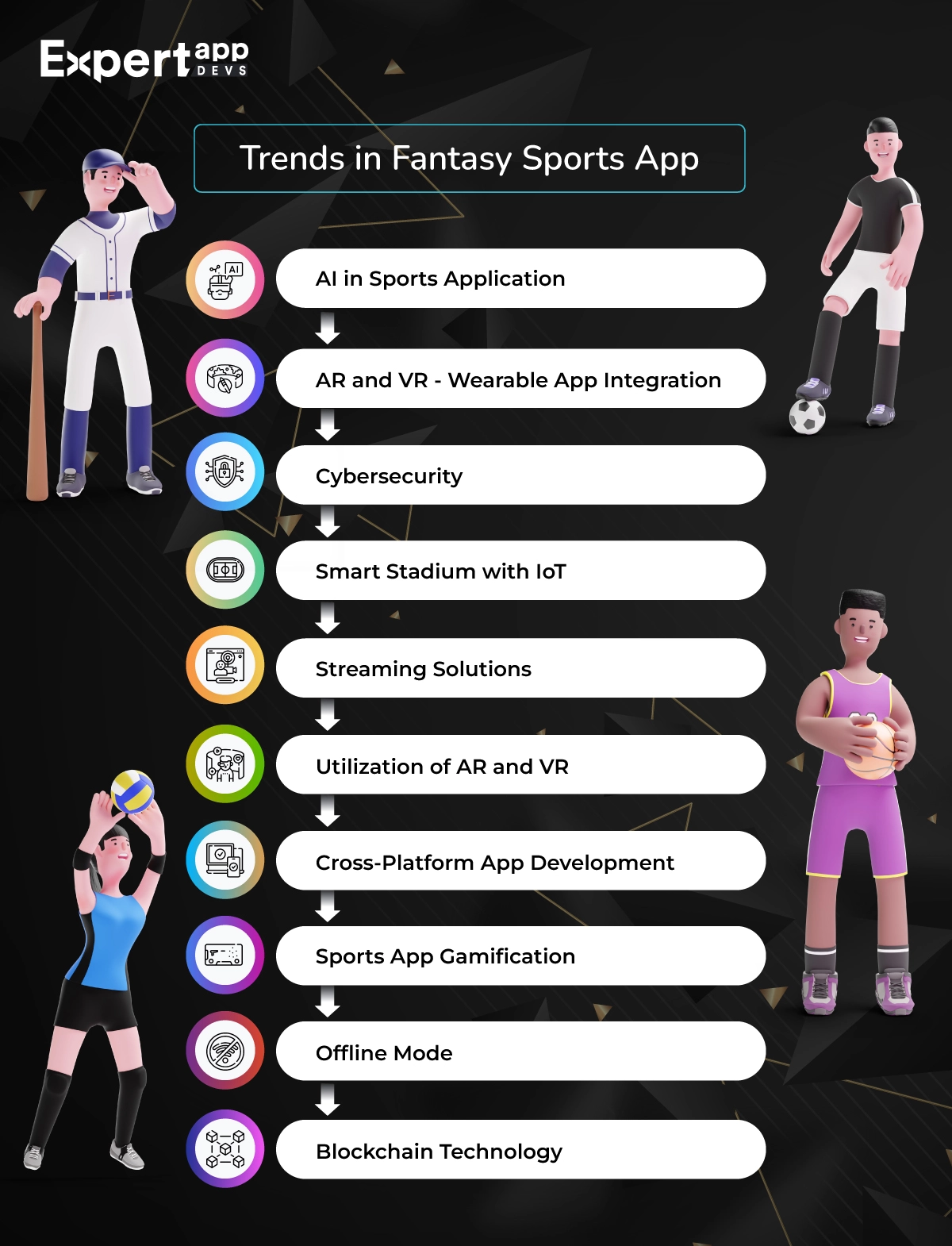 #1. AI in Sports Application
If planning a fantasy sports application, you must incorporate Artificial Intelligence technology. It can enhance user engagement.
Your users will get data-backed insights into the players and their performance. This would help them choose the appropriate players and create a winning team. The application can simulate the teams and help them determine if they want to make any changes.
They would know how these players would play in specific weather conditions or fields. It would help them choose your substitute players and team. They would have a complete opponent analysis at their fingertips, thus making it easier to build the strongest team.
When building a fantasy sports application, you must cater to the customer service needs expressed by your customer. Having an AI-based chatbot can help you automate the conversations. It can improve your services and build the user experience.
It can also help users with risk-mitigation strategies, as they would have insight-backed recommendations for players.
#2. AR and VR - Wearable App Integration
You may notice increased user engagement and experiences when incorporating AR/VR technologies via wearable technologies. It will also improve the viewership of the sports.
When using AR-based smart glasses, your user can get detailed performance stats and player data. They don't need to move out of their virtual world to see how the player performs in the match.
If users want a live in-stadium experience, they can wear VR headsets and enter the virtual stadium. With seating arrangements and a virtual fanbase, this offers an extensive stadium-like experience to the users.
Your user can always make the substitutions and selections through their smartwatches. These watches are integrated into the application, making things accessible. Your users can also view their chosen team members playing live on the field using smart glasses or AR headsets.
There are numerous ways in which AR and VR with wearable solutions can enhance engagement in the fantasy sports application.
#3. Cybersecurity
When you are building a digital solution where users plan to share data, Cybersecurity is a critical aspect. When you incorporate this tech trend, you can enhance your fantasy sports application.
It offers multi-factor authentication and strong security systems within the application to safeguard the data. Robust encryption methods can help protect sensitive information. Using current cybersecurity trends, you can also incorporate biometrics for strong protection.
You can use secure communication protocols to enhance streamlined data transmission. You must ensure that the API used in the application is secure and well-protected from SQL injections and other attacks.
You can easily use smart systems to interpret and detect intrusions inside the systems. Additionally, it will ensure a secure payment processing system for your users. The gateways would comply with the latest security standards, ensuring smooth movement.
Lastly, you can ensure secure code development with the help of Cybersecurity solutions in your fantasy application.
#4. Smart Stadium with IoT
To enhance engagement on the application, you must integrate the smart stadium using IoT technology.
Your users can monitor the fantasy team's score, current stats and other important data. You can even offer a virtual stadium experience via VR to enhance engagement and get them to stay longer.
With the IoT, you can offer AR overlays to ensure that the users get important information at their fingertips.
You can also introduce a number of polls, quizzes and contests to improve the user's experience inside the application. To enhance experiences, you can introduce fan engagement activities via IoT. You must track the crowd's reactions and enthusiasm, which can help you create interactive polls.
Lastly, you can create a smart parking solution within the application for people going to the stadium to watch the match.
This would keep the user on the app even when inside or outside the stadium.
#5. Streaming Solutions
You will improve engagement if the user is given no chance to move out of the app. That's why your first priority must be integrating live streaming into the app. Allow the user to watch the match from within the application.
Offer them in-depth post-match analysis and details. This would encourage them to use your app more often. You are giving all the data that interest the users. You can offer highlights in an interactive fashion to pique their interest.
You must integrate with the player's social media live feeds. This will allow your users to interact with them in real time. If possible, connect with the OTT platform and offer offline viewing capabilities. This can enhance the viewership as well.
Ensure to add a live commentary feature to your application, as that can also enhance the streaming solutions. It will also allow users to watch the match while commuting or working.
#6. Utilization of AR and VR
AR and VR can help you visualize your entire team and gain a more interesting insight into the game. It offers a more interactive element to the fantasy sports application that can keep the users hooked.
You can create a virtual stadium. This means you will feel like you are inside the stadium with the VR effects. The VR integration allows you to select the seats, view the match like you would inside a stadium and enjoy.
You can visualize the entire game for the team you have built. Get a complete virtual visual into the team. Also get to know if your team can perform in the field or weather conditions for the day.
The virtual drafts allow users to connect with others on the sports gaming application. They can build a team by collaborating with others.
Your users can enjoy virtual tailgate parties and other unique game day experiences by integrating with AR.
Your user can get access to the team's locker room and press conferences with the VR integration.
Overall, it will give your users a more delightful and in-person experience.
#7. Cross-Platform App Development
As a business, limiting your reach can be painful. Despite the marketing efforts, you might not get the conversions or even break even you need.
You must ensure that every user across platforms can reach you and connect with your application. That's why cross-platform app development is an important trend for fantasy sports apps.
You can develop a single codebase and upload it to different platforms. Depending on the features and integrations you plan for the app, you can choose the framework that best fits the purpose.
For example, if you wish for a visually aesthetic application, you need a UI toolkit like Flutter. It can help you release apps for the mobile and web. However, to deliver a native-like performance, you might want to go with React Native.
Choosing the right framework can help you build a solid application for your fantasy sports game idea.
#8. Sports App Gamification
Gamification can improve the retention rate for your fantasy sports application. It will make the journey enjoyable and rewarding for the users. You must identify all how you can introduce gamification to the application.
Offering badges for predicting the winner of a particular match is a great way to honour their achievement. Badges are one of the most common inclusions in the gamified strategy.
Similarly, you can use virtual currencies to allow users to spend or earn money on the application. They don't need to indulge in real currencies.
You can hold tournaments among users and set a prize for the first five winners. You can also offer consolation prizes till a certain rank.
You can host challenges every month. You can also have challenges on social media and other channels to improve user engagement.
Lastly, hosting events on the channels can help improve the engagement and experiences of the users. There are a multitude of ways to incorporate gamification and get the best outcomes.
#9. Offline Mode
It is important to allow users to access the application in the offline mode. You must cater to their needs by offering a range of services if they are offline.
For example, if they are offline and get some data, they should be able to store it. This would ensure they don't miss out on important data without an Internet connection.
They should be able to view and manage their lineup in offline mode. Similarly, the changes made should be immediately synchronized when the user comes online.
You should allow users to create fantasy teams and engage in virtual drafts in the offline mode. Similarly, they should be able to access the insights and data offline.
The users need to access the tutorials and help while they are away from the Internet connection. It is crucial that the users be able to access important data and elements even when there is no Internet connection.
As a fantasy sports app game developer, you must gather all these requirements before defining the offline mode for the application.
#10. Blockchain Technology
Adding Blockchain technology to your fantasy sports application can uplift its abilities. It will also enhance the security and transparency of the application. While the technology is in its nascent stage, it has several applications in fantasy sports application.
You can easily use Smart Contracts to check player scoring or create team drafts. You can use Blockchain to add the rules and regulations to the tournament, thus ensuring no tampering occurs.
This technology ensures that most of the data are immutable. This means there is no way people can access it for tampering. Your users can own the digital assets within the application using Blockchain technology.
When you are implementing Blockchain, you must ensure you have the budget for transactions and other relevant costs. It would be a great idea to partner with a fantasy sports app development company.
Top 8 Fantasy Sports Tech Trends & Innovations in Upcoming 2024
The sporting landscape is an interesting field. There are several technologies you must incorporate to enable better decision-making. It should help all the stakeholders in their sports-related decisions and analysis.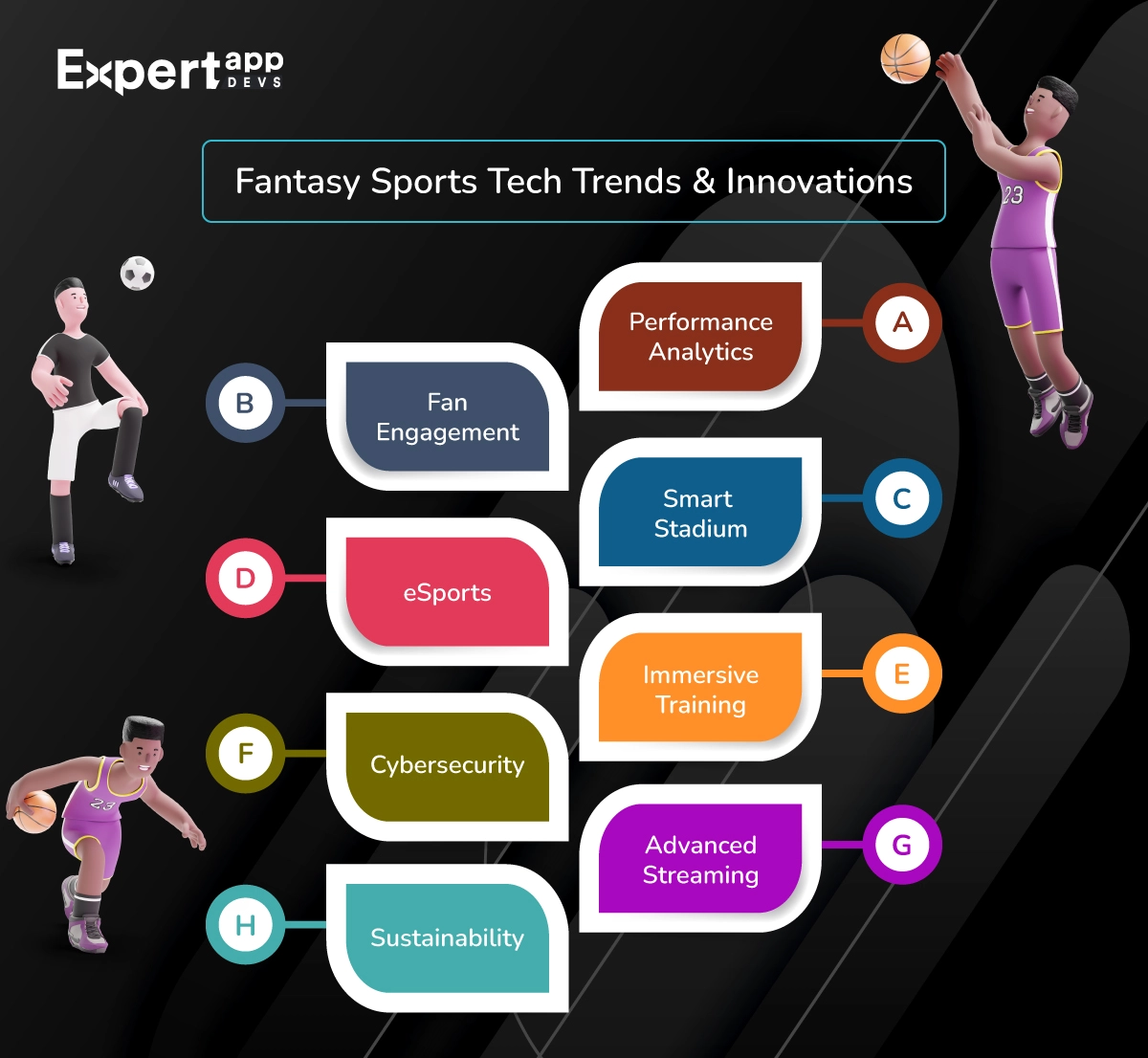 #1. Performance Analytics
Strategy is an integral part of your in-field performance. It is important to analyze how your competition performs. You must monitor their actions under all conditions. Simultaneously, weighing on the strengths of your team and conditions is equally important.
Video and motion analytics can help coaches and athletes better understand the field and opponents. It gives them perfect insights into their game and abilities. There are several sensors and wearables that can help track important data such as force, movement and area. This would help enhance the understanding and lead to better decisions.
#2. Fan Engagement
It is important to engage the fans to ensure a more interactive and experiential environment. The engaged fans will stay longer and increase the app retention rate.
You can use video sharing and smart bots to offer better communication capabilities. Similarly, you can use VR to go live with the fans and engage them. You can give them a chance to communicate with their favourite sportsperson. It is important to build a large and strong community for better outcomes.
#3. Smart Stadium
With more people electing to watch the matches on TV, the in-stadium viewership is declining. It may not be too low, but it is not as great as earlier.
There are a lot of efforts being taken to improve the in-stadium viewership. IoT is used as a smart parking solution, which is the biggest concern when watching a match inside a stadium. Similarly, you need to make the in-person viewing engaging. You can use AI tools to enhance enthusiasm, connect with the crowd and improve engagement.
Technologies are used to make stadium viewing smart and engaging. It can enhance the experience of the fantasy sports market.
#4. eSports
It is time for businesses to invest in eSports, which is the next big thing. Investing in this niche allows more people to engage with your sports.
People may not find certain sports engaging or interesting enough. That's why developing eSports for these games can help enhance the viewership.
You can acquire their attention while on their smartphones and enhance their interest levels. By adding a lot of models and levels, you can also keep them engaged in these applications.
#5. Immersive Training
Athletes need to be prepared for the new environment and changing conditions. They need to practice across fields, conditions and other factors. This cannot happen in the real world. However, you can build an immersive training solution virtually.
This will help them enter the niche, gather more data and practice rigorously. It equips them with the right tools and strategies for real-world competitions.
You can simulate the entire condition for the match from the real world and ensure better training. Using this trend, you can build a sports trainer app.
#6. Cybersecurity
The sports domain is growing, and there are a lot of applications. You will find apps that offer streaming solutions. At the same time, gaming apps and applications deal in money.
You may want to ensure your user feels safe when transacting with your application. Their data, insights and many other things are goldmines for cybercriminals. As a result, it is important to incorporate the right authentication solutions, encryption and data security protocols.
Make sure you are fully aware of the cybersecurity priorities before incorporating them. This is especially true when you are creating solutions like sports betting app development.
#7. Advanced Streaming
It is important for broadcasters to offer high-streaming solutions to the users. Anything mediocre will cause friction and lead to non-viewability of the content.
Including 4K resolution when planning your sports application development with advanced streaming has become important. You can also consider incorporating VR streaming solutions to enhance the visual appeal.
#8. Sustainability
It is important to make your app development sustainable. How can you work on this in the sports need for water to clean up the spaces, thus saving water? Use sustainable materials to create the stadium seats.
These are just a few top-of-the-mind ideas for sustainability in the sports domain.
Cost of Developing a Fantasy Sports Application
The cost of developing a fantasy sports application starts at $30k. An advanced app may cost you around $100000. However, if you plan an advanced and complex app, you may need to spend more.
The cost of developing the fantasy sports application depends on several factors:
The features: You must decide the features/functionality that are important for your application. Each feature will take a specific resource time, adding to the cost. For instance, if you are planning sports betting software, you might need specific features that can take time.
Technology Stack: If you plan to develop using native app approaches, you may spend more than cross-platform development approaches.
Testing: It is important to note that the testing team will cost you a bit. Depending on the type and intensity of the tests, you might need to budget this aspect.
Security: The level of security your app needs will also help you determine the overall cost. Mobile app developers can take a few hours to develop admin panel. However, when it comes to security, they can take up to a week.
Location: The developer's location will determine the hourly rates and the total cost of developing the application.
Conclusion
The fantasy sports app is gaining popularity. The landscape is huge and continuously evolving. Several top players like ESPN fantasy sports, MyTeam11 and My11Circle Cricket are gaining a strong user base. However, you can explore the untapped potential in this niche to deliver a capable app solution.
Expert App Devs is an Expert Mobile Game Developers Company in India. We have delivered capable mobile game design solutions including eSports applications. If you want a partner to help you develop your idea, connect with us.