Sports App Development Guide with Trends, Ideas, Features and Cost
Irfan Kureshi
January 31, 2023
13 min read
Being a fan of any sport is a human tendency. Even in earlier centuries, people follow adventurous games. We all know how the local public supported gladiators in the arena during the Roman empire.
Things have not changed. Even today, the madness for sports has just multiplied. After the invention of smartphones and mobile apps, people can follow their favorite athletes and communicate with them too.
However, the best thing that happened in the sports industry is mobile gaming apps. There is a large number of mobile gaming apps that people love to play while sitting on their beds. Take any game and you will find a mobile app to play that particular game such as cricket, volleyball, football, tennis, table tennis, badminton, carrom, chess, pool, and the list goes on.
Nowadays, there is a specific type of gaming app trending called fantasy sports apps. Now, it is an app that allows online players to choose real players and make a team for a particular match.
Once they select their squad, they will analyze the real match statistics and based on it, predict which fantasy team has performed well. They can win prizes, cash, and other rewards if their teams win. Some of the fantasy gaming apps have got a huge fan following and entering into this zone might be a profitable venture for you. You just need to hire a fantasy sports app development company. Share your inputs and requirements and they will develop a feature-rich, exciting, adventurous, and secure fantasy sports app for you.
Why Should You Go for a Sports Game Development?
Do you know that smartphone users at least one hour every day playing various online games?
Furthermore, as per the report by Statista, by 2026, the mobile gaming content market will cross $173.4 billion. The same report also reveals that Asia is the biggest market for the mobile gaming industry, with 905 million users and $34.114 billion in revenues.
People love to play sports. They look for some free moments to play their favorite games on their smartphones and if you end up offering a game that excites them, you have hit the jackpot.
All you need to do is to hire a mobile game app development company that has a team of dedicated developers and infrastructure to develop secure, functional, and solid gaming apps.
Unity App Development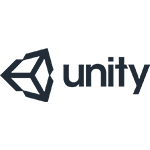 Unity is a top-notch and most preferred mobile gaming app development platform that is highly flexible, comprehensive, and versatile. As per the experts' opinions, Unity brings the game to life. It has the most amazing and superlative user interface to create highly engaging, robust, and impressive games. It also offers high scalability, real-time development, and quick app-to-market time. If you ever feel to develop a sports app, go for Unity.
What are the Latest Trends in the Mobile Gaming Industry?
Gone are the days when smartphones have traditional games such as Candy Crush, Cricket, Volleyball, Football, and others. Nowadays, with the advent of new technologies such as Augmented Reality, Virtual Reality, and Artificial Intelligence, there is a wide array of mobile games that have completely lured the audience.
In this section, we will discuss some of the latest sports trends which are highly fashionable in the mobile gaming industry.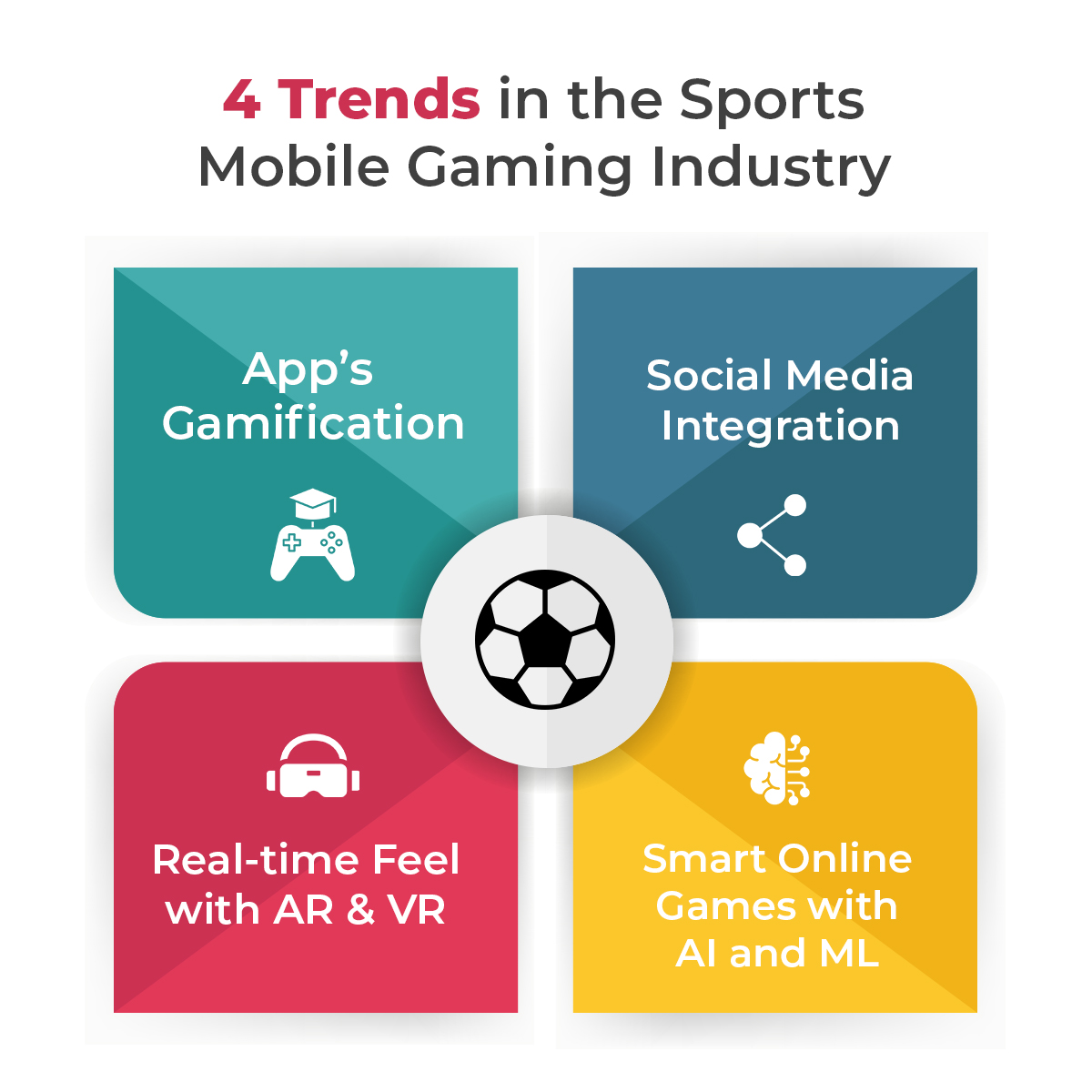 1. App's Gamification
Ask any mobile app developer and he will tell you that all his clients are asking for this feature in their gaming apps. Gamification of the app is nothing but a group of elements that constantly encourage and motivate users to stay on the gaming app for a long period while engaged with gaming activities.
Gaming activities might be anything such as scoring runs or goals, fighting with competitors, betting, giving opinions on activities, playing games with others, etc. There are endless possibilities when it comes to an app's gamification. For example, you can also integrate social elements in the game that allows users to socialize and communicate with other online users who have similar interests. If you want to improve your game's visibility online, app gamification can be the answer.
2. Social Media Integration
Another thing that you can do is allow users to share their gaming activities such as scores, statistics, and other exciting things on their social media platforms.
We all have our social media platforms and we love to share photos, videos, and other entertaining stuff. Even sports fans would love to share their stories on social media platforms. It will not just boost your audience's morale, it will also make your app famous on social media platforms. It is a win-win situation for you. For example, during the live match, you can allow users to tweet live and post questions and answers instantly to Instagram. Users would surely appreciate it and will spend more time on the app if you facilitate this feature.
3. Real-time Feel with AR & VR
There are various technologies that have carved a niche for themselves offering a wide range of possibilities to change the way we see the world. Augmented Reality and Virtual Reality are two such technologies that are being used by businesses to offer a unique, pleasant experience to their audience.
With AR and VR in place, users can get a real-time feel of the stadium while playing games online. They can enjoy the action live by imagining they are sitting in the stadium. Thanks to virtual reality gear, this demand is in trend nowadays and you will find it in almost all the apps that are being deployed in stores. Also, mobile gaming app developers are experimenting with 3D systems such as Hawk-eye to facilitate users' experience in front of them through AR technology. Remember, this feature is not just for sports broadcasting apps, but also for simple gaming apps where users can feel like they are in the actual stadium playing a match with opponents.
4. Smart Online Games with AI and ML
Artificial Intelligence and Machine Learning don't need any introduction now. AI-powered apps are smarter and offer a unique, satisfying user experience to the audience. With AI and ML empowering your app, you can get great data insights about user behavior, desires, expectations, and other crucial things. With this data, you can offer personalized content to your users to lure them.
For example, if a person loves to watch only highlights, you can facilitate him with that. If a user loves to read sports news, you can send them such notifications regularly and so on.
Furthermore, AI also can help you send the best answers to questions raised by users without any human intervention or support. The technology is powerful enough to pick the right answer for a particular question.
In short, AI and ML can make your gaming app much more intelligent and powerful.
Various Trendy New Ideas You Can Choose For Your Sports App
Are you looking for the right sports app idea? Here is a few curated ideas that are in trend and can make your app successful instantly.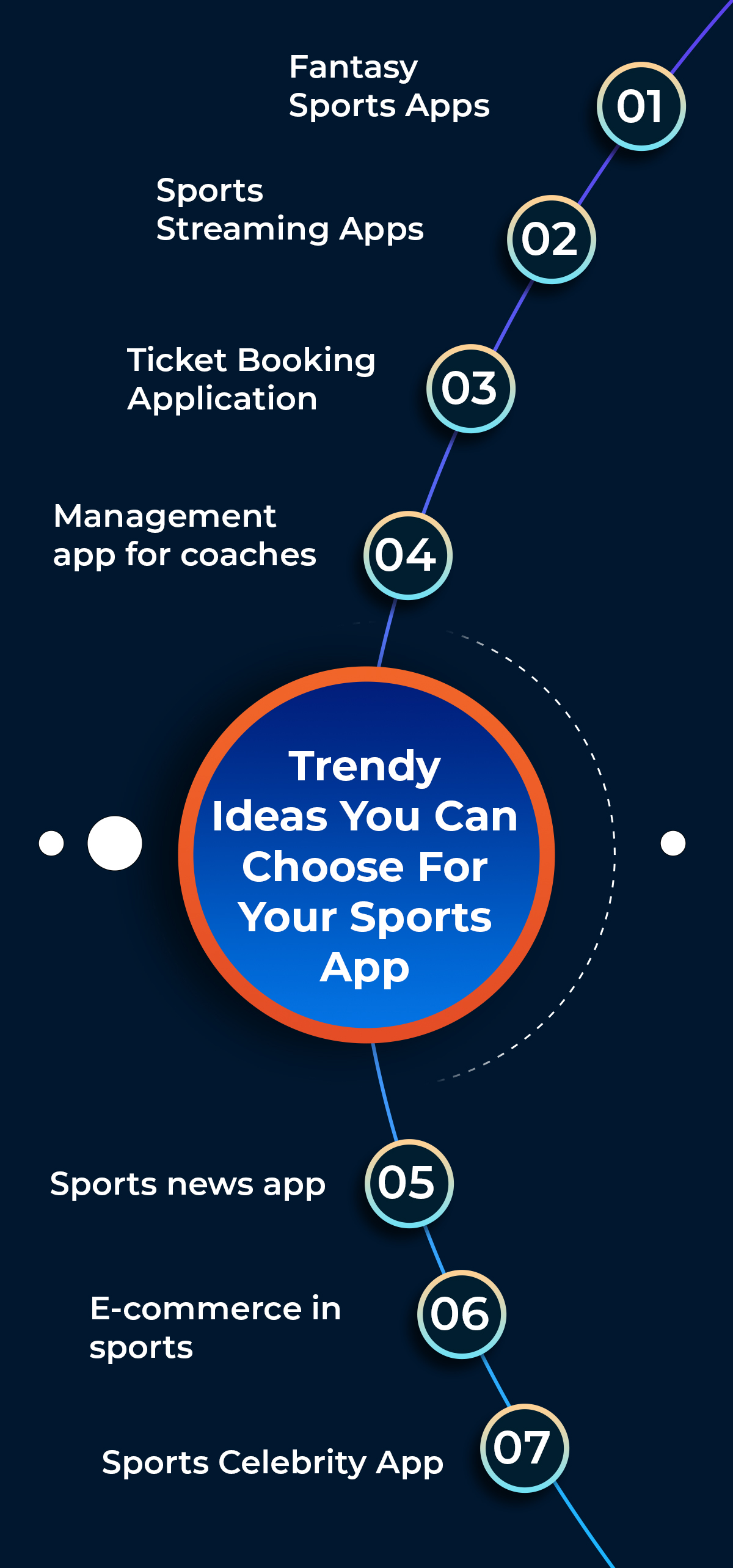 1. Fantasy Sports Apps
Even if you are not physically strong to play a game, you can play with your intelligent brain. Yes, we all know about a fantastic app called Dream 11 where we can choose our squad before a real match and earn money if the squad plays well. If you are good at making strategies and analyzing the game in the right manner, you can earn a lot more money.
For businesses, this is an excellent opportunity as they can also develop a fantasy sports app to earn revenues. Your app must be exciting and full of adventurous and engaging features to make it successful. Hire Fantasy sports software developers to develop a game.
Give handsome rewards and cash prizes to make the app more visible and successful.
2. Sports Streaming Apps
Another idea is to develop a sports streaming app. Our fathers and grandfathers used to listen to live commentary on radio devices. Then the era of live television broadcasting came. Nowadays, you can watch a live match on your smartphone.
You can also develop a smart sports streaming app that broadcasts the matches live. You can also add a fantasy sports feature to get more attention and visibility. Also, you can show match highlights, live scoring push notifications, in-app discussions, and other engaging features to lure the audience. Millennials are busy in today's cut-throat competitive world and you can offer a flexible way to stay connected to their favorite sports by presenting a sports streaming app.
3. Ticket Booking Application
People love to watch matches live in the stadium. However, they find it difficult to book tickets in advance. How about facilitating your audience to book tickets easily with a few clicks? You might wonder why to develop one more ticket booking app when there are already many such apps available in the market. However, the scenario is different and people love to book tickets quickly and without any hassles. If you offer them an app with advanced features, they might end up becoming your customers.
4. Management App for Coaches
You can also develop a player management app for coaches. Coaches are constantly in stress and need to communicate with them all the time. An app with features such as player physical records, past performance history, upcoming goals, etc. can help coaches to manage players in the right manner.
With such a brilliant app that allows coaches to manage their players better, you can make their lives easier and stress-free.
5. Sports News App
Even if there are hundreds of YouTube sports channels, people's love for reading has not died yet. How about developing a sports news app that offers the latest sports news, in brief, to let fans engaged with their favorite sports? You can show news in brief which doesn't take much time. Also, you can facilitate them with a comment section and discussion forums to make them feel special.
6. E-commerce in Sports
Die-hard fans don't just watch sports, they also buy merchandise for their favorite sports. How about selling such stuff online? In an era of digitalization, the whole world is your market. You can sell high-quality sports merchandise to anyone in the world. From cricket items such as jerseys, balls, and bats, to tennis outfits to football goalkeeper pads, you can sell anything online.
Developing an e-commerce sports app is a great idea as you don't have to face more competitors. You can easily capture the market share by offering high-quality sports merchandise.
7. Sports Celebrity App
Fans love to connect with their favorite players. Even famous players are coming up with their own apps where they share their personal moments, pictures, upcoming events, and other interesting stuff. You can also come up with such a sports celebrity app to let users connect with their favorite players.
10 Key Features to Add in a Sports App
So you have decided to develop a sports app, for example, a fantasy sports app. You also have hired a fantasy sports app development company for the project. Now, you need to ensure that the app has all the essential features to make it a successful one. Here is a list of features you need to add to the app.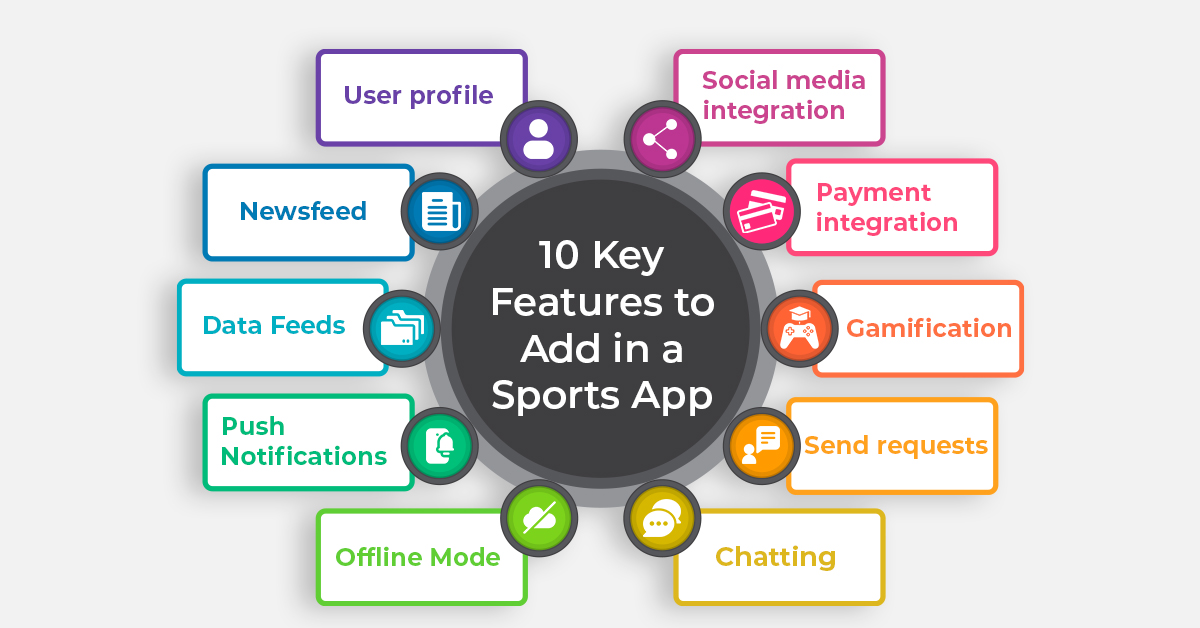 1. User profile
Having a user profile for each individual is a must feature. When a user has his own profile, he will feel special and it will give a unique identity to him. Also, he will be able to participate in game discussions, events, and other programs.
2. Newsfeed
A newsfeed feature lures users to return to the app again and again. Here, you can post news, podcasts, videos, and other sports-related things to make your users hooked up to the app. Also, he should be able to follow hashtags and bookmark his favorite players.
3. Data Feeds
Give your users real-time data and they will stay addicted to the game. Make a separate page for this feature and keep notifying your users with push notifications about the latest data and insights.
4. Push Notifications
Lure your users back to the app by sending push notifications about crucial news, events, programs, and other live updates. In the absence of the push notification feature, users will forget you. Keep them reminded about your presence on their smartphones.
5. Offline Mode
Ensure that users can access some functions in the app even when they are not connected to the internet. It will make the app more valuable.
6. Social Media Integration
Do I need to say anything? Ensure that users can share stuff on their social media profiles directly with a click. It will make them feel good and touchy.
7. Payment Integration
If there are any in-app purchases, ensure that you have a simple and quick payment gateway. Users can pay for tickets, merchandise and other things online.
8. Gamification
As we have discussed earlier, the gamification feature allows you to keep your users hooked to the app. Come up with tailored prizes, tickets, discounts, and other offers to lure your audience.
9. Send Requests
Add a send request feature to allow users to add friends in their list. It will help them in sharing their opinions during real-time matches. Furthermore, users will be able to feel like a social media account where they can come and check for updates and discussions.
10. Chatting
Like other social media apps, having a chat option in the app can help users initiate conversations with other like-minded users.
What is the Cost of Developing a Sports App?
There are many factors you need to consider while estimating the cost of a sports app. The app scope, size, features, the location of the fantasy sports software developers, and other factors play a significant role in determining the price of a sports app. A simple app with simple features might cost you $10,000 on average. On the other hand, if you want to add features such as AR, VR, AI, and others, it might cost you $50,000 to $100,000.
Conclusion
It is the best time to launch a sports app as global users are looking for such apps. People love to spend time playing various sports and watching and reading sports-related content. All you need to do is to deploy an app with the best features and functionalities. Hire a professional fantasy sports app development company if you want to develop a fantasy sports app.
Keep in mind trends, and sports app ideas discussed in this blog to develop a full-fledged sports app with unique features.
Expert App Devs is a leading mobile app development company with a proven track record. We have developed and delivered more than 1100 apps and have a team of dedicated mobile game developers with relevant experience and expertise.
Read More: