How To Hire Dedicated Mobile App Developers For Your Next Project?
Jignen Pandya
November 08, 2023
9 min read
The emergence of mobile applications has bridged the gap between theoretical solutions and practical implementations. Using technology in novel and imaginative ways has helped firms to re-engineer their online presence, meet customer expectations, and respond to the competition. The only way for a business to survive and thrive in a competitive environment is if the app concept is executed correctly.
Developers of mobile apps play a vital role in this context since they not only provide solutions to problems but also make those solutions aesthetically pleasing. When it comes to creating apps, businesses need more doers, not just talkers. Revenues from mobile apps are expected to exceed $613 billion by 2025(Statista.com).
The first step in developing a successful project is to hire dedicated mobile app developers. This means the rate at which your company sees a return on its investment is proportionate to how aggressively it pursues the hiring of professional application developers.
Top 5 Advantages of Hire Mobile App Developers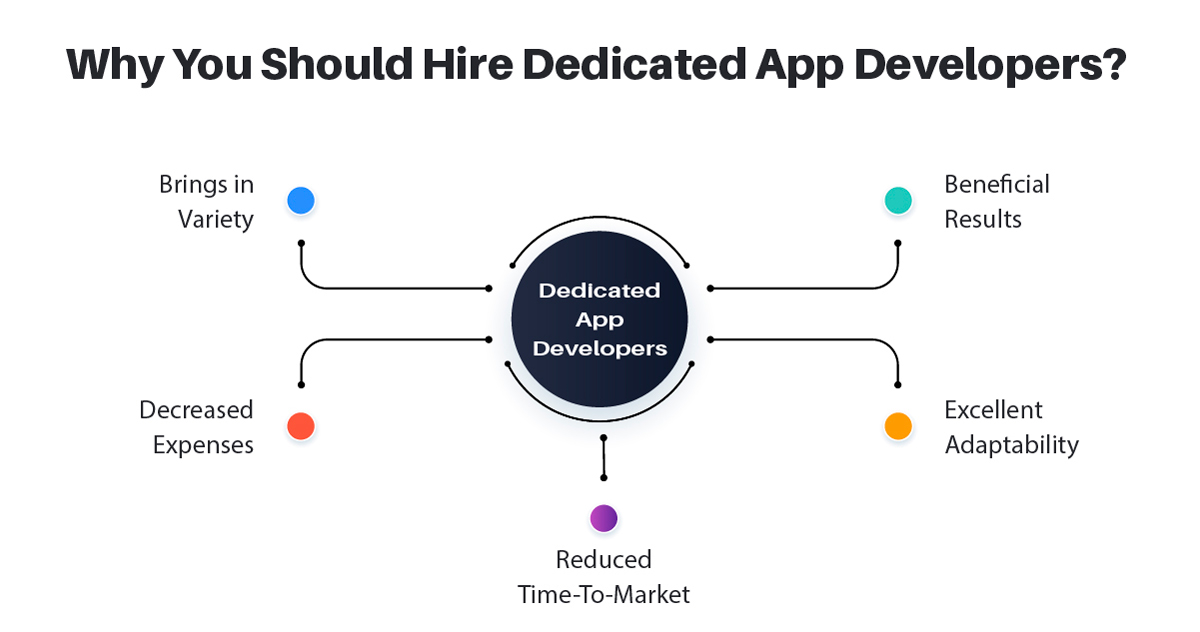 1. Brings in Variety
Organizations benefit from a more well-rounded application when they hire mobile app developers from all over the world. When compared to traditional employment practices, the current trend of remote hiring permits innovative app creation.
2. Beneficial Results
Employing remote developers from various parts of the globe allows for the formation of a team that is well-versed in cutting-edge technologies and has a wealth of experience with the tech stack.
An organization of this type would be better equipped to deal with and solve any unforeseen problems that may arise throughout the development process. Furthermore, agile development ensures superior outcomes.
3. Decreased Expenses
Establishing a group of remote, committed developers eliminates the need for firms to pay monthly salaries and other benefits, such as medical insurance, pensions, and holidays. The dedicated workforce works on an hourly basis and is compensated accordingly.
There is no need to invest in costly IT infrastructure because specialized teams already have all the necessary hardware and software at their disposal.
4. Excellent Adaptability
Whenever the project's scope is modified during its development, the app development project's needs may increase or decrease. It necessitates the augmentation or diminution of the team size, which can be achieved by employing dedicated developers. When a company employs its own team of programmers, it gains the ability to scale up or down as needed.
5. Reduced Time-To-Market
Getting the app out to consumers appropriately is crucial in today's fast-paced world. The app might fall short of its goal if development had to be slowed down because of a lack of funds or employees with the necessary skills.
When you hire mobile app developer company that has extensive experience in specialized app creation, they will be able to get your app to market swiftly because they will have thought of everything in advance.
Hire Mobile App Developers: Various Options to Choose From
➥ In-House App Developers
If you decide to hire developers in-house, you should be prepared to pay a very high salary. When you only require a service occasionally, it makes little sense to pay for it constantly. You'll have overhead expenses like salary, benefits, vacation compensation, and more to consider when hiring new staff.
➥ Hiring a Freelancer
Freelancing app developers is an excellent option if your project is not too complex. In order to receive a high-quality app quickly and affordably, you may want to look for a freelancer who possesses the necessary skills.
The cost of developing a mobile app should be determined in advance because the hourly rates can vary widely. However, you can't put all your faith in a single individual to see things through.
Freelancers will handle everything else, including design, programming, quality control, and team management. Although this strategy can help you save money, it can also lead to decreased accountability and transparency, which will slow down the process of creating your app.
➥ Outsourcing
If you're looking to save money and take advantage of specialized knowledge, outsourcing the app development of your mobile app is a fantastic option. Unfortunately, a few problems need to be overcome, such as language barriers and time zone discrepancies. A reliable mobile app development business, however, will have capable project managers in place to keep these factors under control.
If you decide to use an outsourcing service to find and hire mobile app developer India, you can rest easy knowing that they will supply you with high-quality work in a timely manner.
4 Steps to Hire Mobile App Developers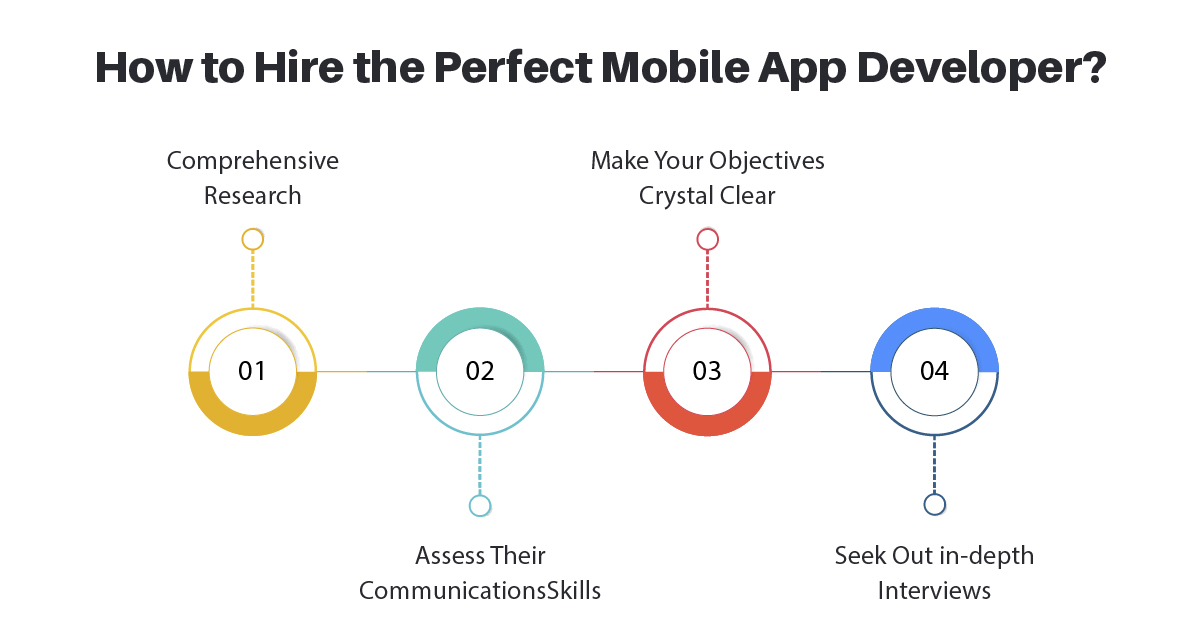 1. Comprehensive Research
You should know the ins and outs of the business before entrusting anyone with your job. It's a good idea to talk to some experts if you're just getting started in the field of app development.
Find out what languages are used, what the going rate is, and which nations are the best to outsource to. This will help you determine which technology company best fits your requirements.
2. Assess Their Communications Skills
The importance of good communication should not be underestimated. Your technology partner won't be able to do a good job for you if they don't fully grasp what it is you need. This is why it is so important to gauge their level of communication and understanding of your concepts.
3. Make Your Objectives Crystal Clear
You should focus on getting a firm grasp of your needs throughout the initial sessions. You can speed up development and decrease the likelihood of conflicts by doing this. So, first and foremost, interact with them and clarify your objectives.
4. Seek Out in-depth Interviews
Make sure you do a comprehensive interview before deciding to recruit someone. You could hire a professional interview coach to assist you if you feel you need extra assistance. Aside from this, there are more factors to consider before partnering with a firm or team of developers:
Customer reviews

Expertise

Innovations in programming technology

Strategy for future growth

Legal procedures and contracts

Strategy for managing projects
Make sure you acquire answers to these pressing questions during your ongoing discussions. The answers to these questions will help you choose whether an Android or iOS app developer is right for your needs.
Challenges When You Hire Mobile App Developers

1. Budget
Companies considering investing in mobile app development often prioritize saving money. It's an obstacle that stops business owners from bringing in top-tier experts in mobile app development.
The budget for mobile app development is completely up to you. You should hire a professional developer if your app includes a significant number of advanced, novel features.
Developers who specialize in mobile apps tend to be expensive. Consequently, you can hire freelancers if your app only requires a light makeover or some short adjustments.
This way, you can get things moving fast and affordably with a less seasoned developer. However, you may want to figure out your finances and learn more about how to employ an app developer first.
You can save money by hiring a mobile app developer in a developing country, but be aware that the quality of their work may suffer.
2. Time Differences
The time zone difference is a problem for many IT companies who need to hire a mobile app developer. This means that your remote teams will be difficult to reach at inopportune times, delaying the project's progress.
The IT industry is heavily reliant on technologies such as Slack, Teams, and Trello for internal communication and project management. However, this merely necessitates updating distant teammates and waiting for them to review the messages or tasks.
3. Absence of Personal Communication
There is a communication barrier when working with app developers located in different nations. This is especially important if you are unable to observe developers at work and need to provide them with immediate feedback while they are working on your project in real-time. As a result of linguistic barriers that are easier to overcome in an in-person setting, remote teams often struggle to work well together.
4. Subtle Cultural Variations
The United States and European companies frequently hire programmers in Eastern Europe, India, Russia, and other South Asian nations to create mobile applications. Since there is physical separation between your company and the remote developers working for you, this can lead to geographical and cultural variances.
Due to cultural and religious differences, a business may need to adjust how it operates and serves its clients on certain holidays.
How Much Does It Cost To Hire Mobile App Developers?
The cost of mobile app development depends on a 5 number of aspects that are described below: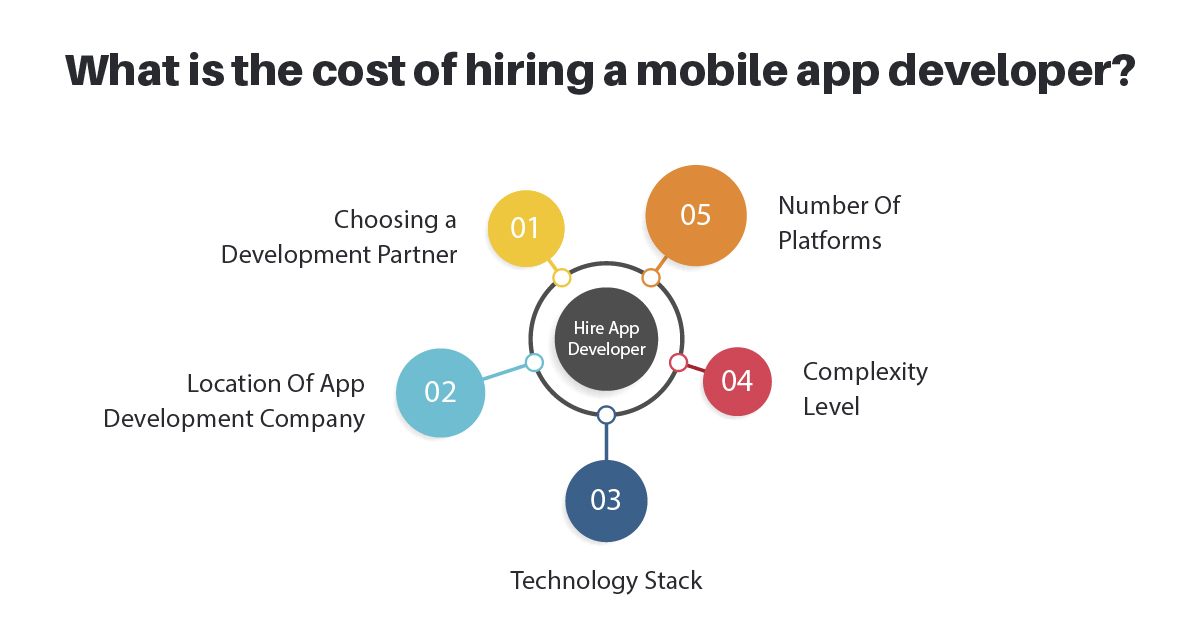 1. Choosing a Development Partner
A mobile app's price tag is proportionate to the quality and trustworthiness of the firm that created it. It can be costly to employ specialist app developers from such organizations, but the end result is usually a comprehensive and useful solution.
2. Location Of App Development Company
The price tag for creating an app is not consistent across the globe. Dedicated developers in the United Kingdom or the United States, for instance, cost four times as much as their counterparts in India or Ukraine. App development costs can vary greatly due to the location of the developers working on the project.
3. Technology Stack
App development costs are heavily influenced by the scale of the project and the technology stack that firms use. Costs rise proportionally as more features are added and a more complex technology stack is used since this demands more skillful and experienced programmers.
4. Complexity Level
Time, energy, and money invested in an application depend on its complexity. The price tag for making an app is directly related to its functionality and user interface design. The cost of a basic app is around $30,000, a moderate app is around $45,000, and a large app is over $70,000.
5. Number Of Platforms
The AppStore offers 2 million apps for download. The number of apps available on Google Play is staggering at 3.4 million. The price tag for developing a native application is substantially more than that of a cross-platform app, yet many people believe the quality is worth it. Cross-platform app development costs about $25,000 while developing for both Android and iOS requires a budget of $40,000 or more.
Conclusion
It's not a simple task to find and hire a group of experienced app developers. In business, having a team that's a good fit for your needs is crucial to your success, and if you don't find the appropriate people, it may cause a lot of problems. While recruiting dedicated developers is no easy task, enterprises that follow the aforementioned guidelines will find the process to be a breeze.