Having an app idea is not enough. No matter how unique and trendsetter your app idea is, you need to make sure that the app is feature-rich, highly functional, and easy-to-navigate, and most importantly, with an intuitive user interface.
If your app fails to impress your target audience, all your hard work and effort will go in vain. It will simply not be able to make its way to success. People will install your app and uninstall it in just no time.
They will simply move your rival app that has a better UI. The mobile app design and redesign is the most crucial part of the whole mobile app development process. You cannot make blunders there. It has to be the perfect one.
The mobile app design must be unique, brand-reflective, and the latest one. You need to research thoroughly to determine the design for your app.
There are many mobile app design examples that can inspire you for your project. We will discuss 10 such examples to give you better insights into mobile UI design.
However, before we start discussing mobile app design examples, let's understand what is mobile app UI design.
What is UI Design?
UI or user interface is a contact point of human-computer interaction and communication in a computer or device. For example, when you tap on any app on your device and it opens, what you see is the user interface of the app.
The user interface in mobile apps is mostly touch-sensitive display and graphical. The UI allows users to interact with the app and its features, content, and functionalities.
Why the UI of the App is Important?
Because it determines whether the user will continue interacting with your app or not.
Without a good and impressive UI, people will not have a good user experience. They will simply move out. It is something that you will not want.
This is the reason experts believe in investing in the UI designs of mobile apps.
Read More: Best 7 Mobile Apps Framework for UI/UX Designers 2023
Research reveals that every $1 you invest in UI, offers an ROI of between $2 to $100.
Another study showed that 74% of visitors return to the app if it has a good mobile UI design.
What do these statistics reveal? Hire the best UI/UX designers for your mobile app design and let them leverage their expertise to offer you the best UI for the app that instantly lures your audience.
Now, we will discuss a list of the top ten best app design examples to get inspired from them for your mobile app development project in 2023.
1. Glo Yoga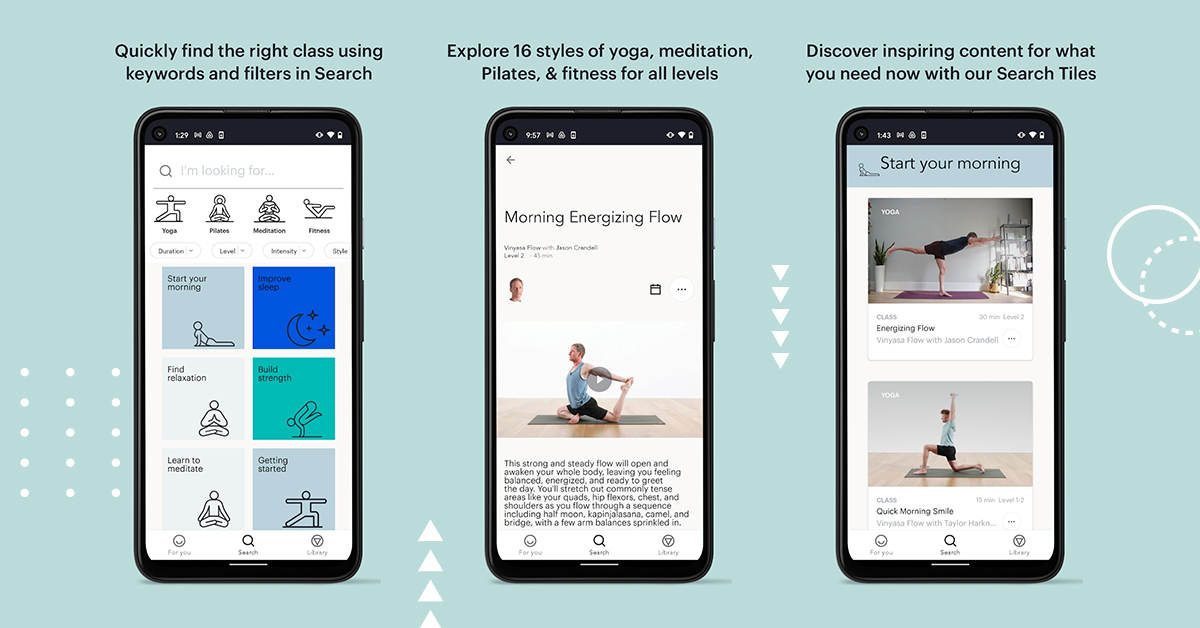 Glo is one of the most downloaded yoga teaching apps that perfectly takes learners on a calm journey. With a minimalistic UI and cooler colors, it becomes the perfect app for yoga and wellness.
The app is easy to navigate and easy to use with clear instructions, illustrations, and functional keys. For anyone who wants to learn yoga, this is the perfect app that offers a soothing experience while using it.
2. Grubhub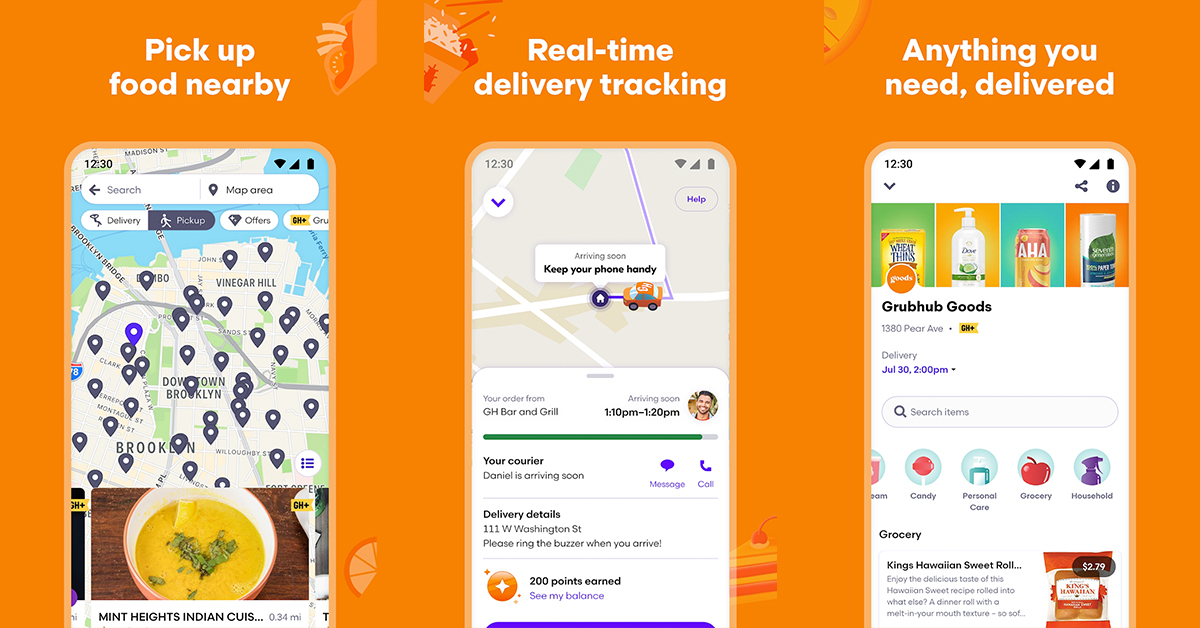 Another mobile app design example is a fantastic food delivery app called Grubhub. This is a linear and highly simplified food delivery app that has the best design elements and colors that look way too promising and impressive.
Furthermore, the app design has very vibrant colors, a simplistic design, and clear CTAs to make calls. You can track your food order, check out restaurants near you, and do much more with the app.
Also, the layout is neat and clean. It has polished shapes and highly impressive and mesmerizing product images.
3. Fasting - Intermittent Fasting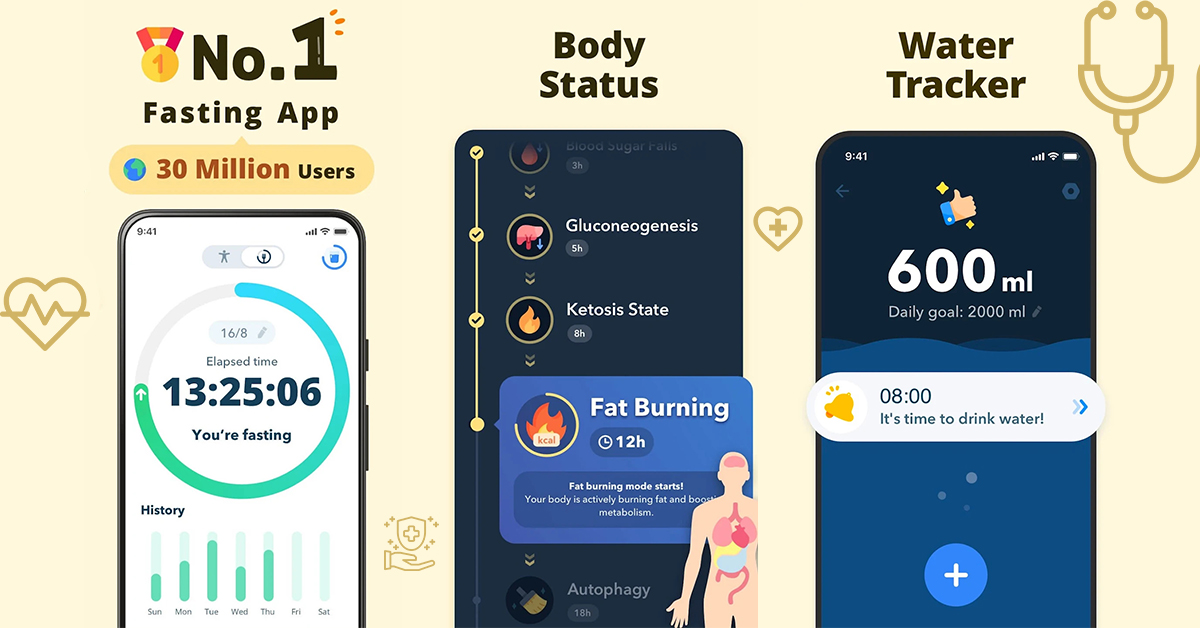 Another mobile UI design option is a health and wellness app called Fasting. It is an amazing app that tracks your fasting habits and also offers health counseling and coaching.
You can get health insights such as weight, resting heart rate, sleep, and other parameters perfectly with this mobile app.
The best thing about Fasting is its minimalist UI with a good and impressive color combination. It has detailed insights and analytics, but it is not cluttered like other wellness apps. It has appropriate CTAs that don't look like marketing efforts.
It has different features such as body status, fasting plans, water trackers, and others.
The navigation is easy and effortless. It has more than 738K reviews and an average score of 4.9 with 10M+ downloads It shows its popularity and user experience.
4. Spotify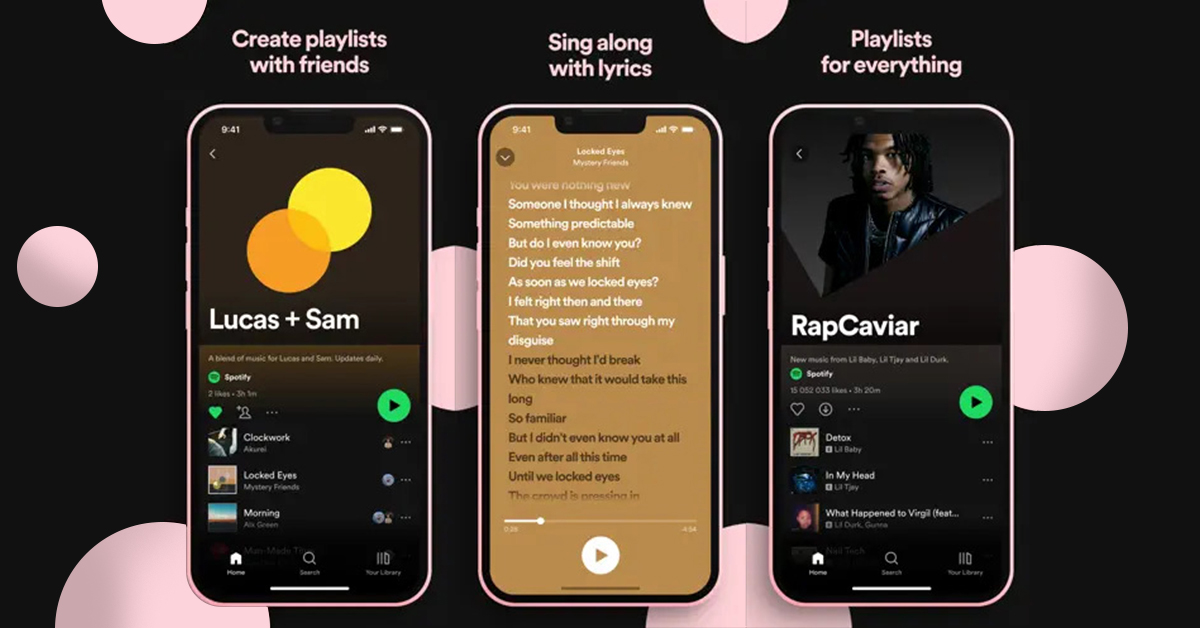 For quite some time, UI/UX designers have started experimenting with colors when designing user interfaces.
It is a good thing as you can see more colorful UIs that lure audiences instantly. Similarly, Shopify, one of the most popular music streaming apps, has amazing color gradients that convey emotions.
Look at the image above and you will know what we are talking about. These vibrant color gradients are making the app more enthralling to use.
Such color gradients can give a new dimension to your app and make it look highly entertaining and enticing.
If your app idea allows you to take such color-related liberties, you can go for something similar to what Shopify has done with their mobile app UI design.
5. Paypal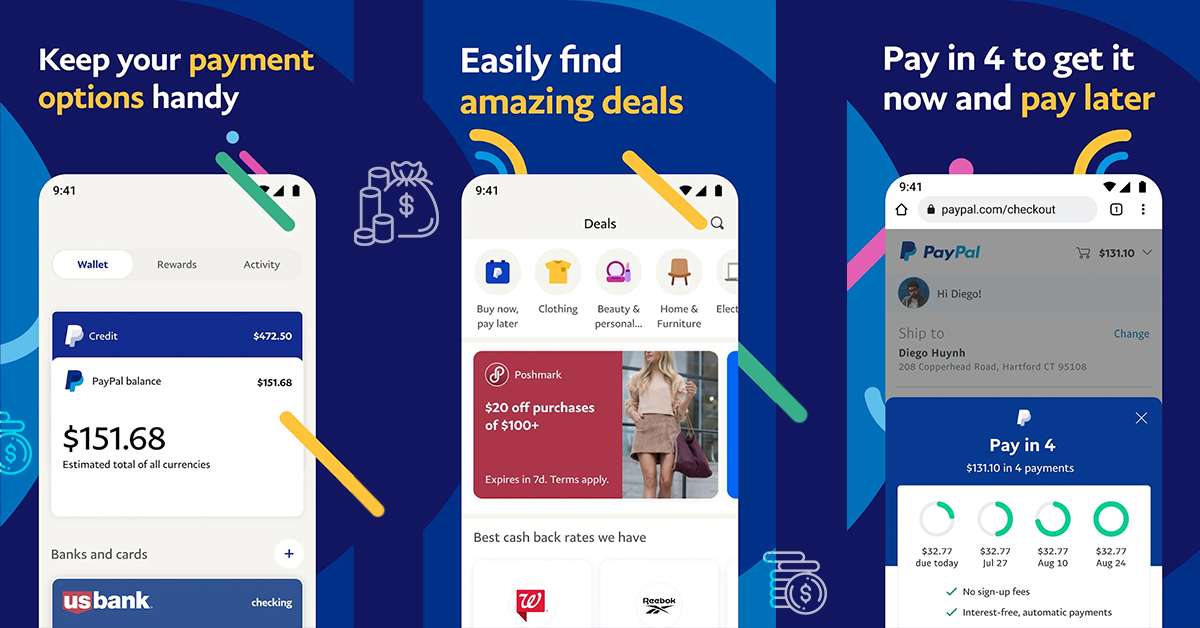 If you deal with international transactions, you must know Paypal, one of the most preferred and trusted fund transfer portals across the globe.
The app design is sleeky, uncluttered, and highly impressive. They have used Blue as the primary color, but also have used other colors to make the app look more impressive and engaging.
While designing the app, the UI/UX designers have entirely broken all the rules of financial or banking app designs.
The app is brighter, shining, and vibrant with a mix of color palettes and looks amazing and highly enthralling.
The app has multiple screens and each of them has a unique background, keeping in mind the key demographic. Furthermore, the app has a simplified UI with useful features and perfectly put CTAs.
6. Robinhood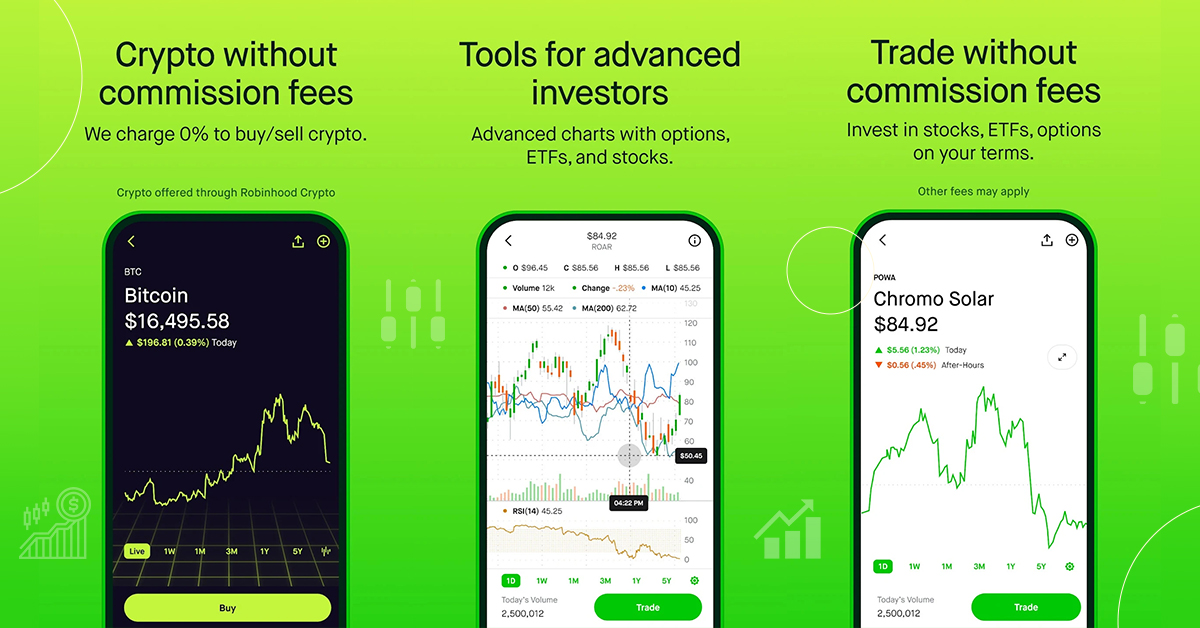 If you want to know how you can create a simple yet effective and highly engaging stock market trading app, you should download the Robinhood app to your phone.
The app helps users to view and manage their wealth by facilitating them with market predictions, risk assessments, and ideal investment goals.
Here, designers have not experimented with colors but perfectly broke up the onboarding flow to keep the app visitors engaged.
The app is easy to navigate and offers a wholesome experience to users with the right information displays. This is one of the best UI design examples you want to see.
7. Cofe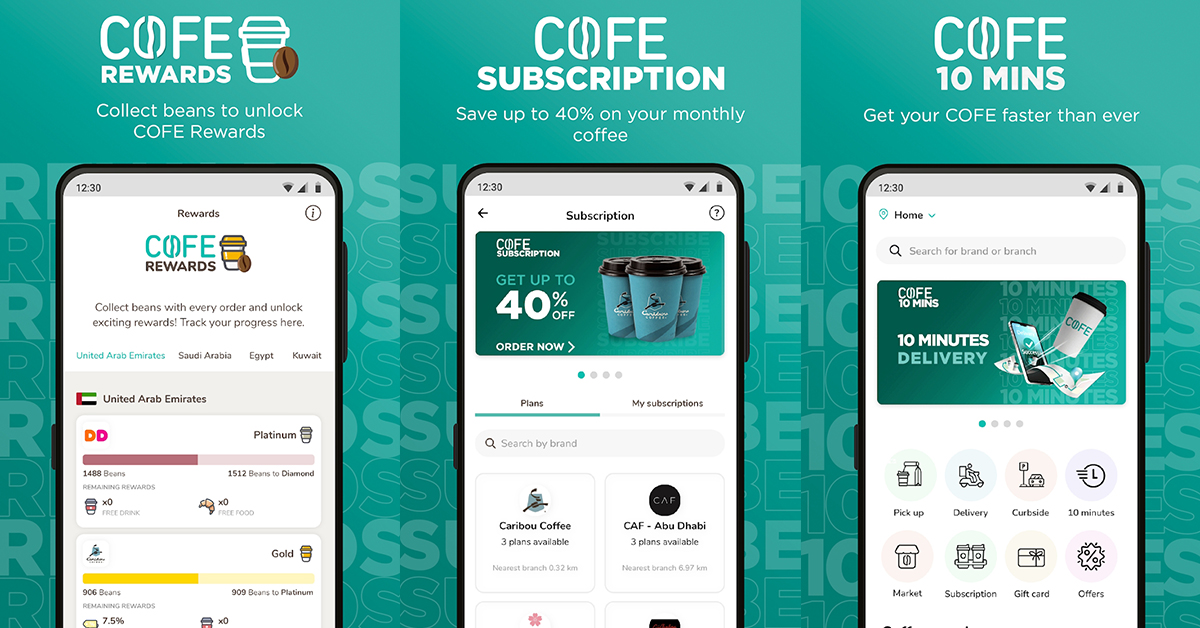 Cofe is a coffee-ordering app that is one of the most well-designed apps of all time. Just look at the simplicity and clarity of the app and you will fall in love with its design instantly.
It has a minimalist UI design with simple features and CTAs. Users don't have to think much or push their brains to order a cup of coffee.
It is all there in plain and simple. Users can easily order based on their requirements.
The illustration style is highly unique and engaging. Here, the app allows you to search for coffee brands and then order in just a few clicks.
8. Pocket
Pocket is a readers' app and perfectly serves the purpose in a brilliant way. Here, users can easily save articles from the internet to read later even without any active internet connection.
The best thing is that the app just won a Webby award for its UX design. When designing the app, they choose five people and took their feedback, and implemented those feedback in the design and it simply clicked.
You can see how uncluttered and clean the app looks. We need to bow down to the designers for once.
9. Bigbasket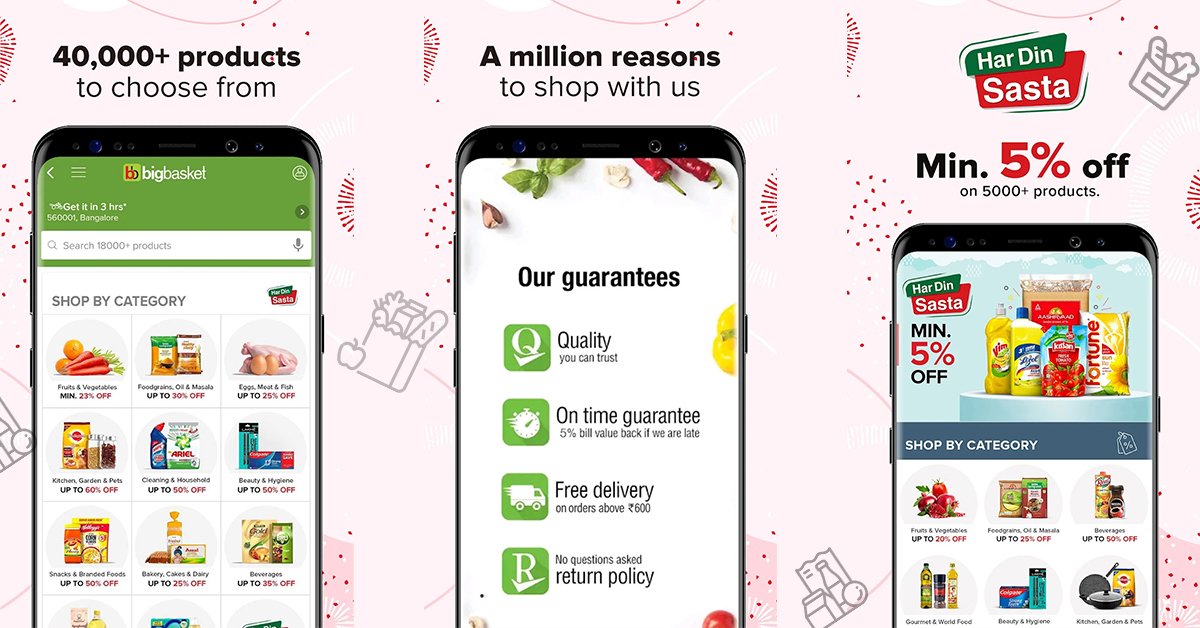 Bigbasket is a grocery delivery app. However, the app's design is not generic and normal. Look at the above image and you will see why we added this app to this list.
The app allows users to search for products, add selected items to the cart, and delivered them within a day. The best thing about the design of Bigbasket is its simple yet effective and uncluttered UI.
The design is minimalistic and offers great convenience to users as it is easy to navigate and operate. Even a kid can search for products and place an order for groceries and vegetables without any app-using experience.
10. Uber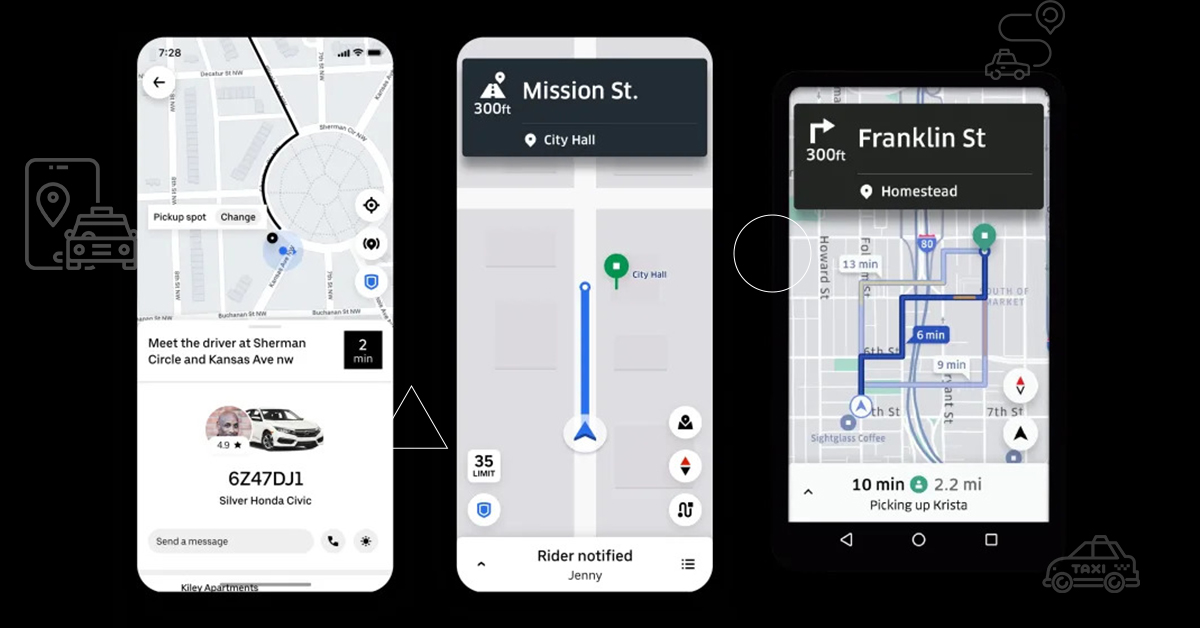 How can we complete the list without Uber, one of the most popular taxi-booking apps? Uber has completely changed the way we commute, and it deserves special applause for that.
However, we will talk about the app's design here. It has a brilliant UI that perfectly navigates users to book an app with a few clicks.
Uber's simple and clean user interface has a search bar, a map, and available taxis in that particular area. Users can instantly connect with the app and book the app in just no time.
Conclusion
Remember, your mobile app design is the number one factor that will determine your app's success. Commit a mistake here and there is no in the future.
Take your time and research a lot for your mobile app design even if you have to spend some more for it.
These 10 mobile app inspiration ideas will help you innovatively to design your mobile app.
If you want to hire the best UI/UX designers, hire through Expert App Devs, one of the top-notch global talent-hiring platforms, offering the best-skilled professionals for hire.
Read more: