Gone are the days when you must rely on traditional ways to find your perfect partner for a date. Not so long ago, people used to rely on social media platforms like Facebook or Instagram to find like-minded partners for potential dates.
Today, those platforms are outdated and are replaced with dedicated mobile dating apps. Bookstores, bars, and coffee shops were also potential hookup places earlier, but they are no longer used now.
The dating landscape has changed dramatically over the past few years, especially after the Covid-19 pandemic. Dating apps like Tinder, OkCupid, Bumble, etc., are top-rated now to find the right partners for you. These apps, with significant personalized features and functionalities, are gaining popularity across the globe. If you are a startup and want to go for dating app development but need more ideas, this post is for you.
The Overview of the Global Dating App Market
The global dating app market has rapidly matured, especially during the COVID-19 pandemic.
Do you know that 84% of dating app users want steady, successful relationships?
A Badoo study on online dating revealed that youngsters spend about 10 hours per week swiping on the dating app.
A survey from OnePoll/Forbes Health revealed that 70% of individuals said that their dates led to a successful, romantic, and exclusive relationship.
In 2022, the number of people using dating apps grew to 366 million.
Another study by Pew Research revealed that 55% of individuals from the LGB community said that they had used a dating app for hookups.
By 2027, the global dating app market is projected to cross $3.39 billion at an annual growth rate of 3.28%.
The above statistics reveal that the global dating app market is steadily increasing. Launching a high-quality, innovative, and feature-rich dating app can turn things in your favor. All you need is a unique idea that can help capture the market share in no time.
Are Dating Apps Worth It?
Dating apps offer an opportunity for users to meet like-minded people online. For users, they can meet like-minded people for dating purposes. They can use filters like location, hobbies, interests, age group, gender, religion, etc. to fine-tune their search.
On the other hand, businesses can encash this opportunity. A dating app can offer a wide range of monetization possibilities. Most popular dating apps follow various monetization techniques. Let's check them out.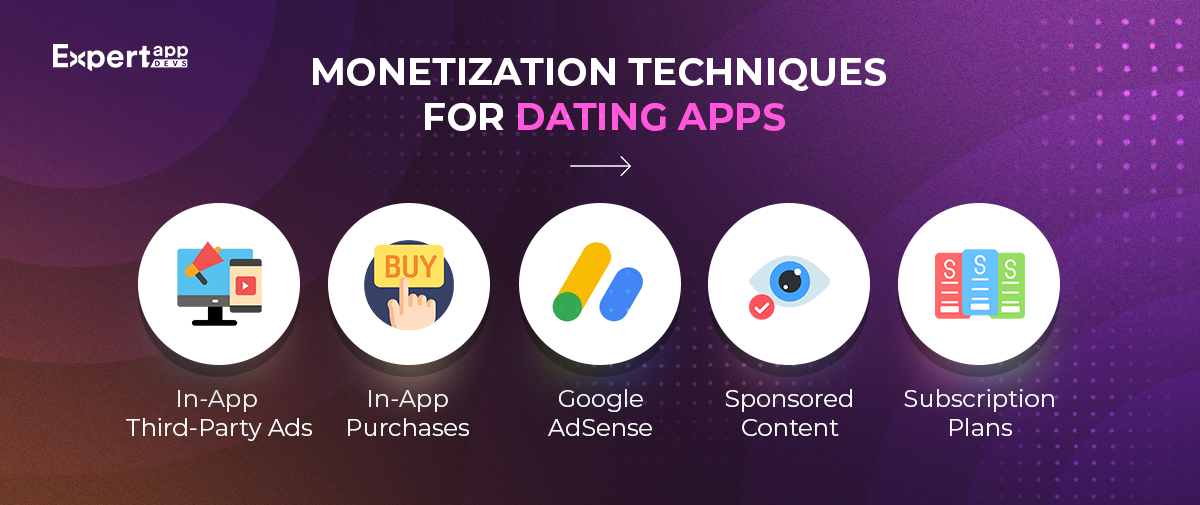 #1. In-App Third-Party Ads
A dating app can allow third parties to display their ads in the app. They can either collaborate with clients directly, or they can use services from third-party ad services like BuySellAds.
These ads can be in the form of images, videos, banners, etc. Be cautious not to disturb the user experience due to these ads. You can get help from the best dating app developers to place these ads in the app.
#2. In-App Purchases
Another way to monetize the dating app is by offering in-app purchases to the users. It is one of the most preferred app monetization techniques used by businesses.
Here, the app charges a fixed amount of money for some premium app features. For example, the Rewind feature of Tinder allows users to go back to the previous profile if they have accidentally swiped left.
Another feature is Passport in Tinder, which allows users to change their location manually before they travel to another city.
Such in-app purchases can turn into a money-making machine if you offer a tremendous and engaging user experience to your users.
#3. Google AdSense
Google AdSense is another way to monetize your app. All you need to do is to enable it within your app. However, be careful not to have any adult content on the app. Also, ensure that you don't violate any policies or regulations.
#4. Sponsored Content
You can allow third parties to promote their products or services through your app. However, ensure that the products or services the app promotes are relevant to your app's vertical.
#5. Subscription Plans
If a user wants to use all the features and functionalities of the app, he has to buy a subscription plan. A premium subscription allows users to use all the features like unlimited likes, ad-free app user experience, review profiles, messaging services, etc.

How Does a Dating App Work?
Most dating apps work on Algorithms. These algorithms are made based on various analytics and predictions. Developing the right algorithm for your app is crucial to find the best matches for your users.
Tinder shows you profiles based on how often you use the app. The algorithm will track your activities and, based on that, find suitable matches for you. The more you use Tinder, the more chances to get better and more relevant matches for your profile.
Another method to create matches for an individual is behavior analysis. Here, an individual's social footprints are considered to show like-minded matches.
Dating app developers are nowadays using advanced matchmaking with the use of technologies like AR and AI. Here, facial recognition, biological data, and behavioral patterns are used to create a list of best matches for individuals.
On the other hand, Bumble has yet to reveal any search algorithm. Bumble also works like Tinder, with an exception. It does not allow male profiles to initiate conversations. You can start a conversation only if you are a woman.
Also, if a female user does not respond within 24 hours, the match will disappear. If a user is inactive for over 30 days, Bumble limits the user and shows only active profiles.
Hinge, on the other hand, uses the Gale-Shapely algorithm to match profiles. For example, if there are two groups with ten men and women, the first group picks their first choice. If they are rejected, they will move to select the second choice. The sequence continues until no one is left.
OkCupid asks more than 4,000 questions to the users to find the best dates for them. It uses a match percentage calculator to find the correct dates for users. They compare answers to questions and match people based on their common answers.
An Overview of Popular Dating Apps
#1. Tinder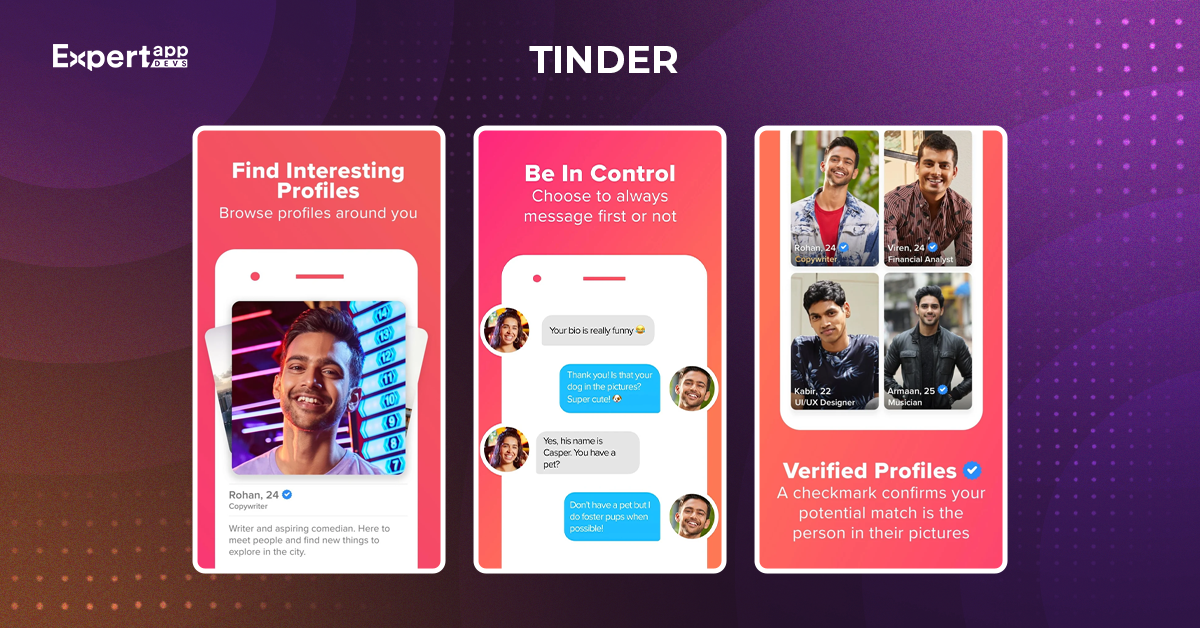 Tinder is among the most popular and user-friendly dating apps. The user interface is simple, clean, intuitive, and highly engaging. Furthermore, it also offers subscription-based plans like Tinder Gold and Tinder Plus.
Tinder is the first app that introduced this remarkable swiping feature. It is famous for casual dating. Tinder has transformed online dating, with more than 1.6 billion daily swipes.
The methodology of Tinder is simple: if you like the profile, swipe right, and if not, swipe left. If both parties swipe right, it is a match.
Features:
Users can sign up for free and get started without any subscriptions.
It offers a mobile signup
User-friendly interface and an easy-to-use app.
Multiple premium features like Tinder Gold, Tinder Plus, Boosts, etc.
A massive user base across the world.
A short introduction to help reveal what you are.
#2. Bumble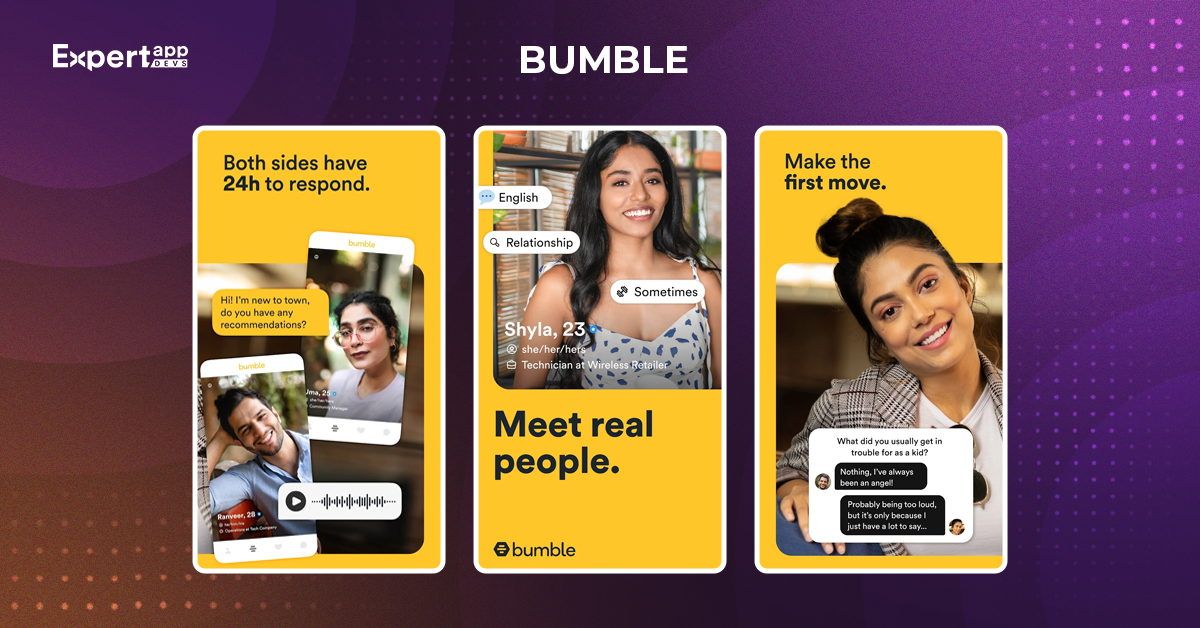 If you are a woman, Bumble puts you in the driving seat. It is one of the safest online dating apps for women. Here, women have to make the first move and not the men. The best thing about this app is that women will not get unsolicited messages from men. If you are tired of such unnecessary messages, Bumble is the right match for you.
Not just for women, it is an ideal dating app for non-binary people as well. They can stay away from creepy encounters and unwanted messages as well, creating a safe dating environment. Also, it has features to find your best friends forever called Bumble BFF, and for professional colleagues, Bumble Bizz.
Features:
Free to sign up and get started.
Safe for women and non-binary people.
Eliminates dead matches after 24 hours.
Bumble Boost is a feature that allows you to rematch with an expired match.
You can select gender identities.
Meet your best friend through Bumble BFF.
#3. OkCupid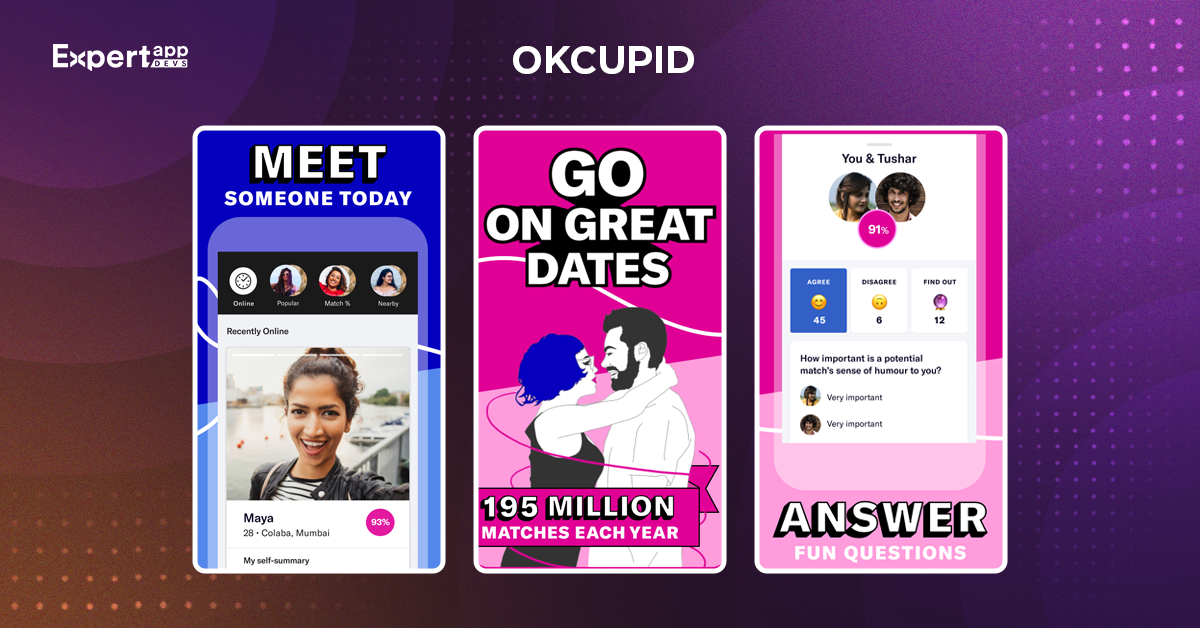 If you are single and love to share your opinions on political, social, and religious things, OkCupid is the name for you. OkCupid allows 22 genders and 12 sexual orientations to find their perfect matches.
If you are expressive, believe in inclusivity, and enjoy meaningful conversations, OkCupid is for you. Furthermore, if you are into polygamy, you will be shown people interested in polygamy, as OkCupid understands the evolving dating landscape perfectly.
OkCupid allows users to answer deal-breaker questions to weed out incompetent matches. The dating algorithm is highly advanced, and shares match based on compatibility questions.
Features:
It is a free app to get started.
You can sign up using Facebook and email.
It is a highly inclusive environment, allowing non-binary, gender-fluid, and two-spirit people to sign up and find their matches.
It offers multiple dating options, like short-term dating, non-monogamist relationships, etc.
A set of questions to find the best, like-minded dates for you.
Available for iOS, Android, and Web as well.
Tips to Create a Successful Dating App:
Developing a dating app like Tinder is a tricky thing. The idea might sound amazing initially, but it requires a lot of research, hard work, and finance. You cannot make a clone of an app and start earning revenues.
However, with proper planning and research, you can create a successful dating app that gets its deserved due. What are the things to remember while developing an online dating app? Here is a list of tips: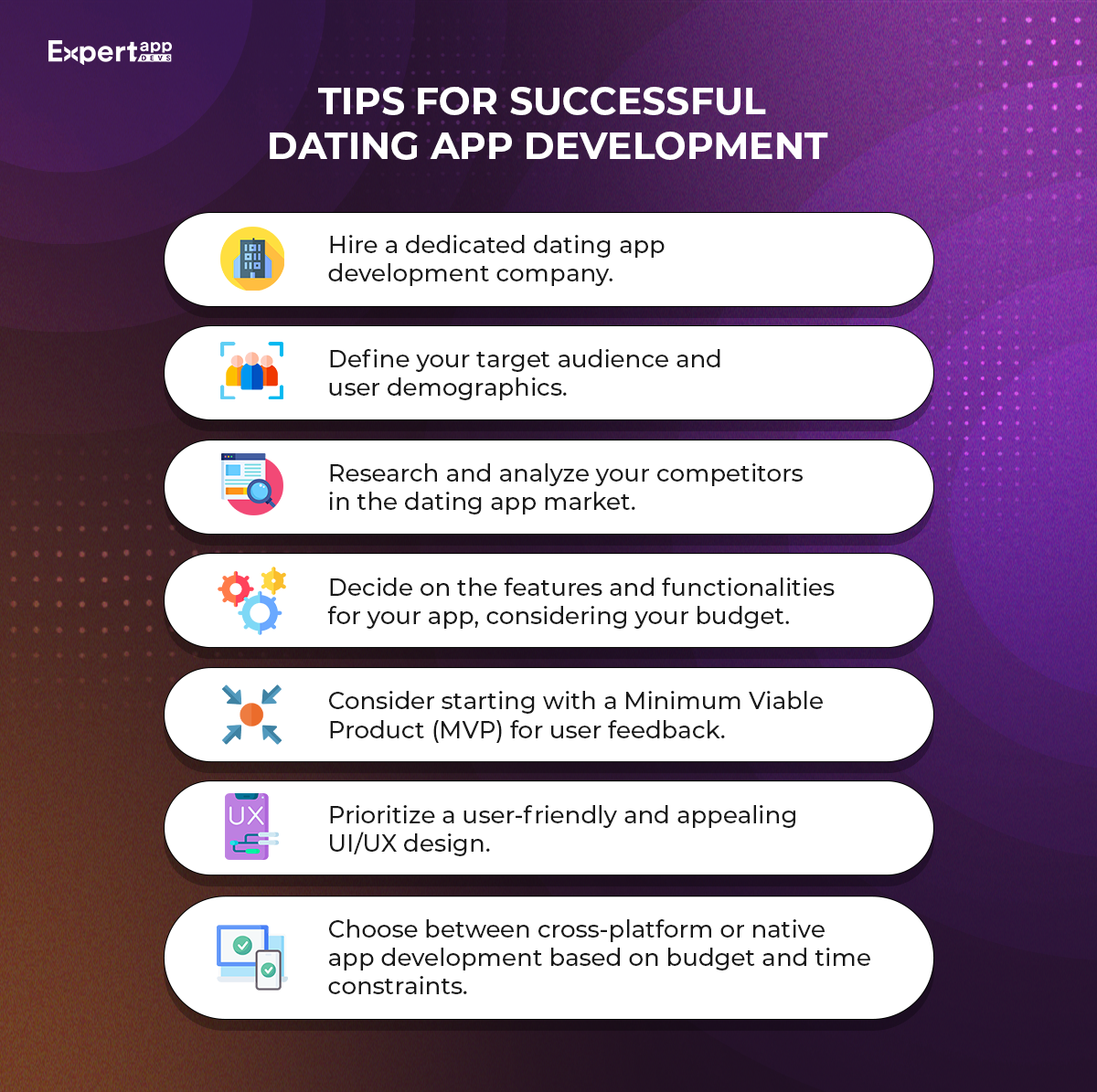 Tip 1: Hire a dating app development company. This is the first thing to do. An outsourced company with a team of dedicated dating app developers will make things easy for you.
Tip 2: Identify your audience. Which age, gender, or race do you want to target? What is the average age you want to target? Do you want to include non-binary people? Answering these questions will give you a clear roadmap to go ahead.
Tip 3: Research your competitors. Who is your biggest competitor? What is the exact need gap that you want to target? Which features might be helpful for you to get the attention of your users? Competitor analysis will open many windows for you to start your dating app development process.
Tip 4: Determine the features and functionalities you want to add to the app. Discuss in detail with the best dating app developers you have hired about it. Consider the budget if you want to add advanced features to the app. For example, find out about Bumble or Tinder app development cost and their features. It will help you set the budget for your app.
Tip 5: Going for a Minimum Viable Product can be a good thing. An MVP will help you test valuable features and also give you real-time feedback from actual users.
Tip 6: Do not compromise on design. UI/UX plays a vital role in the overall acceptability of the app. Your design must offer a satisfying user experience to serve a purpose.
Tip 7: If you have budget constraints or want to target the market quickly, go for cross-platform app development. It will save you time and cost by a significant margin. However, if you don't have any budget constraints, you can go for native app development.
Top 10 Unique Dating App Ideas for Startups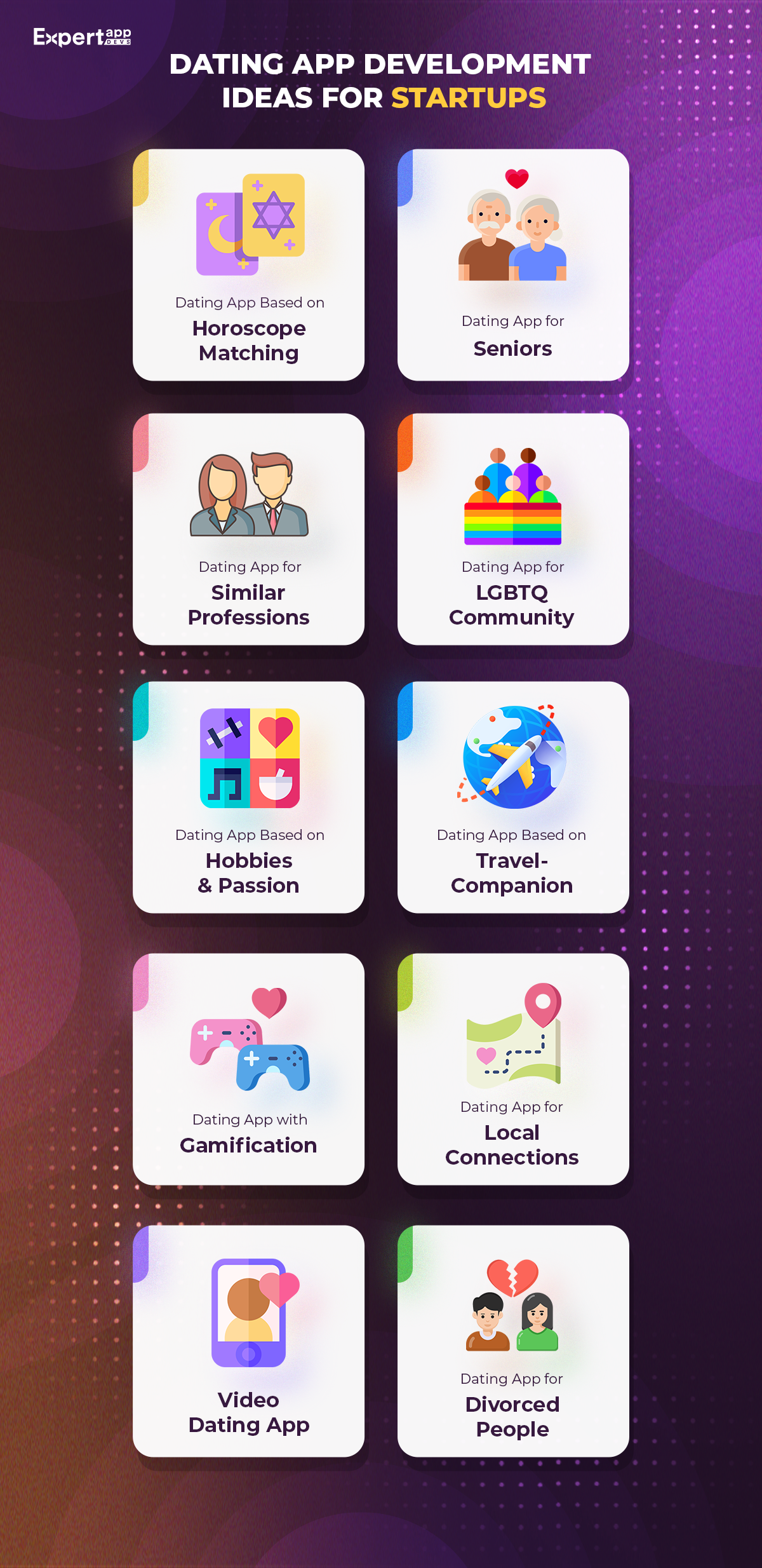 #1. Dating App Based on Horoscope Matching
There are people, especially in Asian countries, who still believe in horoscopes. They consider horoscopes before doing any auspicious ceremonies or events. Not just that, they also match the horoscopes of brides and grooms before fixing the marriages.
How about developing a dating app that allows users to match horoscopes, zodiac signs, numbers, and other mysterious connections? It might interest a specific section of the audience. There is no dedicated dating app designed for people who believe in horoscopes. It might be a game-changer for you.
Features you can add are:
Horoscope report generator
Matchmaking based on zodiac signs
Search filter based on horoscopes
Push notifications
Local listings
An algorithm based on horoscope matching
In-app chatting
#2. Dating App for Seniors
To which app will senior citizens look up to if they want to find a date? Well, they don't have any such options available. They can end up visiting typical dating apps and get disappointed. However, developing a dating app for senior citizens and catering to their needs can be a good business idea.
You can develop an app that allows senior citizens to find solace in their boring lives. Keep the design simple, clean, and aesthetically appealing to make the app user-friendly for them, as they might need to be more tech-savvy people.
Features to be added to the app are:
In-app chatting
Push notifications
Advanced search filters
Audio/Video calling
Easy-to-use navigation
#3. Dating Apps for Similar Professions
You must have seen doctors looking for doctors for potential dating opportunities. This is true for almost every professional. Partners from the same profession can make things simpler. For example, same-profession partners understand their work pressures, schedules, and other professional hazards.
How about developing a dating app that allows users to find a date from the same profession? Users will get an opportunity to meet like-minded potential partners from their professions. Such dating practices will have more chances to turn them into successful relationships.
Features to be added to the app are:
Profile verification
In-app chatting
Advanced search for a profession
Questionnaire-based profile creation
Social media integrations
Matching algorithm
#4. Dating App for the LGBTQ Community
Though there are various dating apps available that allow LGBTQ people to find their partners, developing an app dedicated to LGBTQ people can be a good idea. The awareness of the rights of the LGBTQ community is increasing worldwide. Even LGBTQ members are coming out of their closets, which is a good sign.
You can develop a dedicated app that allows the LGBTQ community to find their partners. They can search for like-minded people in their own areas and talk with them to take things further.
Features to be added to the app:
Advanced search for non-binary people
Push notifications
In-app chatting
Geolocation-based search filters
audio/video calling

#5. Dating App Based on Hobbies and Passion
Do you know that 64% of married Americans believe that marrying someone with the same interests and hobbies turns out to be successful relationships?
Gen Z loves to date people with similar interests. This is why OkCupid asks a lot of questions while making a profile for an individual. How about developing an interest-based dating app where people can find their partners who share similar hobbies and interests?
Features to be added to the app are:
A special section for hobbies
A questionnaire at the time of profile registration
An advanced algorithm that shows profiles with similar hobbies
Push notifications
Interest-based profiles are to be shown first
#6. Travel-Companion-based Dating App
Another dating app idea for startups is to create an app that allows people to find their travel companions. However, developing such an app would be challenging as you must verify and screen individuals, including their criminal records, to create a safe environment.
Features to be added to the app:
A lengthy and strict profile verification
Travel-companion-based search filter
Advanced travel plans scheduling within the app
Audio-video calling facility
In-app chatting
#7. Dating App with Gamification
Sometimes, online dating can be challenging and boring as well. However, one thing you can do is add some simple yet engaging games to the app to entertain your users.
While people wait for responses, they can play games within the app to pass the time. You can also allow people to play games with other online members. Also, add some rewards, badges, or online coupons for them to encourage them.
Features to be added to the app:
App gamification
Show online members for games
Coupons, badges, or other rewards for gamers
Audio/video calling
#8. Dating App for Local Connections
Do you want to find a connection in your town or city? Developing a dedicated app for your city or town can be a good idea. Here, users have to enter the city's name, and they will find all the local profiles to connect with. Though most dating apps offer geolocation-based search filters, you can venture into it to start the first local dating app for your audience.
Features to be added to the app:
Dating Preference Filters
Local search for cities and areas
Profile verification
Explore events and meet-ups in the city
#9. Video-Dating App
Though this is one of the most used features of Instagram and other dating apps, there is no dedicated app that fosters video dating. You can start a dating app that allows users to connect with potential matches through a video.
Features to be added to the app:
Video calling facility
Advanced search filters based on cities, age, gender, etc.
In-app chatting
Push notifications
Various video filters for engaging conversations
#10. Dating App for Divorced People
Last but not least, you can develop a dating app for divorced individuals looking to restart the journey of love. However, you have to verify first whether the user is divorced or not. It will need special considerations during the registration process.
Features to be added to the app:
Advanced search filters
Push notifications
In-app chatting and audio/video calling
Matches based on hobbies and interests
Top Considerations to Think of While Developing a Dating App
Developing a dating app is a challenging task. You have to consider various aspects before you start the development process. Here is a list of considerations to think of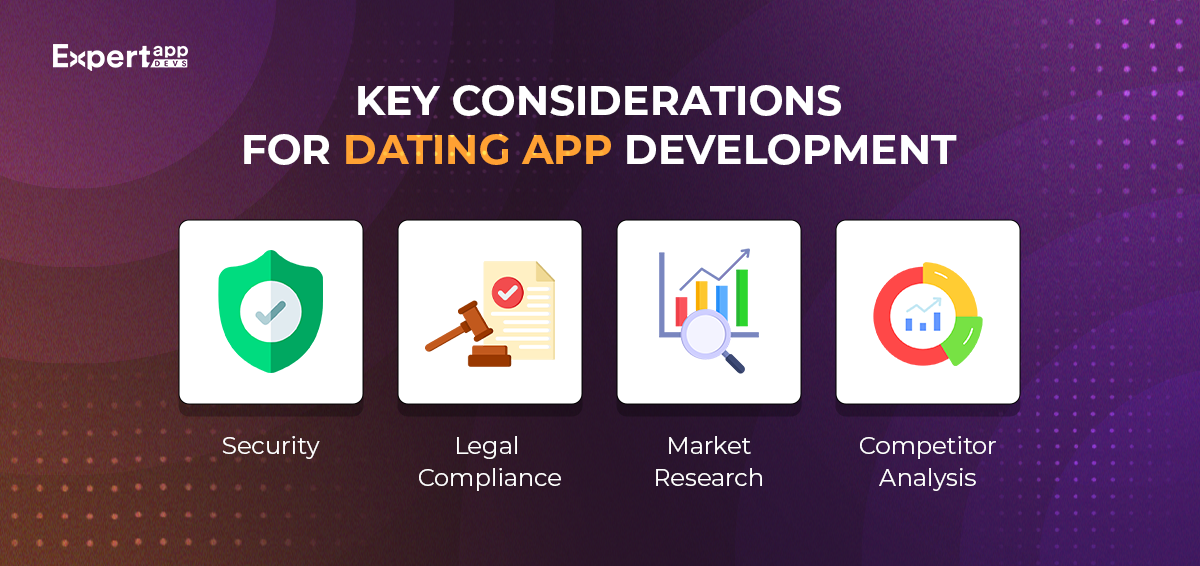 #1. Security
Not just a dating app, you have to think of security even if you are developing a simple app with no advanced features. Regarding dating apps, people will share their sensitive data, and it is your obligation to keep such data safe and away from hackers. You have to think of all security measures while developing an app. From profile verification to two-way encryption, ensure the app is highly secure.
#2. Legal
If you are developing a dating app for the LGBTQ community, ensure that you don't violate any rules, regulations, and guidelines. Legal consequences might be severe and might jeopardize your reputation. Hire a legal expert to get perfect counseling before developing a dating app.
#3. Market Research
You cannot start developing an idea without researching the market. You have to consider the global market scenario, scalability options, the future of dating apps, and other considerations. Search about the availability of dating apps, how they serve customers, target audience, and other crucial aspects before starting the development process.
#4. Competitor Analysis
Who is your main competitor? What do they offer? What is the gap that you can fill? What are their best features? Where do they lack? Answering all these questions will help you develop an app that is unique and meets the users' expectations. Competitor analysis is a must thing to get sure-shot success. Most importantly, it will also give you some ideas about features and functionalities to be added to the group.
#5. Find Your Target Audience
Who is your target audience? What are their likes and interests? What do they expect from a dating app? These questions can help you find the audience you want to target through an app. When you know your target audience, you will be able to develop features that perfectly cater to their needs.

Conclusion
The global dating app market is proliferating. It is the best time to encash the market. You only need a unique dating app idea to woo your target audience. We have discussed a few dating app ideas to help you find your fortune. Remember your target audience, competitors, and legal and security obligations before you go for dating app development.
Expert App Devs is a dating app development company with a team of dedicated dating app developers for native and cross-platform app development. Hire us to build top-notch, feature-rich, and scalable mobile applications. We have rich experience in developing dating apps. Zing is one of the most popular online dating apps developed by a renowned team of developers from Expert App Devs.